#666: Can I Get A Witness by Lee Michaels
Peak Month: December 1971
8 weeks on CKVN's Vancouver Charts
Peak Position ~ #3
Peak Position on Billboard Hot 100 ~ #39
YouTube.com: "Can I Get A Witness"
Lyrics: "Can I Get A Witness"
Michael Olsen was born in Los Angeles in 1945. In 1961, Michael Olsen joined a surf-rock band named The Sentinels. In 1962, they played in concert with The Coasters and The Righteous Brothers. One of the members of the band was John Barata, who later joined The Turtles, Jefferson Airplane and Jefferson Starship. Michael Olsen next joined the Joel Scott Trio. Scott had formerly been the frontman for Joel Hill & The Strangers. The band had a #11 hit in November 1960 in Vancouver titled "Little Lover." In 1966, he moved to San Francisco and began to bill himself as Lee Michaels, drawing on his first name to become his surname. That year he joined a group named The Family Tree who had some regional hits in a few radio markets in California.
In December 1966, Lee Michaels appeared on stage as an opening act for Love at the Filmore Auditorium. Later that month he was an opening act for Big Brother & The Holding Company, whose featured singer was Janis Joplin. At the end of the month he opened for Country Joe & The Fish. In 1967, Michaels opened for The Steve Miller Blues Band in February, Pink Floyd in October and Bo Diddley that November. In 1968, he released his first solo album, Carnival Of Life. He accompanied himself on piano, organ and guitar.
In 1969, Michaels released a single titled "Goodbye, Goodbye", which peaked at #10 in San Bernardino. In August '69, Michaels song "Heighty Hi" climbed to #2 on KMEN in San Bernardino and #6 in Sacramento. The single was also released in Canada, the UK, Germany and France. Meanwhile, he opened concerts that year for Creedence Clearwater Revival at the Hollywood Bowl, and The Kinks in Boston.
In 1970, Michaels released "What Now America", which climbed to #13 in San Jose. The song lamented a generation that knows "America" is wrong. Implicitly anti-Vietnam War, the song was only a local hit in a few California radio markets. Michaels fan base grew that year as he opened concerts for The Moody Blues at the Filmore East in New York City that March, and for the Faces in Boston. However, Michaels made it to #3 on the Billboard Hot 100 in 1971 with "Do You Know What I Mean". That summer he opened a concert for Ten Years After in Milwaukee. Michaels follow-up single was a remake of an old Marvin Gaye hit from the fall of 1963 called "Can I Get A Witness".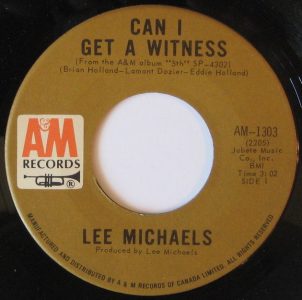 "Can I Get A Witness" climbed to #5 in New Haven (CT), #6 in Escondido (CA) and #7 in Fresno (CA). "Can I Get Witness" was also released in Canada where it climbed to #3 in Vancouver. The single was also sold in Japan, the UK and Germany. "Can I Get A Witness" was the second single from the album, 5th, a reference to Michaels fifth studio album release. Incidentally, the opening track on the album was "Keep The Circle Turning," which featured guest vocals by Merry Clayton. The previous year she'd been a guest vocalist on the Rolling Stones' "Gimmie Shelter".
"Can I Get A Witness" was written by Brian Holland, Lamont Dozier and Eddie Holland. In 1963, they had blossomed into a hit making team. That year they co-wrote "Heat Wave" and "Quicksand" for Martha & The Vandellas and "Mickey's Monkey" for The Miracles. Over the following years they composed many hits for Motown. These include The Supremes #1 hits "Where Did Our Love Go", "Baby Love", "Come See About Me", Stop! In The Name Of Love" and "Back In My Arms Again". Holland-Dozier-Holland also co-wrote hits for the Four Tops that included "Baby, I Need Your Lovin'", "It's The Same Old Song", "I can't Help Myself" and "Something About You". They wrote "Its Your Thing" for The Isley Brothers, "Love's Gone Bad" for Chris Clark and "You Keep Me Hanging On" for The Supremes and later Vanilla Fudge.
Brian Holland (born in Detroit in 1941) had his first hit as a songwriter with "Please, Mr. Postman" for The Marvelettes in 1961. He tried to launch a career as a solo act. But he had little success. His brother, Eddie Holland (born in Detroit in 1939), had a #6 hit on the Billboard R&B chart in the fall of 1961 called "Jamie." Due to stage fright, he decided to focus on songwriting and producing. Lamont Dozier (born in Detroit in 1941) was the songwriting teams producer and musical arranger. He later had his own Top 20 hit on the Billboard Hot 100 in 1974 titled "Trying To Hold On To My Woman". In the 1980's, Dozier co-wrote "Two Hearts" with Phil Collins.
"Can I Get A Witness" is a song about a guy who complains that it's not fair to be in love with someone who is never home. In the particular relationship, the guy complains that he hasn't seen his "baby all week." Is she working a double-shift, working out-of-town, or hanging out at the homes of other friends or other boyfriends. It's likely that the woman in this guys life has her own home. Though it is plausible, and even more problematic, that she is never home even though they share the same address. Whatever the circumstance, they aren't on the same page concerning expectations of regular contact and what developing intimacy looks like. While it may be true that absence makes the heart grow fonder, too much absence contributes to the other person becoming impatient and irritated. The guy in "Can I Get A Witness" is "in love" with a woman who is never home. But, what will it take for him to pause and consider what he is really getting out of this relationship? Does this woman actually value the relationship? It seems she is too busy to be in touch and make this guy a priority. In addition to getting a witness to concur that he is being treated unfairly, he needs an exit strategy. And fast. After all, he's already come to the conclusion "this ain't the way love's supposed to be."
At the height of his popularity, Lee Michaels played in concert with recording artists Cactus and Humble Pie. He appeared at Filmore East in New York City and Filmore West in San Francisco. He also played Carnegie Hall in New York City. While several websites credit Lee Michaels as being a session musician for Jimi Hendrix, his name does not appear on the credits for any of Hendrix's three studio albums.
Lee Michaels released four more studio albums between 1972 and 1975. In 1973, he released one live album recorded at a concert in Carnegie Hall. However, with each successive album release his record sales continued to drop. His final single release was in 1973. By the end of the decade Lee Michaels officially went into semi-retirement. In 1982, Michaels released Absolute Lee on his own Squish label. Since then he has been silent in the recording studio.
Michaels went in a new direction and opened a seafood restaurant called Killer Shrimp in Marina del Rey.
December 14, 2018
Ray McGinnis
References:
Lee Michaels Tour Dates, Rock Tour Database.com.
Jim Farber, What Happened To Lee Michaels?, Music Aficionado.com.
Bill Kopp, "We Know What You Mean: Lee Michaels," Blunt Magazine, November 10, 2015.
Lamont Dozier biography, Lamont Dozier.com.
"Brian Holland-Lamont Dozier-Eddie Holland," Michigan Rock and Roll Legends.com.
"West Coast Music Survey," CKVN 1410 AM, Vancouver, BC, December 17, 1971.
For more song reviews visit the Countdown.