#1084: Can You Give It All To Me by Myles & Lenny
Peak Month: March 1975
7 weeks on CKLG
Peak Position #11
Peak Position on Billboard Hot 100 ~ did not chart
YouTube.com: "Can You Give It All To Me"
Lyrics: "Can You Give It All To Me"
Lenny Solomon was born in Toronto in 1952. He was musically influenced by his dad, Stanley Solomon, who played violin in the Toronto Symphony. Lenny Solomon learned to play violin while he was still a child. Myles Cohen was born in Montreal and taught himself guitar in his youth. Myles & Lenny formed after the two met in high school in Toronto in the late 60s. In 1969 they attended a songwriters conference held at the Mariposa Folk Festival that year on Centre Island, part of the Toronto Islands. During the festival they made their debut appearance on stage. The festival was a catalyst for gigs at Toronto area coffee houses and short tours to Western Canada.
In 1972 they got a record deal with GRT. The single "Time To Know Your Friends" got airplay in Toronto. However, GRT cancelled their contract. The duo got a new record deal in 1974 with Columbia Records. They went into a studio and "Can You Give It All To Me" featured bass player Saul Keshen and drummer Brian Leonard. The single climbed to #19 on the Canadian RPM singles chart and #11 in Vancouver.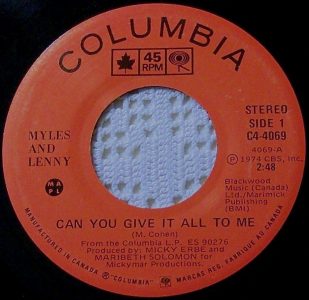 "Can You Give It All To Me" is a song about someone living a stressful life. They've gotten tired. They've got a lot of tasks to accomplish. They think everyone's out to get them. They've given their love, but now they've taken it away. Meanwhile, their lover isn't recognizing what is going on – "Somehow I knew, wouldn't see what I was going through" – and it seems that perceptions of scarcity hamper the capacity to be giving and nurture the relationship. Withholding love is hard on both the person who is doing the withholding as well as the person not getting the love they need.
Columbia Records were impressed with the sales for the single and the Myles and Lenny album was released. Columbia hoped "Can You Give It All To Me" would do well internationally. However, it got a tepid response. On the album Lenny Soloman played viola and mandolin. Another single from the album was "In The Sky". But it failed to chart. The next single from the album was "Hold On Lovers". In the summer of 1975 it had a chart run in the Top 30 in Toronto and Peterborough, Ontario.
In 1975 Myles and Lenny got invited to be an opening act on a Canadian tour headlined by Savoy Brown and The Beach Boys. After a successful cross-Canada tour, Myles and Lenny went on to record their second album, It Isn't The Same. Session musicians on the album included keyboards from Hagood Hardy and guitar from Toronto area session musician Bob Mann. A couple of singles were released from the album, "It Isn't The Same" and "I Care Enough". However, neither song got much airplay and both failed to crack the Top 40 in Toronto. To support the album, Myles and Lenny went on tour across Canada and appeared again on stage on Centre Island at the Mariposa Folk Festival.
In 1976 Myles and Lenny were awarded the Juno for Most Promising Group. However, this couldn't prevent the axe from falling due to poor record sales. Myles and Lenny were let go by Columbia Records. After that both Myles Cohen and Lenny Solomon went solo. Cohen released the album, Myles High, in 1980. He focused on adult contemporary music and released a number of albums while he based himself in California.
Lenny Soloman went on to take a degree in music at McGill University. Solomon was a featured performer with the National Youth Orchestra. He went on to record as a session musician for Anne Murray and numbers of other recording artists. In addition to work as a session musician, Solomon formed a five-piece jazz group called Quintessence, and next released an album with the band Trio Norte. In 1991 Lenny Solomon released his album After You've Gone: The Classic Jazz Violin of Lenny Solomon. In 1995 he recorded The Gershwin Sessions. He also worked on a musical adaptation of Monty Python's "Spamalot" that played in Toronto from 2005 onward. Solomon next created a stage production called Bowfire – The Total Violin Experience. He played to sold out concerts across North America, Europe and Asoa. Lenny Solomon has won the Violinist Of The Year award handed out by The Jazz Report on three occasions. Solomon's most recent release is The Blues Violin in 2015.
In addition to all his other accomplishments, Lenny Solomon founded a Jewish rock group named Schlock Rock in 1986. In a Jewish Life article in Only Simchas, November 28, 2017, Solomon was interviewed about the three decades being part of the band. Birthed in December 1985, they released their first album in 1986. The article explains, "Shlock Rock is a Jewish Rock Band that teaches Jewish ideas through music using song parodies, original music in both English and Hebrew and children's songs. Lenny Solomon started the ball rolling in 1986 and since then the band has released more than 30 amazing albums! Our mission is to encourage Jewish pride, identity and awareness and help promote Jewish continuity through music. Shlock Rock has performed over 2,000 shows in the United States, Canada, Australia, South Africa, Israel and England."
May 24, 2017
Ray McGinnis
References:
Myles Cohen, Ron Graham, Lenny Soloman, Myles and Lenny, Canadian Bands.com
Myles Cohen, Number One Music.com
Lenny Solomon bio, Lenny Solomon.com
Rainey Wetnight, The Blues Violin ~ Review, Blues Blast Magazine.com, June 1, 2015
Great Schlock Rock Interview with Lenny Solomon, Only Simchas, November 28, 2017.
"CKLG 'Thirty'," CKLG 730 AM, Vancouver, BC, March 28, 1975
For more song reviews visit the Countdown.