#1428: Canada by The Young Canada Singers
Peak Month: March 1967
9 weeks on Vancouver's CFUN ALL CANADIAN TOP TEN chart
Peak Position #3
Peak Position on Billboard Hot 100 ~ did not chart
YouTube.com link: "Canada"
Lyrics: "Canada"
Robert Stead Gimby was born in Cabri, Saskatchewan, in 1918. After a fire burned down his father's hardware store, the family moved to Chilliwack, British Columbia. While in Chilliwack he learned to play the trumpet and joined the Town Band, which was a hit at local dances. In 1941, he became a member of Canadian band leader Mart Kenny's touring orchestra. The Winnipeg Free Press referred to Gimby as "The Wizard of the Trumpet." Gimby also was a member of Mart Kenney's Western Gentlemen which was based in Vancouver and toured western Canada. In 1944 Bobby Gimby moved to Toronto where he formed his own band. Simpsons was the sponsor of his band and he became very popular at teen dances in "Hogtown." He made some recordings and in 1945 became a member of the Happy Gang, a popular CBC radio show with over two million listeners daily. During its run, the population of Canada between 1937 and 1959 increased from 11 million to 15 million.
Into the 1960's Gimby became a sought-after composer of ads to TV and radio. In 1962 Gimby wrote "Malaysia Forever" which became the unofficial anthem of the new nation in 1963. The Brandon Sun reported in 1967 that Bobby Gimby was nicknamed "The Pied Piper of Canada," and he performed dressed as the Pied Piper of Hamelin, wearing a cape.
In 1967 Bobby Gimby wrote a song for the Canadian 100th Centennial Anniversary. The song, "Canada", was written for a documentary about the Canadian Centennial. Over 250 school bands performed the song and Bobby Gimby would perform the song inviting children to come on stage to sing the song. Teachers, loving the message of "Canada" and led the demand to release it as a single.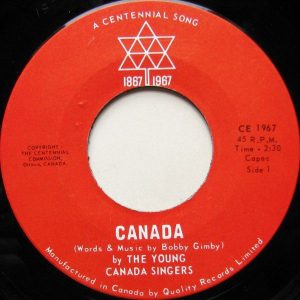 "Canada" was a bilingual song and also had a French language version titled "Une chanson du centenaire".The song's recording was performed by the Young Canada Singers composed of two groups of children. One group of children sang the French lyrics, led by Montreal conductor Raymond Berthiaume. The second group of children sang in English, led by Toronto conductor Laurie Bower. The 45 rpm release was manufactured for the Centennial Commission by Quality Records.
On June 17, 1967, RPM Magazine wrote "Now about those Craddock kids. They were on the Perry Como Show a couple of weeks ago, you know, but you'd never know it by the Canadian newspapers. Anyway, the Craddock kids were really the Young Canada Singers, plus one other kid and two adults, who were featured on 'Canada', the largest selling record in the history of the Canadian record business. After the single was released, a Canada album was recorded "by the Young Canada Singers featuring the Craddock Kids."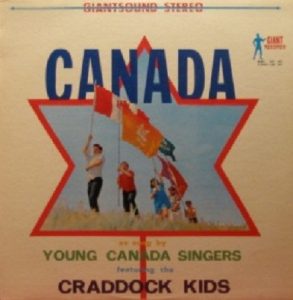 On the Canada album were a variety of tracks including "This Land Is Your Land", "Red River Valley", "Squid Jiggin' Ground", and "Canadian Sunset". The Craddock Kids ranged in age between 5 and 14 at the time of the recording. RPM didn't mention their specific first names.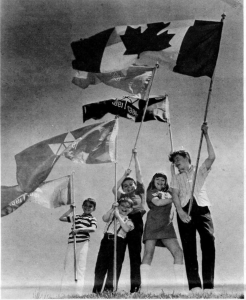 The Craddock Kids
The lyrics to "Canada" celebrated the nation being 20 million strong in 1967 and having ten provinces, and territories too. As a show of elation, church bells across the nation were said to ring. Meanwhile, Canadians everywhere were singing "Frère Jacques". The song, "Frère Jacques", is about a friar who has overslept. He is urged to wake up and sound the bell for the matins, the midnight or very early morning prayers for which a monk would be expected to wake. The English version of "Frère Jacques" was titled "Brother John". It was often sung in a round with both the French and English verses. "Canada" promised "there'll be happy times" and anticipated "church bells will ring, ring, ring. It's the hundredth anniversary of confederation. Everybody sing together." The Young Canada Singers signaled the centennial was an occasion to shout "three cheers, hip, hip hooray." "Canada", and the Expo 67 centennial celebrations, evoke a time in the nations history of high optimism and possibility.
In 1967 "Canada" sold over 270,000 copies. The song climbed to #4 on CHUM in Toronto, #5 on CFGP in Grande Prairie, Alberta, #7 on CJCA in Edmonton, and #30 in Vancouver. It also was listed on the CFUN ALL CANADIAN TOP TEN and peaked at #3.
In 1968 Bobby Gimby was awarded the Order of Canada presented by Governor General Roland Mitchener. Gimby wrote many songs over the years including for Ray Bolger, Georgia Gibbs and Peggy Lee. Gimby died at the age of 79 in 1998.
At this time of writing, fifty-two years after the centennial and the chart-run of "Canada", the sentiment that describes our nation in this song in 1967 has changed dramatically.
July 6, 2019
Ray McGinnis
References:
"Kinsman Brings Kenney Here for Fund Dances." Winnipeg Tribune, March 29, 1941.
Liam Lacey. "Catchy Song Still Echoes for Ca-na-da- Pied Piper Gimby." Toronto Globe & Mail, July 24, 1987.
"Keen-Teens Have Keen Time at Teen Turnouts." Toronto Globe & Mail, March 23, 1946.
Lotta Dempsey. "New Songs, New Singer, Solid Senders." Toronto Globe & Mail, March 24, 1949.
F.A. Rosser. "Sun Beams." Brandon (Manitoba) Sun, April 22, 1967.
"Musician Led Canada in Song in Centennial Year," Toronto Globe & Mail, June 22, 1998.
Obituaries, "Robert Stead Gimby," Globe and Mail, June 23, 1998.
"Canada", Wikipedia.org.
"The Craddock Kids Cut," RPM, June 17, 1967.
"ALL CANADIAN TOP TEN," CFUN 1410 AM, Vancouver, BC, March 18, 1967.
For more song reviews visit the Countdown.