#411: Can't Seem To Make You Mine by the Seeds
Peak Month: April 1967
7 weeks on CKLG's Vancouver Chart
Peak Position ~ #2
1 week Hit bound
Peak Position on Billboard Hot 100 ~ #41
YouTube: "Can't Seem To Make You Mine"
Lyrics: "Can't Seem To Make You Mine"
The Seeds were a garage rock band based in Los Angeles that formed in 1965. They coined the phrase, "Flower Power," and are regarded as pioneering a sound that would later evolve into 70's punk rock. The band's leader, Sky "Sunlight" Saxon, was born in Salt Lake City in 1937. His birth name was Richard Elvern Marsh. Saxon began his career performing doo-wop pop tunes in the early 1960s under the name Little Richie Marsh. In 1962 he changed his name to Sky Saxon and formed the Electra-Fires. Subsequently, he became frontman for Sky Saxon & the Soul Rockers.
The Seeds were formed in 1965 and the band became a regular act at the LA club, Bido Lito. Keyboardist player, Daryl Hooper, was among the first to make use of the keyboard bass, a signature of the Seeds' "sound." Jan Savage and Jeremy Levine were the bands guitar players and on drums was Rick Andridge. Sky Saxon was on lead vocals and bass. However, on the Seeds recordings, Saxon did not play bass. Session musician, Harvey Sharpe, was usually given credit as personnel for bass in the recording studio.
Jeremy Levine left the Seeds before they went into the recording studio. In 1965 the Seeds released their first single, "Can't Seem To Make You Mine".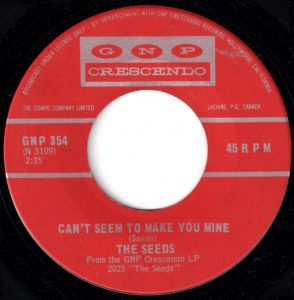 "Can't Seem To Make You Mine" was a song written by Sky Saxon. In the song there is a guy smitten by a woman who gives him "a little bit of love, but not one kiss." However, he's just a plaything given that she's "kissing around all the time." He also notices that she flies "around like a bee, hurtin' everything you see." He tries to love her, but all she does it direct her hurtin' ways at him. This makes him miserable. Despite the shabby treatment he gets from her, he persists: "with every breath and step I take, I'm more in love with you." The engine of his longing for her is a brief sexual affair: "Come back baby, 'cause I'm all alone … 'cause I need your love. Girl, I wanna love ya tonight." But, she's likely not just kissing around with other guys. In which case he's her yesterday man, and she's moved on.
In an article titled "How to Get Over a Girl Who Doesn't Like You Back," Jake Butler observes "If a girl flirts with you, it definitely doesn't mean she loves you. She may be attracted to you, but perhaps she has other reasons to avoid dating you." In "Can't Seem To Make You Mine", the "girl" doesn't give the guy who's in love with her even "one kiss." Whatever can be said for the "little bit of love" (roll in the hay), she can't bring herself to even kiss him. He can't seem to make her mine, and it seems that will never happen if she can't even bring herself to kiss him. She may find him sort of attractive, enough to make her curious to go to bed with. But she's found out whatever she needs to discover about their chemistry. Now she's "flying around like a bee" playing the field and getting close to many other guys.
Butler goes on to point out that people change their minds. In "Can't Seem To Make You Mine" the girl gave him a little bit of love. But now she's kissing around and sparking with whoever she fancies. She may have liked and even been fascinated with the guy in the Seeds song. But, she's changed her mind for whatever reason. And as often as not, the reason for that decision may not even be conscious. Additionally, it is constructive to remember that life isn't always fair. Life isn't always predictable. And in "Can't Seem To Make You Mine" it is best for this guy to let go of his fascination with her. If he is tired of being alone, there are other women who he can meet. Best not to think about the "girl" who's left him in misery anymore.
"Can't Seem To Make You Mine" became a Top Ten hit in Santa Monica in 1965. DJ Wolfman Jack decided to play the first single the Seeds released, making them a big sensation in southern California. The song only became a national hit in the USA 1967 as their third release in most radio markets. In local radio markets "Can't Seem To Make You Mine" climbed tin #1 in Salt Lake City (UT), Indio, Monterey and Oxnard (CA), #2 in Vancouver (BC), Honolulu, Akron (OH), Billings (MT), San Jose, Sacramento and San Bernardino (CA), #3 in Seattle, Los Angeles and San Francisco, #4 in Phoenix (AZ), Erie (PA), San Antonio and Fort Worth (TX), San Diego, Modesto and Salinas (CA), #5 in Vancouver (WA), Louisville (KY) and Sarasota (FL), #6 in Tucson (AZ), #7 in Flint (MI), #8 in Bakersfield (CA), Salem (OR) and Saginaw (MI), #9 in Chicago and #10 in Winnipeg (MB) and Regina (SK). But "Can't Seem To Make You Mine" got little chart action in over twenty states in the USA, peaking at #41 on the Billboard Hot 100.
The Seeds first national Top 40 success in the USA was "Pushin' Too Hard", in the winter of 1966-67.
Between "Pushin' Too Hard" and "Can't Seem To Make You Mine", the Seeds released "Mr. Farmer". It climbed to #12 in Vancouver (BC) in February 1967, but only #86 on the Billboard Hot 100. The Seeds released just one other single that would break into the Billboard Hot 100 in June 1967 titled "A Thousand Shadows". The release climbed to #72 in the USA and #26 in Vancouver. Several more releases augmented their repertoire in concerts. These include "900 Million People Daily (All Making Love)," "The Wind Blows Your Hair", "March of The Flower Children". The Seeds appeared before 18,000 fans at a concert at the Hollywood Bowl that year.
The Seeds were invited to play at Woodstock, but turned down the invitation to play at Yazgers Farm in August '69. In hindsight, the band admitted it wasn't their best decision. The Seeds split up in 1972. "Pushin' Too Hard" has since been named by the Rock and Roll Hall of Fame as one of the 500 Songs that Shaped Rock and Roll.
Years later, punk rocker Iggy Pop said in a press interview, "I've never liked the idea of putting on some music before sex, but if I was gonna put on some music to have some sex with, I'd put on The Seeds." Many recording artists have covered material by The Seeds including Frank Zappa and the Strawberry Alarm Clock. Among the groups that credit The Seeds as an influence are the 80's group The Bangles.
In 2003 the Seeds reformed with Sky Saxon and a mix of original and new bandmates. Saxon died of heart failure in 2009. Original bandmates, Daryl Hooper, Jan Savage and Don Boomer (Seeds drummer from 1968) have toured with newer members of the band in recent years. The Seeds' original drummer Rick Andridge died in 2011.
In 2014 a documentary about The Seeds, Pushin' Too Hard, was released and continues to be shown on occasion at art movie houses.
In 2019 The Seeds played concerts in San Francisco, Sacramento, Westlake (CA) and one concert in London (UK). The newest version of the Seeds features founding member Daryl Hooper on keyboards, and 60's alumni Don Boomer on drums. Rounding out the band is seasoned session guitarist Jeff Prentice, Alec Palao on bass guitar, Jan Savage on guitar, and a dynamic lead man named Paul Kopf on vocals. The Seeds have also performed more recently in concert with the Blues Magoos and the Electric Prunes.
August 19, 2020
Ray McGinnis
References:
The Seeds, Classic Bands.com.
Neil Norman, Pushin' Too Hard, GNP Crescendo Records, Hollywood, CA, 2014.
Shari Linden, 'The Seeds: Pushin' Too Hard': Film Review – Sixties L.A. Hitmakers the Seeds are the Subject of a Documentary by Music Producer Neil Norman, Hollywood Reporter, August 8, 2014.
"Monkees On Tour," The Monkees, NBC, April 24, 1967.
Cameron Crowe, Almost Famous, Dreamworks Pictures, 2000.
Sky Saxon Dies; Founder of 1960s Band the Seeds, Los Angeles Times, June 27, 2009.
Jake Butler, "How to Get Over a Girl Who Doesn't Like You Back," LovePanky.com.
"Boss 30," CKLG 730 AM, Vancouver, BC, May 13, 1967.
For more song reviews visit the Countdown