#615: Can't Truss It by Public Enemy
Peak Month: January 1992
Peak Position #8
12 weeks on Vancouver's CKLG Chart
Peak Position on Billboard Hot 100 ~ #50
YouTube.com: "Can't Truss It"
Lyrics: "Can't Truss It"
Carlton Douglas Ridenhour was born in 1960 in the New York City borough of Queens. After the 1977 New York City blackout, he started to put pen to paper. From 1981-84 he attended Adelphi University on Long Island and studied graphic design. While he was there, Ridenhour co-hosted hip hop radio show called the Super Spectrum Mix Hour. On the show he went by the name of Chuck D, which was run on Saturday nights at Long Island rock radio station WLIR. William Jonathan Drayton Jr.was born in 1959 in the small town of Roosevelt, Nassau County, on Long Island. Drayton Jr. taught himself to play the piano from the age of five. In addition he sang in a youth choir at his church. As well, he learned to play drums and guitar during his childhood. In his late teens Drayton Jr. served time in prison once for robbery, and another time for burglary.
Chuck D met Drayton Jr. when they began to collaborate on the Super Spectrum Mix Hour. After they got acquainted, Chuck D and Drayton Jr. started rapping together. In 1985 they formed Public Enemy. William Drayton Jr. went by the stage name Flavor Fav. The duo were signed with Def Jam Records in 1986.
In 1987 Public Enemy released the album Yo! Bum Rush the Show with Norman Rogers under the stage name Terminator X, as the lead scratch. He was born in 1966 in North Carolina. In 1988 the group released their second studio album It Takes a Nation of Millions to Hold Us Back. The album track included "Don't Believe The Hype", which climbed to #18 on the UK Singles chart and the Billboard Hot R&B Singles chart.
In 1989 Spike Lee featured Public Enemy's single, "Fight the Power", on the soundtrack for his film Do the Right Thing. The exposure added to their growing popularity with the release of Fear of the Black Planet. "Fight The Power" topped the Billboard Hot Rap Tracks chart for six weeks in 1989.
Richard Griffin, formerly Public Enemy's minister of information, said in an interview with The Washington Times: "The Jews are wicked. And we can prove this. The Jews are responsible for the majority of wickedness that goes on across the globe." Mr. Griffin, known in the group as Professor Griff, was a member of the band's security detail who appeared on stage with the musicians. After Professor Griff's comments were published in the press, he was let go from the band in June 1989. In his 2009 memoir, Analytixz, Griffin said his words were taken out of context.
A second single from Fear of the Black Planet titled "911 Is A Joke", also topped the Hot Rap Singles chart in May 1990. The song complained about the habitual tardiness of ambulances arriving at the scene of a shooting, or medical emergency. And Public Enemy alleged that 911 responders were "paid" to stay away from African-American neighborhoods.
Apocalypse 91… The Enemy Strikes Black was the title of the fourth studio album by the hip-hop group. The first single from the album was "Can't Truss It".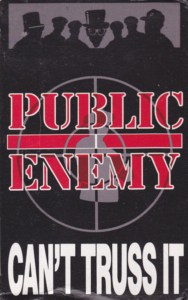 "Can't Truss It" was co-written by Chuck D, hip-hop producer Hank Shocklee, and hip-hop producer Eric Sadler.
In the official music video there is a montage of scenes that include African-American slaves being sold at auction – walking with chains around their ankles and being in prison cages; post-Civil War scenes of cotton-pickers on plantations and being lynched; And a 1990s scene of a Black man being apprehended in a car and mercilessly beaten by several police with clubs. The latter scene recalled the much-televised video footage of the beating of Rodney King in Los Angeles on March 3, 1991.
The lyrics in the song advise that a holocaust is continuing to unfold for African-Americans living in America: "Cost of the holocaust, I'm talkin' 'bout the one still goin on…" The juxtaposition of pre-Civil War, Jim Crow era and 1990s scenes in the video make the case that oppression has only morphed. The problems of racism and prejudice persist.
During the slave trade, according to a report in the New York Times in 2019, "roughly 15 percent of each ship's enslaved population died before they ever reached land." In 1662 the colony of Virginia passed a law which "decreed that the status of the child followed the status of the mother, which meant that enslaved women gave birth to generations of children of African descent who were now seen as commodities," not people or citizens.
In 1846 slave patrols were established across a majority of states in America. These slave patrols would "visit all Negro quarters and other places suspected of entertaining unlawful assemblies of slaves … as aforesaid, unlawfully assembled, or any others strolling from one plantation to another, without a pass from his or her master or mistress or overseer, and take them before the next justice of the peace, who if he shall see cause, is hereby required to order every such slave … aforesaid to receive any number of lashes, not exceeding 20 on his or her back." Slave patrols were encouraged to meet quotas for punishing slaves on their rounds, to make an example of them and keep the fear of God in the slave communities.
After the American Civil War a brief period of liberalization of Black Americans rights gave way to the Jim Crow era. By the 1880s southern states, and some in the mid-west and the north, passed laws which "forced African Americans to attend separate schools, use separate water fountains, and separate bathrooms. A "poll tax" prevented people from voting, while literacy tests and the grandfather clause further prevented African Americans from voting." This continued up until the passage of the Civil Rights Act of 1964.
Chuck D told the press "'Can't Truss It' is about how the corporate world of today is just a different kind of slavery. We don't control what we create. And because of the media, we don't control the way we think or run our lives. We've got to limit working for a situation that's other than ours. We have no ownership of anything. If you don't own business, then you don't have jobs. White people have jobs because they have business. They have institutions that teach them how to live in America. Black people don't have institutions that teach them how to deal with s–t. The number one institution that teaches you how to deal is the family, but slavery f–ked that up. So the song is about the ongoing cost of the holocaust. There was a Jewish holocaust, but there's a black holocaust that people still choose to ignore."
In 2018 the Guardian published an article with the headline: "Black Americans Incarcerated Five Times More Than White People – Report." A report by The Sentencing Project details the statistics behind the headline. And the New York Post reported in July 2020 that "African Americans are three times more likely to be killed by a police officer than their white neighbors." These recent reports are part of a trajectory that Public Enemy was rapping about in the early 90s.
In "Can't Truss It" there are a number of songs that are sampled. The sampled tracks are: "Sing a Simple Song" by Sly & the Family Stone, "Get Up, Get Into It, Get Involved" by James Brown, "Hihache" by Lafayette Afro Rock Band, "Bicentennial Ni–er" by Richard Pryor, "I'm Nin'Alu" by Ofra Haza, "It's Yours" by T La Rock and Jazzy Jay, and "Dumb Girl" by Run-D.M.C.
"Can't Truss It" became the third number-one single for Public Enemy on the Billboard Hot Rap Tracks chart in November 1991. The single charted on a few pop charts in different radio markets. These include Vancouver (BC) at #8. There were several non Top 40 radio markets in the Contemporary Hit Radio category where the single reached #8 in San Francisco and #12 in Sacramento (CA). Otherwise, radio listeners had to turn their radio dial to a hip-hop/rap station if they wanted to hear "Can't Truss It".
In March 1992 Public Enemy had their fourth number-one single on the Hot Rap Tracks chart with "Shut 'Em Down'". Chuck D told Melody Maker the song "is about major corporations like Nike taking profits from the black community, but not giving anything back, never opening businesses in black areas. And it's saying that the best way to boycott a business is to start your own."
In 1994 Public Enemy's "Give It Up" made the Top 20 pop charts in Australia, Finland and New Zealand. The single also peaked at #33 on the Billboard Hot 100, their only appearance on the Top 40 on that US pop chart. The single was the first release from the group's studio album Muse Sick-n-Hour Mess Age.
In 1998 Public Enemy released the Soundtrack for the film He Got Game, directed by Spike Lee. The title track from the album peaked at #7 on the pop charts in New Zealand. It was their last appearance in the Top 40 domestically or internationally.
Over the years Public Enemy has been nominated for five Grammy Awards. On four of these occasions it has been in the category of Best Rap Performance by a Duo or Group. These have been for "Fight The Power", the albums Fear of the Black Planet and Apocalypse 91… The Enemy Strikes Black, and compilation album Greatest Misses. They lost the award respectively in 1991 to Quincy Jones, Big Daddy Kane, Ice-T, Kool Moe Dee, Melle Mel & Quincy Jones III for "Back On The Block"; to DJ Jazzy Jeff & the Fresh Prince in 1992 for "Summertime"; and Arrested Development in 1993 for "Tennessee".
And in 1995 Public Enemy shared a Grammy Award nomination for Best Metal Performance with Anthrax. The award went to Soundgarden for "Spoonman".
As of 2021 Public Enemy has released 41 singles, 15 studio albums, 2 live albums and one soundtrack album.
January 9, 2021
Ray McGinnis
References:
Jon Pareles, "Public Enemy Rap Group Reorganizes After Anti-Semitic Comments," New York Times, August 11, 1989.
Nadra Kareen Little, "Biography of Controversial Rap Group Public Enemy,"
Liveabout.com, January 14, 2020.
Khaleda Rahman, "Whipped Mercilessly, Worked to the Bone in Cotton Fields and Warned Police Will Hunt Them Down if they Escape: Incredible Images Show the Brutal Reality of Slaves in America on the Anniversary of the End of the Brutal Practice," Daily Mail, London, UK, February 1, 2018.
Phil Reeves, "Profile: An Icon, Anxious and Shy: Rodney King – As he Awaits a New Trial of the Police who Beat Him, Rodney King has Become a Hero, a Demon, and a Gold Mine. Phil Reeves reports," Independent, February 21, 1993.
John Leland, "Public Enemy: Our 1988 Interview With Chuck D," Spin, September 1988.
Ben Beaumont-Thomas, "How we made Public Enemy's Fight the Power," Guardian, March 7, 2016.
Mary Elliot, "Four Hundred Years After Enslaved Africans Were First Brought to Virginia, Most Americans Still Don't Know the Full Story of Slavery," New York Times, August 19, 2019.
Nicole Puglise, "Black Americans Incarcerated Five Times More Than White People – Report," Guardian, June 18, 2016.
Ebony Bowden, "Trump says 'More White People' are Killed by Police than African Americans," New York Post, July 14, 2020.
"Time Period: Jim Crow," African American Charleston.com.
"Vancouver's Official Top 40," CKLG 730 AM, Vancouver, BC, January 20, 1992.
For more song reviews visit the Countdown.