#1186: Carey by Joni Mitchell
Peak Month: September 1971
8 weeks on Vancouver's CKVN chart
Peak Position #12
Peak Position on Billboard Hot 100 ~ #93
YouTube.com: "Carey"
Lyrics: "Carey"
Roberta Joan Anderson was born in 1943, in Fort Macleod, Alberta. Her father was a grocer and her mother a schoolteacher. After the end of World War II, her family moved to North Battleford, Saskatchewan. When she was 9 years old, Joni and her family moved 85 miles southeast to Saskatoon. She took piano lessons as a child. In her teenage years, since she couldn't afford a guitar, Joni taught herself to play the baritone ukelele which she bought for $36. In her teens Anderson listened to rock-n-roll radio broadcasts out of Texas where the radio signals were especially strong at night. She played at parties and also hung out at a local coffeehouse in Saskatoon called the Louis Riel. She later learned the guitar. In 1964 she began her professional musical career by playing clubs and festivals around Canada. Her repertoire consisted mostly of standard folk songs, many recorded by her idol, Judy Collins, until she began writing her own songs, starting with "Day After Day", which she wrote while on her way to the Mariposa Folk Festival in 1965.
In 1964 Anderson discovered she was pregnant by her college ex-boyfriend. In February 1965 she gave birth to a baby girl. On her own with a newborn, she was unable to find work. She kept this a secret for three decades 'til in 1994 she told "Vogue" magazine: "I had had a child, and I was broke, literally penniless. And I met Chuck Mitchell, and he said he would take us on. I was kind of railroaded…we were never suitable. I went down the aisle saying 'I can get out of this.'" A few weeks after the birth, Joni married folk-singer Chuck Mitchell. He promised to help take responsibility for the child but something changed, and a few weeks later Joni gave up her daughter for adoption.
On Toronto Island on August 5th and 7th, 1966, Joni Mitchell played a short set to much acclaim at the Mariposa Folk Festival. On August 17, 1966, Mitchell appeared on TV at the CBC studio in Vancouver. In 1967, her marriage to Chuck Mitchell dissolved. She wrote about her experience in the song "I Had A King" on her debut album, Song to a Seagull. This was followed the next year with Clouds, which won her a Grammy for Best Folk Performance of 1969.
On July 19, 1969, Mitchell appeared on stage at the Newport Folk Festival in Newport, Rhode Island. In early 1970 Joni Mitchell chose to retire from the concert circuit. Taking time off to travel, she was able to reflect on the celebrity that she'd sought and found, but hadn't enjoyed since the first flickers of fame had approached her with a gasp in their voices. She performed at a few festivals in the summer of 1970, but did not take on a regular concert schedule for most of the year. Simultaneously, her third album, Ladies of the Canyon, went platinum in the USA. Her single from the album, "Big Yellow Taxi" climbed to #67 on the Billboard Hot 100 and #19 on CKVN.
On October 16, 1970, Joni Mitchell appeared in concert at the Pacific Coliseum in Vancouver. Also on stage for a Greenpeace concert were Phil Ochs, James Taylor and Chilliwack.
Mitchell traveled throughout Europe, visiting France, Spain, and Greece. On the ancient isle of Crete she took up the Appalachian dulcimer and rapidly wrote a series of songs dealing with her adventures, including "Carey" and "California". Both would appear on her fourth studio album, Blue.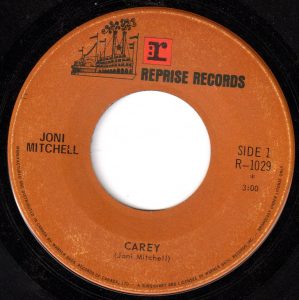 "Carey" was a song about Cary "Carrot" Raditz, a red-headed cane-carrying chef she met in the village of Matala on the island of Crete, in Greece. In Matala there was a cave-dwelling hippie community which inspired her to reference the al fresco hippie lifestyle in the song lyrics, including The Mermaid Cafe, now renamed as the Kymata/Waves Restaurant. In concert Mitchell introduced "Carey" to her audiences by imparting anecdotes about Raditz and their escapades in Crete.
In the song Joni Mitchell is enjoying her time in Matala, Crete, and hanging out with her friends, including Carey, at the Mermaid Cafe. Her lifestyle in Matala, with the beach tar at the water's edge that gets on her feet, and her filthy fingernails, makes her long for her clean white linen sheets and fancy French cologne. However, at the Mermaid Cafe she can drink wine, have a toast to nothing, and buy a round of drinks for the freaks and soldiers at the cafe. She doesn't need to stay in Matala. There are options: Amsterdam or Rome. She can rent a grand piano and have fresh cut flowers. But right now, the sky is a starry dome and the Matala moon is beautiful.
Mitchell's dulcimer skills were first premiered on Blue and in especially on "Carey", a recording that also featured Stephen Stills on bass guitar and acoustic guitar.
"Carey" was the debut single from Blue, debuting at #93 on the Billboard Hot 100 and falling off the chart the next week. Vancouverites made "Carey" a modest hit peaking locally at #12 on CKVN. Blue was the first of four of Mitchell's albums that climbed into the Top Ten of Canada's national album charts. Mitchell later said of Blue, "I have, on occasion, sacrificed myself and my own emotional makeup, … singing 'I'm selfish and I'm sad', (on "River") for instance. We all suffer for our loneliness, but at the time of Blue, our pop stars never admitted these things." Blue was considered an inspired outcome of her early work, with grim anecdotes of the world around her providing a contrast to upbeat expressions of romantic love. Mitchell later remarked in an interview with Cameron Crowe of Rolling Stone, "At that period of my life, I had no personal defenses. I felt like a cellophane wrapper on a pack of cigarettes. I felt like I had absolutely no secrets from the world and I couldn't pretend in my life to be strong."
The B-side of the 45, "Carey" was another track from Blue titled "This Flight Tonight". It was later covered by the Scottish rock band Nazareth. On March 15, 1972, Joni Mitchell appeared in concert at the Queen Elizabeth Theatre in Vancouver.
On September 2, 1979, Joni Mitchell gave a concert in Vancouver at the Pacific Coliseum. Nineteen years later, on May 14, 1998, Mitchell performed in Vancouver in concert at General Motors Place.
In all, Joni Mitchell has released 19 studio albums and two live albums between 1968 and 2007. Joni Mitchell has been inducted into the Rock and Roll Hall of Fame in Cleveland and received the Order of Canada. Over the years she's won nine Grammy Awards and been nominated for seven others.
February 10, 2017
Ray McGinnis
Update: On July 24, 2022, Joni Mitchell appeared on stage at the Newport Folk Festival in Newport, Rhode Island. She was a surprise guest of Belinda Carlile and friends. Mitchell played guitar on "Just Like This Train". She was accompanied by Carlile and others she wrote on "Carey", "Shine", "Both Sides Now", "A Case Of You", "Amelia", "Big Yellow Taxi", "Shine", and "Come In From The Cold". Mitchell, Carlile and friends also sang "Why Do Fools Fall In Love", "Love Potion #9", and "Summertime". Celisse performed "Help Me" during the set. Mitchell last appeared at Newport in July 1969. In 2015 she was diagnosed with brain cancer and lost the ability to sing or play guitar. She has learned again to sing and play guitar by watching her own performances online.
References:
Joni Mitchell biography, Joni Mitchell.com
The Mermaid Cafe, Kymata/Waves Restaurant, Hersonissos, Crete, Greece.
Renee Montagne, "The Music Midnight Makes: In Conversation With Joni Mitchell," NPR, December 9, 2014
David Wild, "Morrissey Interviews Joni Mitchell: Melancholy Meets the Infinite Sadness: Two Songwriters Hold Forth on Promiscuity, Chain-smokking, Eating Meat and Suffering for One's Art," Rolling Stone, March 6, 1997
Sean O'Hagan, "Joni Mitchell: the Sophistication of her Music Sets her Apart from her Peers – Even Dylan," Guardian, October 26, 2014
Jack Hamilton, The Unknowable Joni Mitchell: Her Music Inspires a Deep Sense of Intimacy, yet her Fierce Privacy is the Key to her Genius, The Atlantic, November 2017.
Joni Mitchell, Belinda Carlile and friends, "Carey", Newport Folk Festival, July 24, 2022.
Joni Mitchell, Belinda Carlile and friends, "Both Sides Now", Newport Folk Festival, July 24, 2022.
"Joni Mitchell – Concert Dates – Canada," setlist.fm.
"West Coast Music Survey," CKVN 1410 AM, Vancouver, BC, September 17, 1971.
For more song reviews visit the Countdown.