#1001: Carolina Caroline by Jonathan Edwards
Peak Month: June 1977
8 weeks on Vancouver's CKLG chart
Peak Position #10
Peak Position on Billboard Hot 100 ~ did not chart
YouTube.com: "Carolina Caroline"
Lyrics: "Carolina Caroline"
In 1946 Jonathan Edwards was born in Aitkin, Minnesota. He was adopted when he was nine months old and was an only child. His adoptive father, who worked for the FBI, moved the family to Virginia when Jonathan was six years old. By the time he was eight Jonathan joined a church choir and began play piano by ear. Later, in high school at a military school, he picked up guitar and started songwriting. Edwards recalled later on in an interview, "I started on a $29 guitar and immediately started putting a band together, writing songs and learning all the contemporary folk songs of the time. I just loved it, loved everything about it, loved being in front of people playing music." His love of music continued when he went to get a degree in Fine Arts at Ohio University, studying art and painting. Edwards was a regular at local clubs, joining in with bands variously playing rock, folk and blues.
He played with a bluegrass band named Sugar Creek for three years and then went solo in 1970. Edwards reputation grew and he was an opener up for headline acts including the Allman Brothers Band and B.B. King. But his biggest claim to fame was a hit single in 1971 he wrote titled "Sunshine." Edwards commented, "It was just at the time of the Vietnam War and Nixon. It was looking bad out there. That song meant a lot to a lot of people during that time, especially me. The song's lyrics are about making a choice to run your own life or have someone else run your life. "Some man" is the culprit who's trying to run his life, and it resonated with the protests against President Nixon and the draft. "Sunshine" climbed to #4 on the Billboard Hot 100 chart and #3 in Vancouver.
In March 1974, he and his friends got together to record a live album in Cambridge, Massachusetts, for his fans called Lucky Day. The live album was named after a song he wrote in the truck on his way up to live in Nova Scotia in 1973. Edwards had moved to Pictou, Nova Scotia with his wife and bought a 680 acre farm. A life-threatening illness was a key factor in Edwards decision to move to Nova Scotia and buy a farm. He lived in Nova Scotia steadily for eight years until 1981. During this time his daughter, Grace, was born in the farmhouse cabin in 1976.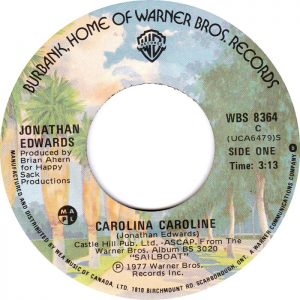 "Carolina Caroline" is a love song Jonathan Edwards wrote for his wife, Carolyn, who wrote the song "Nova Scotia," a track from his Lucky Day album. Perhaps, as Jonathan Edwards was on a 680 acre farm in Nova Scotia, he and his spouse, Carolyn, were riding on a wagon with six horses. He senses the ocean itself calling her name and its variants: Carolina, Caroline.
As the song happens to also sing the name Carolina, for many listeners the song coincidentally evoked images of both North Carolina and South Carolina. Even if unintended, some people liked the song as it reminded them of places like Hunting Island State Park, Myrtle Beach, Hilton Head Island, Edisto Beach and Folly Beach in South Carolina; And places like Cape Hatteras, Emerald Isle and Nag's Head in North Carolina. Carolinian beaches sprang to mind for some radio listeners due to the reference to "Caroline upon the sand." Earlier in the decade James Taylor had recorded a song titled "Carolina On My Mind". And when songs on the radio serve as background for people at work or having a picnic, folks can be forgiven for missing that Jonathan Edwards song was written about a person not a place. Still, what a songwriter intends and what the song evokes for their listeners often is not the same thing. Many of us hear what we want to hear.
At the height of his career Edwards was performing as many as 250 concerts a year. In 1986 Jonathan met his birth mother. Speaking of adoption, when Edwards was in college he fathered a child and he and his girlfriend decided to give the baby girl up for adoption. In 1992 Jonathan Edwards got a phone call from his birth daughter, Brenda. In both cases, Jonathan Edwards is glad to have his birth mother and the baby girl he gave up for adoption both very much in his life.
In the 1990's Edwards continued to tour, doing session work and producing his own music as well as that of other singers like Cheryl Wheeler. He took part in the 1994 Back to the Future tour that also included Don McLean, Tom Rush, Jesse Colin Young and Al Stewart.
In 2001, Edwards celebrated thirty years of "Sunshine" with a First Annual Farewell Tour. In 2008, Edwards appeared in the romantic comedy film The Golden Boys, starring Bruce Dern, David Carradine, Charles Durning, Mariel Hemingway, and Rip Torn. Set in Cape Cod in 1905, the film featured Edwards in the role of Reverend Perley. In addition to acting, Edwards scored the film.
Since 1971 Jonathan Edwards had released twelve studio albums and five live albums. In September 2017, Jonathan Edwards had five concerts that include stops in Maine, Connecticut, Rhode Island and Virginia. Later in the fall of 2017 he'll perform again in Maine and Connecticut, as well as in Michigan and Massachusetts.
In 2015 Jonathan was engaged to Sandy Owen, from Kennebunk, Maine. They'd met at a concert where he was performing in Blue Hill, Maine, by Blue Hill Bay, northwest of Acadia National Park.
September 20, 2017
Ray McGinnis
References:
Colin W. Sargent, "A Man In Full: Singer songwriter Jonathan Edwards makes his home in Maine," Portland Magazine, Portland, Maine, September 2015.
Jonathan Edwards bio, Appleseed Music.com.
The Golden Boys, Roadside Attractions, 2008.
Tour Dates, Jonathan Edwards.net.
"Vancouver's Official Music Survey," CKLG 730 AM, Vancouver, BC, June 21, 1977.
For more song reviews visit the Countdown.