#1040: Celebrate by the Infidels
Peak Month: March 1992
12 weeks on Vancouver's CKLG chart
Peak Position #19
Peak Position on Billboard Hot 100 ~ did not chart
YouTube: "Celebrate"
Lyrics: "Celebrate"
Margaret Leslie Johnson was born in Toronto in 1959. She became as a child performer in the mid-1960s when, after entering elementary school, she and her brother were chosen by Toronto producer Ed Mirvish to appear as part of the cast in a Royal Alexandra Theatre production of Porgy and Bess. Subsequent musicals featured Johnson as a child performer in South Pacific and Finian's Rainbow. Later, she was given formal training at the National Ballet School in Toronto, and the Banff School of Fine Arts in the heart of the Canadian Rocky Mountains in Banff, Alberta. According to Molly Johnson's website bio, in 1974, at the age of 15, she fronted a Toronto disco band named A Chocolate Affair. The band lasted for a year.
Norman Orenstein was born in Toronto. As he grew up he learned to play guitar, cello, bass guitar, keyboards, and percussion. Orenstein began creating music early in his life, and cites his mother's blues and jazz record collection and Jimi Hendrix as inspirations. He was involved with a number of rock and R&B bands in Toronto in the 1970s.
In late 1979 Norman Orenstein heard Molly Johnson performing at a local Toronto club. They got introduced and soon after formed Alta Moda. They added ex-Nails drummer Steven Gelineau in 1982 and bassist Etric Lyons, formerly with Liberty Silver, in 1983. The band did gigs in Toronto clubs from '83 to 1988, and in 1986 were signed to a record deal. They'd released an independent cassette and landed their track, "American Chaser", was included in the soundtrack for the film Popeye Doyle. In 1987 Alta Moda released a self-titled album in 1987 featuring the single "Julian". Norman Orenstein writes that "They even declined a Juno nomination for the song "Julian" (a song written about the son of the owner of Toronto's Cameron House) in the R & B category which they felt was a mislabel."
Concurrently, with the life of Alta Moda, Molly Johnson appeared as a guest with the alternative Toronto band Breeding Ground. She provided vocals on some of their hits on the Alternative Rock charts in Toronto in the mid-80s, including "This Time Tomorrow" and "Happy Now I Know".
After Alta Moda dissolved in 1988, Molly Johnson returned to her roots in jazz with a band called Big Sugar. And in 1989 she sang "The Best We Both Can Be" for the soundtrack of the animated film Babar: The Movie.
Then in 1990 Molly Johnson teamed up again with Norman Orenstein and they wrote some songs they hoped would interest Candi and The Backbeat. However, the record company wanted to sign them up instead. Soon Johnson and Orenstein formed the Infidels. The band's name was chosen as a tribute to Bob Dylan's album Infidels.
The Infidels debut album featured studio musicians that included drummer Randy Cooke, Gordie Johnson (from Big Sugar) and Etric Lyons on bass, and Glen Morrow on the Hammond B3. There were also a number of guest vocalists future Nylons singer Billy Newton-Davis, Johnson's sister Taborah, Cindy Matthews, and The Armin Quartet. Once the album was released, Johnson and Orenstein formed a touring Infidels band. It was made up of bassist and former member of Red Rider and Ocean, Jeff Jones, ex-Rational Youth members Washington Savage on keyboards and drummer Owen Tennyson.
In 1991 the Infidels released their first single from their debut album titled "100 Watt Bulb". The single climbed to #21 in Hamilton (ON) and the Top 40 in Vancouver. Their next single release from their debut album was "Celebrate".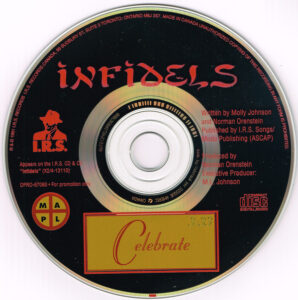 "Celebrate" was cowritten by Johnson and Orenstein. The song invites listeners to ponder the question: "What you gonna do with your life this time?" The lyrics affirm the meaning of life and celebrating "this time around," being present to joy and aliveness. The song is anthemic and inspirational. "Celebrate" climbed to #7 in Hamilton (ON) and #19 in Vancouver.
In an article about the Infidels on the canadianbands.com website, Molly Johnson writes "But by the time the third single, "Without Love" was released, Johnson put the band on hold as she established and chaired the annual Kumbaya Foundation, raising awareness and funds for people living with HIV/AIDS, and its accompanying festival in Toronto. They returned to the studio off and on in late '92 and early '93, but once the finished product was done a year later, members of the group had gone on to steadier gigs. Savage had moved on to play with Jeff Healey, and Jones returned to the more reliable job of playing with Gowan, and then joined The Carpet Frogs."
"To make matters worse, a band with the same name from the US had emerged, and Copeland wanted his signees to change their name, which Johnson and Orenstein politely refused to do. And if that wasn't enough, IRS was in financial trouble, and had prioritized the budding career of Alannah Myles, which put the need for another female fronted act on the back burner."
In 2000 Molly Johnson released a self-titled jazz album that won her much critical praise. This was followed in 2002 with her jazz-funk album Another Day. In 2006 she released another jazz album titled Messin' Around. For each of these albums Johnson was nominated at the Juno Awards (2001, 2003 and 2007) for Vocal Jazz Album of the Year. In 2007 she released a Bossa Nova-infused album titled If You Know Love. Molly Johnson won vocal jazz album of the year at the 2009 Juno Awards for Lucky. In 2009 she received the National Jazz Award for best female vocalist. In 2007 she was awarded and named an Officer of the Order of Canada for her contributions to Canadian music, as well as for her work with the Kumbaya Foundation, the AIDS charity co-founded by Johnson in 1992.
Orenstein went on to work mainly as a producer, including solo efforts by Infidels touring bandmate Jeff Jones. Orenstein also produced soundtracks for the 2000 film Robocop: Prime Directives, the 2002 suspense-thriller American Psycho 2, the 2007 horror film Diary of the Dead, and the 2014 black comedy The Editor, among others.
From September 2008 to December 2013, Molly Johnson was the weekend host of CBC Radio 2's Radio 2 Morning show. In 2011 Johnson released a jazz-blues album titled The Molly Johnson Songbook. And in 2014 she came out with Because of Billie. While her most recent release was in 2018 titled Meaning To Tell Ya.
Over the years Molly Johnson has toured with Tom Cochrane, Blue Rodeo, Tom Jones, Jackie Richardson, Anne Murray, Stéphane Grappelli, Peter Appleyard and others. In 2016, Johnson launched the Kensington Market Jazz Festival, an event in a vibrant area of Toronto that features over 400 local Canadian musicians, performing 150+ shows over one weekend in September to more than 5000 enthusiastic music fans. Kensington Market Jazz Festival fans look forward to the return of the festival when post-pandemic restrictions allow.
April 17, 2021
Ray McGinnis
References:
"About Molly Johnson," mollyjohnson.com.
Molly Johnson, "The Infidels," canadianbands.com.
Norman Orenstein, Larry Baxter and Tim Applegarth, "Alta Moda," Jam.com, February 3, 2014.
Sarah Hampson, "Switching Jazz Singer Molly Johnson On and Off," Globe And Mail, Toronto, November 22, 2012.
"About Norman Orenstein," normanorenstein.com.
"Vancouver's Official Top 40," CKLG 730 AM, Vancouver, BC, March 16, 1992.
For more song reviews visit the Countdown.