#795: A Change Is Gonna Come by Sam Cooke
Peak Month: February 1965
12 weeks on Vancouver's CKLG chart
Peak Position #5
Peak Position on Billboard Hot 100 ~ #31
YouTube.com "A Change Is Gonna Come"
Lyrics: "A Change Is Gonna Come"
Samuel Cook was born in 1931 Clarksdale, Mississippi. His father was a Baptist pastor. After the family moved to Chicago, Cook joined a children's choir called The Singing Children at the age of nine. At the age of 17 Cook joined an established gospel group formed in 1926 called the Soul Stirrers. He also added an "e" to his surname, becoming Sam Cooke. He honed his vocal abilities further and was signed to Los Angeles based Keen Records in 1957. It was there he recorded his biggest hit, "You Send Me." It climbed to #1 in November 1957. Cooke got national exposure on the Guy Mitchell Show and The Ed Sullivan Show.
In 1958 Cooke had a #1 hit on the R&B charts with "I'll Come Running Back to You". Between 1958 and 1960 Sam Cooke performed in concert in Montreal on three occasions.
From 1957 to 1965 Cooke charted 29 Top 40 hits on the Billboard pop charts. These include, "Chain Gang", "Wonderful World", "Cupid", "Having a Party", "Twisting the Night Away", "Bring It On Home To Me" and "Another Saturday Night".
"A Change is Gonna Come" was the fifth single release from his thirteenth and last album, Ain't That Good News.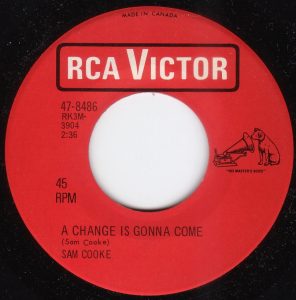 The song was inspired by events in Cooke's life. On October 8, 1963, he was turned away, with his band, from rooms they'd booked at the Holiday Inn North hotel in Shreveport, Louisiana. At the time Cooke had amassed over twenty Top 40 hits in America. He was indignant when hotel management told him hotel was full and there were no rooms available. His band drove off honking their horns and shouting insults. They drove off to the Castle Motel downtown and were subsequently arrested and taken to jail for disturbing the peace at the Holiday Inn. The New York Times ran a headline on October 9, 1963, read "Negro Band Leader Held in Shreveport."
Cooke recorded "A Change Is Gonna Come" on January 30, 1964. He only performed it once, on The Tonight Show Starring Johnny Carson, on Friday, February 7, 1964. The audience response to this song in the lead-up to the release of the album, Ain't That Good News, was positive. However, a band called The Beatles appeared two days later on The Ed Sullivan Show. As a result, Cooke's performance was overlooked due to Beatlemania. The song quickly became a staple in the Civil Rights movement, given it's testimony of racial prejudice and desire for change.
The lyrics to "A Change Is Gonna Come" begin with an autobiographical detail of Samuel Cook's early life. He was born by a river in Clarkesdale, Mississippi. In his case, it was the Sunflower River, one of the tributaries in the Mississippi River delta. Next, he offers simile of what it is like to be African-American in America. Like a river that runs, an African-American is always on the run. And life is hard. The song begins with someone born in a tent, and every day life is hard. When Sam Cooke was seven years old he told his older brother, L.C., that he was going to beat the system. Young Samuel had figured out that most people worked from payday to payday with hardly enough money to make ends meet. He observed that the economic system for "black" people was stacked against them. It was designed so black folks was always "broke." L.C. tells a story "when we was very little boys, we were playing, and we had these popsicle sticks – you know, them little wooden sticks? He had about twenty of them, and he lined them sticks up, stuck 'em in the ground and said, 'This is my audience, see? I'm gonna sing to these sticks So Samuel Cook lined up 22 popsicle sticks and told his brother, "see these popsicle sticks?… This prepare me for my future."
In the 1903 W.E. DuBois book, The Souls of Black Folks, the African-America author writes about the world that Sam Cooke was born into. It was a world of two "races," where is was impossible not to avoid a "double-consciousness, this sense of always looking at one's self through the eyes of others, of measuring one's soul by the tape of (predominantly white society) that looks on in amused contempt and pity." In the song, "A Change Is Gonna Come", the effort to try to go to a movie or go downtown is met with threats by stay away. The prohibition to attend a movie theatre for "whites only" remained in place in Mississippi and other states in the Deep South, after Cooke died.
The Equal Justice Initiative (EJI) in Montgomery, Alabama, reports that in 1936, a 45-year-old black farmer named Lint Shaw, was lynched by a mob of 40 white people. The lynching took place eight hours before he was to stand trial for the charge of molesting two white women when their car broke down near Colbert, Georgia. In their 2014 report, the EJI wrote, "During this era, accusations of "attempted assault" lodged against black men were often based on merely looking at or accidentally bumping into a white woman, smiling, winking, getting too close, or being alone with a white woman in the wrong place. The deep racial hostility permeating Southern society meant that accusations lodged against black people – especially against black men by white women or girls – were rarely subject to serious scrutiny by the police, press, or lynch mobs."
In North Carolina, a book read by a white student in school could not subsequently be read by a black student, or the other way around. In Tennessee, it was unlawful for white and black students to attend the same school of college. In Texas, "negro" porters on a train were forbid to use bedding intended for white passengers. In West Virginia, "black" persons were forbid to sit on juries. In South Carolina, it was illegal to grant custody of a white child to a "negro" under any circumstance. In Oklahoma, blacks were not allowed to use the same hearses as whites at a funeral. In Louisiana, it was against the law for any "negro" to occupy a suite in a building where there were white people in other units in the same building. In many states it was illegal for people of different races to date or to marry. All sports were segregated, including baseball, boxing and football. In Georgia, white and black prisoners were not allowed to share the same cell.
In May 2018, the #1 hit on the Billboard Hot 100 for several weeks was a song titled "This Is America". The song topped the Canadian singles chart for three weeks and the New Zealand singles chart for one week. The song depicts Negro minstrel shows, police brutality against African-Americans, a Black choir members being shot with a semi-automatic weapon in the midst of singing a gospel song, a black guitar player being shot point blank and being carried away. The Associated Press quoted Lester Spence, co-director of the Center for Africana Studies at John Hopkins University. Spence asserts that "This Is America" is a contemporary version of Billie Holiday's "Strange Fruit," the latter concerning the lynching of African-Americans in the Deep South. In the trajectory between "Strange Fruit" and "This Is America", Sam Cooke's "A Change Is Gonna Come" is part of a protest tradition in black music that sometimes breaks into the wider pop culture.
The night of December 10, 1964 Sam Cooke was at Martoni's Italian Restaurant. Fresh from the release of his new album, Sam Cooke at the Copa, he was in a mood to celebrate and flashed a wad of bills that looked like he had thousands in his wallet. He was dining with his producer, Al Schmitt, and his wife, Joan. At the restaurant bar Cooke spied a young 22-year old Asian girl named Elisa Boyer who quickly got cozy with him. They left the restaurant and headed to PJ's nightclub where a Cooke got into an altercation with a guy who was hitting on Boyer. They left PJ's at 2 a.m. on December 11 and ended up at the Hacienda Hotel by 3 a.m. Cooke walked from the car to the office front desk and took time to sign himself into the room, making payment and showing his ID.
Sam Cooke was killed by Bertha Franklin in a room at the Hacienda Hotel in Los Angeles on December 11, 1964. His body was found half-naked. His murder continues to be regarded as suspicious and unsolved. Elisa Boyer, a local prostitute, claimed Cooke had kidnapper her and taken her to the hotel, known as a hang-out for prostitutes. But if she had been kidnapped, why didn't she flee from the parked car while Cooke lingered in the Motel's office to pay for the hotel room? After she and Cooke went to a motel room she left Cooke's room with a substantial wad of his cash and Cooke's clothes, while he was in the bathroom. In 1979, Boyer was found guilty of second-degree murder of a boyfriend.
Bertha Franklin, an ex-madam with a criminal record, was forced to quit her job after receiving several death threats. She filed a $200,000 lawsuit against Sam Cooke's estate for punitive damages and injuries, but lost.The circumstances of Cooke's death were contested by members of his family. Was Cooke was a kidnapper, attempting a rape before he was shot? Or he was set up to be robbed with the allegation of kidnapping and rape by the robbers pinned on Cooke? Was this a way to scapegoat Cooke, drawing attention away from the real crime of robbery and murder? Though he died on December 11, a court decided on December 16, 1964, that this was a case of justifiable homicide.
Singer and friend of Sam Cooke, Etta James, recalled in her biography, Rage to Survive: The Etta James Story, that she viewed Cooke's body prior to the funeral. She was skeptical of the accuracy of the official version of events regarding what took place. Cooke's injuries did not reflect injuries someone could sustain from having fought Bertha Franklin alone. James noted Cooke was so clobbered that his head was almost separated from his shoulders, his hands were broken and crushed and his nose was butchered. Were Bertha Franklin and Elisa Boyer working together to set Sam Cooke up? Were there others involved in the tussle with Cooke that explain his broken and crushed hands, his head almost separated from his shoulder and butchered nose? Was this a Mafia hit? Etta James wondered if Cooke's rising fame made him an enemy of someone who figured he was getting too big for a "suntanned man?"
"A Change is Gonna Come" was released posthumously on December 22, 1964. The tune, written by Cooke, peaked at #31 on the Billboard Hot 100. The song climbed to #5 in Vancouver and Columbia (SC), #2 in Baltimore, #3 in Lafayette (Louisiana), Los Angeles, San Francisco and Sacramento, #4 in Cincinnati (OH) and Chicago, #6 in Philadelphia, #7 in Cleveland and Atlanta, and #9 in Oklahoma City. In 2011 the song was ranked #12 in Rolling Stone Magazine's 500 Greatest Song's list. Cooke's song is also included in Rock N' Roll Hall of Fame's 500 Songs that Shaped Rock n' Roll.
The flip-side of "A Change Is Gonna Come" was "Shake", which climbed to #7 on the Billboard Hot 100, and #4 on the R&B chart.
In 2015, it was announced that filmmaker, Romeo Antonio, was working on a biopic exploring the circumstances of Sam Cooke's murder. The working title for the film is Sam Cooke: The Truth. The project won approval of a number of Sam Cooke's family members, including his brother David and sister Phyllis. Cooke's nephew, Eugene Jamison, told the Guardian, "For years, people have been coming at us to do a movie about Sam. But he was the first person who sounded like he wanted what we wanted: the truth to come out about my uncle and his death." By 2017, the project, billed as a "murder mystery," was progressing slowly.
June 1, 2018
Ray McGinnis
References:
Etta James and David Ritz, Rage to Survive: The Etta James Story, (DeCapo Press, 1995) 151.
Matt Essert, "50 Years Later, Sam Cooke's Lyrics on Race Are More Relevant Than Ever," Mic.com, New York, NY, December 11, 2014.
Ben Child, "Sam Cooke Biopic to Probe Murder Theory," Guardian, March 18, 2015.
"Another Attempt at a Sam Cooke Biopic in Collaboration w/His family (Who Should Star?)," Shadow and Act, Los Angeles, CA, April 20, 2017.
"The Sunflower River Located in the Mississippi Delta is Halfway There – but Needing Some More Friends," Delta Bohemian, Clarkesdale, Mississippi, March 23, 2012.
Summary of The Soul's of Black Folks: Essays and Sketches, Documenting the American South, University of North Carolina, Chapel Hill, NC, 2004.
Peter Guralnick, Dream Boogie: The Triumph of Sam Cooke. (Hachette Books, 2005).
Timeline: A History of Racial Injustice, Equal Justice Initiative, Montgomery, Alabama, 2014.
"List of Jim Crow Law Examples by State," Wikipedia.org.
Steve Parker, Rock and Roll Hall of Fame, Rocklist.net.
Jesse J. Holland, "'This Is America' Seals Glover's Rep as Protest Artist," Associated Press, May 9, 2018.
"Silver Dollar Survey" CKLG 730 AM, Vancouver, BC, February 27, 1965.
For more song reviews visit the Countdown.