#388: The Cheater by Bob Kuban & the In-Men
Peak Month: February 1966
9 weeks on CKLG's Vancouver Chart
Peak Position ~ #1
Peak Position on Billboard Hot 100 ~ #12
YouTube: "The Cheater"
Lyrics: "The Cheater"
Robert "Bob" Kuban was born in St. Louis, Missouri, in 1940. In 1963 he graduated from the St. Louis Institute of Music and became a music teacher at Bishop DuBourg High School. Kuban was also in a local brass band By 1964 Kuban was also interested in forming a pop group and found organist and songwriter Greg Hoeltzel, who agreed to join his band. Hoetzel was a pre-med student at Washington University in St. Louis. Next, Kuban searched for a lead singer and frontman for the group. One night he heard a singer named Walter Scott, who was part of a lounge act named The Pacemakers. Scott was born Walter Simon Nothius Jr. and grew up in St. Louis. He worked a day job as a crane operator. Immediately, Kuban offered Scott the position as lead singer for Kuban's band. The name of the band was the Rhythm Masters. Other bandmates were bass guitarist and songwriter John Mike Krenski (born in St. Louis in 1944), tenor saxophone and trumpet player Patrick Hixon, a vocalist from the Carolinas. Krenski was doing a Masters Degree in Math at St. Louis University, and a Bachelor's in aeronautical engineering. Other members, Harry Simon and Skip Weisser, were students at the St. Louis Institute of Music. The eighth member of the band was lead guitarist Ken Smith.
Bob Kuban & The In-Men rehearsed and performed regularly at Club Imperial in St. Louis. The venue was also the place where the Ike & Tina Turner Revue often performed and recorded their 1964 album Ike & Tina Turner Revue Live. Ike Turner and his Rhythm Kings had been regular performers at Club Imperial since 1954. Chuck Berry was another regular at Club Imperial. And Bob Kuban and his bandmates got to hear these and other recording artists that passed through St. Louis.
In 1965, the eight-man band released their first single, "Jerkin' Time". This was credited to what was billed as the Bob Kuban Band. The single spent nine weeks on the Top 40 chart on KXOK-630 AM in St. Louis (MO) from May to July '65, peaking at #15. The radio exposure got the Bob Kuban Band gigs playing during halftime at the St. Louis Hawks' basketball games. Another single they released in October 1965 was "I Don't Want To Know" which got a few weeks of airplay on KXOK in late October '65.
In 1965, John Mike Krenski wrote a song called "The Cheater" that had some catchy riffs for their horn section. Sensing they needed a new name Bob Kuban came up with Bob Kuban & The In-Men. At the time there was a hit by Ramsey Lewis called "The In Crowd", which spent 12 weeks at number-one on the Billboard R&B chart in the fall of 1965. 'In' meant fashionable, sophisticated, 'in vogue.' The St. Louis Post-Dispatch reported that the name was "designed to get across two…very important points. One is that they're an 'in' group, the other is that at the same time they are men, not long-haired freaks."
"The Cheater" initially became a local smash hit in St. Louis, topping the Top 40 chart on KXOK-St. Louis for six weeks, starting in December 1965.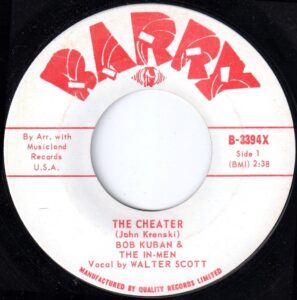 The album liner notes for Look Out For The Cheater, on the MUSICLAND U.S.A! label, were written by Russ Carter, an emcee for a local dance and variety TV show on KDS-TV in St. Louis. The liner notes with frequent use of capitalized letters read: "There's a big hullabaloo coming from MUSICLAND U.S.A!… and it's coming from BOB KUBAN AND THE IN-MEN, the most exciting musical sound to come along in all my eight years as a producer and emcee of the "St. Louis Hop" television dance show. BOB KUBAN, leader of this big band sound, is a young, handsome, instrumental music instructor at Bishop Du Bourg High School and is Du Bourg's first winner of the much coveted John Philip Sousa Award."
"Here's the inside on the In-Men: GREG HOELTZEL, a Washington University student, plays the organ; MIKE KRENSKI, St. Louis University student, is a bass player and composer; brass and reeds are expertly handled by PAT HIXON, HARRY SIMON and SKIP WEISSER, all attending St. Louis Institute of Music; talented KEN SMITH is lead guitarist; and according to the girls, lead vocalist (Sir!) WALTER SCOTT 'sings adorably!'… They'll be musical stars for years to come."
In his book The Heart of Rock & Soul, music critic Dave Marsh listed "The Cheater" as song #629 in his list of the '1001 Greatest Singles Ever Made.' Marsh wrote of "The Cheater", "[T]he strength of the record is a really good brass arrangement, some nice drumming and guitar work. [I]t's cautionary lyric, a warning against a love 'em and leave 'em philanderer: 'Look out for the Cheater/Make way for the fool hearted clown,' [was] coupled with a concluding promise that someday someone would do to the Cheater what he'd done to the singer." The song's lyrics told a story with a warning for listeners to heed.
In the song there is another guy whose "baby" (girlfriend or spouse) is stolen from him by The Cheater: "That cheater took my baby away from me, yes. And now I don't mean maybe, I'll get her back. Just wait and see. Wait and see."
"The Cheater" peaked at #1 in Vancouver (BC), Boston, Phoenix and St. Louis, #2 in Milwaukee (WI) and Hamilton (ON), #3 in Orlando (FL), #4 in Springfield (MA), Birmingham (AL) and Miami, #5 in Hartford (CT) and Toronto, #6 in Madison (WI), Winston-Salem (NC), Newport News (VA) and Pensacola (FL), #7 in Pittsburgh, #8 in Providence (RI), Cleveland, Akron and Columbus (OH), #9 in Philadelphia and York (PA), and #10 in Flint (MI), San Diego, Lawrence (KS) and Seattle. Internationally, "The Cheater" climbed to #3 in Sydney (Australia), #4 in Brisbane (Australia), and Adelaide (Australia). And Del Shannon did a cover of "The Cheater" on his 1966 album This Is My Bag.
Bob Kuban & The In-Men appeared on American Bandstand on April 30, 1966. They also had appearances on Where The Action Is.
When "The Cheater" became a national hit in January 1966, Bob Kuban and the In-Men and hoped to tour the country. But the In-Men were still college students and afraid of losing their draft exemptions if they dropped out to become pop stars. So they stayed local. Kuban's band had a nine-week tour lined up to go to Australia, but fear of being drafted led to the tour being cancelled. Bob Kuban & The In-Men did go to San Francisco in April 1966 where they performed at the Cow Palace, with the opening act The Turtles. They also performed at Whiskey A Go-Go in Los Angeles on April 8, 9 and 10, and were joined on stage by Otis Redding.
The band appeared in the local St. Louis Muny/Municipal Opera's production of Bye Bye Birdie. The St. Louis Globe-Democrat wrote of their appearance, "And who can possibly fault Bob Kuban and the In-Men? They are a clean-cut group specializing in refined rock n roll. They are a dandy addition and judging from last night's response, the audience was packed with their fans. Incidentally, last night's crowd numbered 9,590." And on October 22, 1966, Bob Kuban conducted the St. Louis Symphony Orchestra in a performance of "The Cheater" at the Kiel Auditorium Opera House.
The band released a followup titled "The Teaser". It spent eight weeks on KXOK in St. Louis, peaking at #15 in May '66. Music industry magazine Cash Box wrote of "The Teaser", "Hot on the heels of 'The Cheater' smasheroo, Bob Kuban and Co. come up with another sure-fire Musicland winner…a rhythmic, bluesy ode about an unhappy fella trying to please a real fickle gal." "The Teaser" also got some airplay on CKLG in Vancouver (BC) in April 1966, and was a breakout Top Ten hit in Jackson, Michigan. But it barely cracked the Billboard Hot 100.
A subsequent release by Bob Kuban & The In-Men was a cover of the Beatles' "Drive My Car". The single made the Top 20 in St. Louis and in Medicine Hat (AB) in the summer of '66. In November and December of '66, Bob Kuban & The In-Men had a Top Ten hit in both St Louis and Quincy (IL), with a cover of the R&B classic Bob & Earl tune "Harlem Shuffle". Walter Scott provided energetic vocals. Concurrently, Walter Scott and In-Men bandmates, Hoetzel and Krenski, formed The Guise (And Their Mod Sound). They had a #5 hit with "Long Haired Music" in November 1966. Then, between March and May 1967, the Bob Kuban & The In-Men had a Top 20 hit in both St Louis and Kansas City titled "You Better Run, You Better Hide". This was a respectable cover of the Young Rascals 1966 hit "You Better Run". Bob Kuban & The In-Men had one last Top 30 hit on the St. Louis pop chart in 1970 titled "Hard To Handle".
Meanwhile, Walter Scott released several singles. "Watch Out" was a Top 20 hit in St. Louis in the fall of '66. And in February 1967, "It's Been A Long, Long Time" made the Top Ten on KXOK in St. Louis. In the fall of 1967 Scott had a Top Ten hit titled "Just You Wait" in St. Louis, Quincy (IL) and Miami (FL). And in March of '68, Walter Scott's cover of the Drifters "On Broadway" was a Top 20 hit in St. Louis.
Scott and Kuban split in 1967. Kuban tried to form some other groups, but nothing worked. Walter Scott decided to continue touring and Bob Kuban formed another brass band and was back doing intermission for St. Louis sports teams. As Walter Scott and The Guise, Scott was joined by ex-In-Men bandmates Greg Hoeltzel and John Krenski. The Guise had a #13 hit in St. Louis in June '67 with "Chumpy McGee". They also had a Top 40 hit in St. Louis with "Looking Glass" in the fall of '67, and a Top 30 hit in St. Louis with "Time" in early '1968. They had one last Top 40 release in the St. Louis area in early 1969.
Mike Krenski became an engineer and was hired with McDonnell-Douglas (Boeing) Aircraft. Greg Hoeltzel became a dentist.
In early 1983, Walter Scott and Bob Kuban performed together for a television appearance and planned to reunite the band for their twentieth anniversary in June 23, 1984, at the Fox Theatre. After one rehearsal in October 1983, Walter Scott disappeared. In late December his wife, Jo Ann, reported to police that her husband was missing. According to Jo Ann Scott, Walter went out to buy a part for his car and never came home. On December 28th, Walter Scott's car was found by the St. Louis police, abandoned at the airport.
The St Louis police looked for Walter Scott for over a year, but all the leads led to dead ends. Jo Ann Scott filed for divorce, alleging she'd been abandoned. She was granted a divorce and was remarried in 1986. It happened that the groom at the wedding, Jim Williams, had tragically lost his wife, Sharon, when she reportedly died in a car crash in October 1983.
Meanwhile, Scott's parents never accepted the official story. They urged the police to keep searching for their son. In 1987, the police uncovered a new lead after Jim Williams' son informed them that his mom, Sharon, had been having an affair with Walter Scott, and his father found out. Subsequently, the police found Walter Scott floating face down in a cistern ten feet from Jim Williams' house. Walter Scott's body been there for about three years. Sharon Williams body was exhumed for a new autopsy. The coroner found that Sharon Williams had died from a "blunt force trauma," not injuries suffered from a car crash – as the first death certificate stated. Jim Williams was arrested and charged with killing both Scott and his former spouse. Walter Scott had been hog-tied by Jim Williams and then shot.
The St. Louis Post-Dispatch reported later that "Sharon Williams died Oct. 20, 1983, and [Walter] Notheis jr. disappeared on Dec. 27, 1983. His body was found in 1987 in a cistern on property James Williams owned in St. Charles County." It took about two days for the police to catch up with Jo Ann Scott to charge her with the same two counts of murder. But since Jo Ann was offered a plea bargain, she got a $5,000 fine and spent only 18 months in prison. But Jim Williams spent the rest of his life in prison. As the song lyrics recount: "Tough luck for The Cheater." Indeed. And Jim Williams got his "baby" (Sharon Williams) back from Walter Scott (The Cheater), only to murder her.
On August 16, 1985, the Bob Kuban Brass appeared at several St. Louis Cardinals World Series games, featuring vocals by Lou Christie in concert at Busch Stadium. Bob Kuban went on to run The Bob Kuban Entertainment Agency, a booking agency for entertainment events in the St. Louis area.
November 11, 2020
Ray McGinnis
References:
Shane Anthony, "Man Who Murdered St. Louis Singer Dies in Prison," St. Louis Post-Dispatch, St. Louis, MO, September 13, 2011.
"Demolition Denied: Future of Club Imperial Remains in Limbo," KSDK, St. Louis, MO, January 22, 2018.
Kevin Courrier, "Imitation of Life: Bob Kuban & the In-Men's The Cheater," Critics at large.ca, March 28, 2010.
Dave Marsh, The Heart of Rock & Soul: The 1001 Greatest Singles Ever Made, (DeCapo Press, 1989).
"Bob Kuban And The In-Men," keep key.
"Silver Dollar Survey," CKLG 730 AM, Vancouver, BC, February 26, 1966.
For more song reviews visit the Countdown.