#888: Chinatown Calculation by Doug & The Slugs
Peak Month: November 1980
5 weeks on CKLG Top 20
Peak Position #10
Peak Position on Billboard Hot 100 ~ did not chart
3 weeks Hitbound on CKLG
YouTube.com: "Chinatown Calculation"
Lyrics: "Chinatown Calculation"
Doug Bennett was born in Toronto in 1951. He worked as a graphic designer after his schooling and at the age of 22 moved to Vancouver in 1973. He got a job as a cartoonist and editor for the weekly alternative paper the Georgia Strait. He also played with a number of bands. By 1977 Bennett was in search of some new outlets for his creativity and was introduced to guitarist John Burton. Burton had been in a group called The Ugly Slugs. Bennett and Burton began performing locally and added bassist Dennis Henderson, drummer Ted Laturnus and and Drew Neville on keyboards. They became Doug and The Slugs.
Over the following year Henderson, Laturus and Neville were replaced by Steve Bosley (bass), John Watson (drums) and Simon Kendall (keyboards). Richard Baker joined Burton in the guitar section. Their live performances in Vancouver were infectious and a fan base soon followed them around from concert to concert. They got financial backing and a single, "Too Bad" was released in the fall of 1979. The tune spent 17 weeks on the CKLG charts, including 12 weeks in the Top Ten in the winter of 1979-80, peaking at #2. In 1981 the single earned the band Composer of the Year and Single of the Year Juno Awards. They also won Best Album Graphics for Cognac and Bologna.
They got exposure the following year with gigs in Toronto, Mississauga and Montreal. The album, Cognac and Bologna, was released after "Too Bad," along with a follow up single, "Chinatown Calculation". In Toronto, City TV featured Doug & The Slugs amusing music videos adding to their buzz.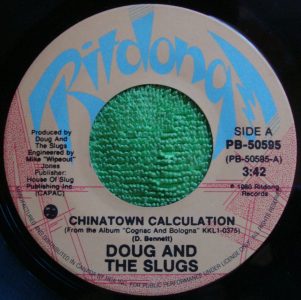 Chinatown in Vancouver, British Columbia, is Canada's largest Chinatown. Centred on Pender Street, it is surrounded by Gastown and the Downtown Financial and Central Business Districts to the west, the Downtown Eastside to the north, the remnant of old Japantown to the northeast, and the residential neighbourhood of Strathcona to the east. Chinatown remains a popular tourist attraction in Vancouver, and is one of the largest historic Chinatowns in North America.
As a Vancouver band, Doug & The Slugs drew on the familiarity with Chinatown as inspiration for their song "Chinatown Calculation". In popular culture in North America there is a stereotype often cast in TV shows and movies that has had a nerd played by an Asian kid. In addition there is the notion that every foreign exchange student from Asia is a genius. In addition there are articles, like the one in this link by Xin Lu who was born in Yangzhou who moved North America sixteen years ago, outlining a sense of the Chinese attitudes toward money they still retain. The values and attitudes toward money include 1) frugality as a virtue, 2) save as much money as possible, 3) pay for things in cash, 4) always look for a bargain, 5) your salary is not kept secret and it is not rude to talk about one's personal finances and 6) cash gifts in red envelopes are the standard gift for any celebration, and they are considered the best gifts because the recipient can do anything with the money. (There is a case to be made that some of these values are found among Scottish people and other ethnic groups).
In the song "Chinatown Calculation" there is reference to an abacus. The earliest known written documentation of the Chinese abacus dates to the 2nd century BC. The Chinese abacus, known as the suanpan (算盤, literally "Counting tray", Mandarin suàn pán), is typically 20 centimeters (8 inches) tall and comes in various widths. It usually has more than seven rods. There are two beads on each rod in the upper deck and five beads each in the bottom for both decimal and hexadecimal computation. The beads are usually rounded and made of a hardwood. The beads are counted by moving them up or down towards the beam. If you move them toward the beam, you count their value. If you move away, you don't count their value. The suanpan can be reset to the starting position instantly by a quick movement along the horizontal axis to spin all the beads away from the horizontal beam at the center. It seems the woman who left the guy in the song had made a calculation. After six years she's decided she'll get more value opting for a life with a mystery man than staying with the guy she's been with behind the picket gate.
Their next single was "Real Enough" from their second studio album Wrap It! A third album was released in 1982 titled Music For the Hard of Thinking. It included the single "Making It Work". The tune made the Top 30 on the Canadian RPM singles chart, #13 in Ottawa and #20 on CHUM in Toronto. Astonishingly, it only got airplay in Vancouver's AM pop stations and didn't even chart on the local radio record surveys here for this local band. I had to verify this with other local Vancouver pop music buffs who kept their own CFUN and CKLG charts to confirm this. I remain astonished it wasn't on the Top 20 at the time. In 1983 Doug & The Slugs won a Juno Award for Most Promising Group of the Year, and the single, "Making It Work", was a good part of the reason for the Juno Award.
A greatest hits album was released in 1985 followed by Popaganda (1985) and Animato (1986). Neither of these albums produced sizable hits for the band. However "Day By Day" climbed to #10 in Regina (SK) in early 1985, and a second single from Popaganda titled "Love Shines" peaked at #11 in Regina in the spring of '85. In 1988 Doug And The Slugs released one of their most successful albums, Tomcat Prowl. It featured the only single, the title track, that would climb into the Canadian RPM Singles Top 30 after "Making It Work". "Tomcat Prowl" was produced by Brian MacLeod who had won Juno Awards for his previous work with The Headpins and Chilliwack.
In 1992 Tales From Terminal City was the band's final studio album release. Some local Vancouverites would have known of the stately Terminal City Club, founded in 1892, located in the heart of the financial district on West Hastings Street. Known for its excellence and elegance, the private club is steps away from the Vancouver Convention Centre, the Pan Pacific Hotel and the SeaBus Terminal/Waterfront Station. But this might have been lost on most Canadians considering buying the album.
Though Doug Bennett continued to tour with a rotating group of musicians in the following years, it was only in 2003 that former members gathered for two reunion concerts.
In 2009 formative Slugs bandmates, Baker, Bosley, Burton, Kendall, and Watson, reunited and gave singer Ted Okos the nod to be their lead singer. Though they still perform in concert as Doug & the Slugs, Doug Bennett is missed. Bennett died in 2004 due to complications related to cirrhosis of the liver. A Vancouver Sun obituary by John Mackie, Canada's improbable rock star: Toronto-born Singer-songwriter Doug Bennett an Everyman in a Sally Ann Suit, included some reflections by Slugs bandmate, keyboard player Simon Kendall: "He hadn't been looking after himself… his health has not been good for the last couple of years, so it wasn't a total surprise. But nobody realized how sick he was." Mackie wrote: "Kendall thinks Bennett struck a chord with the masses because of his persona, which was humourous and witty but also had an edge." Kendall added, "Especially in the early years, he really tried to stay off the beaten path, and I think he did a great job… He had some unique and very interesting lyrics.
An anachronistic style, if you like. He was a bit of R&B, he was a bit 1940s, he was a bit Tex-Mex. As a writer, I think he deserves more credit than he gets for being intelligent. He wrote some beautiful and quite provocative songs."
Since Doug Bennett died the band went dormant for a few years until they found a new musician to front the band named Ted Okos. In their new version of themselves, Doug and The Slugs continue to perform and have a number of concert dates already lined up for the summer of 2018.
February 14, 2018
Ray McGinnis
References:
Doug and The Slugs – About, Doug And The Slugs.ca.
Shelley Arnusch and Cindy Filipenko, "Doug And The Slugs Front Man Dead at 53," Pique News Magazine.com, Whistler, BC, October 22, 2004.
John Mackie, "Canada's improbable rock star: Toronto-born Singer-songwriter Doug Bennett an Everyman in a Sally Ann Suit," Vancouver Sun, October 19, 2004.
"CKLG Top 30," CKLG 730 AM, Vancouver, BC, November 12, 1980.
For more song reviews visit the Countdown.