#43: City Lights by The Churls
City: Calgary, Alberta
Radio Station: CKXL
Peak Month: March 1969
Peak Position in Calgary ~#8
Peak position in Vancouver ~ did not chart
Peak Position on Billboard Hot 100 ~ did not chart
YouTube.com: "City Lights"
Lyrics: "City Lights"
The Churls formed 1967 in Toronto. They fell into the garage rock (sixties garage rock) and psychedelic rock genre at the time. Robert O' Neill was the lead vocalist, Sam Hurrie and Hal Ames were on guitar, John Barr played bass guitar, and Brad Fowles was the bands' drummer. By the summer of 1967, the Churls were one of the hottest bands on the Yorkville scene. In the winter of 1967, they signed a record contract with Glotzer and Katz Management, the same people who managed Blood Sweat & Tears. The Churls were encouraged to perform in the USA. They spent much of early 1968 playing in New York as the houseband at both Cafe a Go-Go and The Scene. The Churls performed in medieval attire. It was at these Manhattan venues that the Churles notably received encouragement from John Lennon and Paul McCartney and jammed onstage with Jimi Hendrix.
Then the Churls headed west to Hollywood and caught the attention of A&M Records, where they recorded their self-titled debut featuring cameos from The Tijuana Brass and Leigh Ashford keyboardist Newton Garwood. The album was released in the fall of 1968. In the liner notes of The Churls, it was written, "CHURL… By Webster, defined "peasant, freeman, husband, akin to fellow, manservant, valet, a member of the lowest order of freemen." Other dictionary definitions connote "churl" as "rustic, countryman, and medieval peasant." Over the centuries the word "churl" came to also infer boorish, low-bred behavior. But for the Churls, they took on the classic meaning, and donned their medieval costumes to locate them decidedly as rustic countrymen of Anglo-Saxon times.
The Churls were described in the liner notes of their debut album as "A five-man musical sponge."
One of the tracks on their self-titled debut album was "City Lights".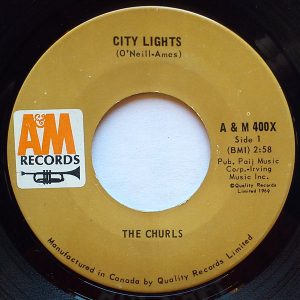 "City Lights" was co-written by bandmates O'Neill and Ames. In this melodically upbeat tune, a young man sees his future growing dim, like the city lights. He ponders what is best for himself going forward.
"City Lights" peaked at #8 in Calgary.
The Churls toured for a few months in both America and Canada. Then they returned to A&M's Hollywood studio to record their follow up album, Send Me No Flowers, in the summer of '69. Garwood guested on the album again and this time also co-wrote some of the material. Later in 1969, the Churls single "I Can See Your Picture" charted in Regina (SK) and Ottawa.
But friction between the band and label ultimately resulted in A&M dropping them. The Churls returned to Toronto in early 1970. They continued touring for a few months before dissolving later in 1970.
Brad Fowles joined Copperpenny in 1970. Sam Hurrie, who began playing guitar in 1957, and went to Ryerson University in Toronto, moved to Powell River, British Columbia, after the Churls disbanded. For 35 years, Hurrie worked at a paper mill. Since 2005, Hurrie has returned to his musical roots. On the weekend of July 28-30, 2023, Sam Hurrie appeared at the Starbelly Jam music festival in Crawford Bay, British Columbia. He taught a "Brief History of Blues Guitar" workshop, and also gave a concert. On August 4, 2023, he performed at the Torchlight Brewing Co. in Nelson, British Columbia. This was one of a number of concert dates for Sam Hurrie in 2023. In the Kootenay region on British Columbia, Nelson is about 45 minutes west of Sam Hurries' present home town of Riondel, on Kootenay Lake.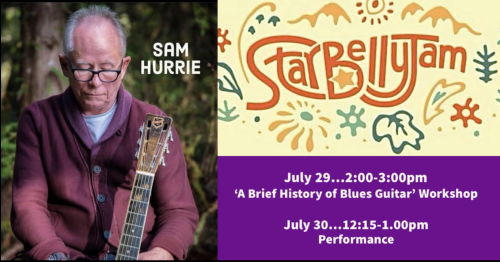 What happened to Hal Ames, John Barr or Robert O'Neill is lost to the Internet.
August 2023
Ray McGinnis
References:
Sam Hurrie, Michael Panontin, and Jim Park, "The Churls," Canadianbands.com, April 11, 2022.
Garry Lessard, "Copperpenny," Citizenfreak.com.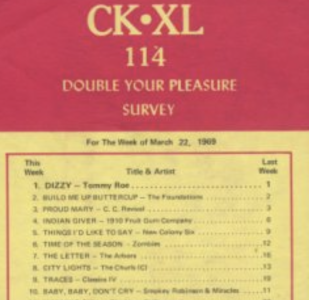 CKXL 1140 AM, Calgary, Alberta, March 22, 1969
"City Lights" spent two weeks peaking at #8 on March 22 & 29/69