#394: Close Your Eyes by Edward Bear
Peak Month: May 1973
10 weeks on CKLG's Vancouver Chart
Peak Position ~ #4
Peak Position on Billboard Hot 100 ~ #37
YouTube: "Close Your Eyes"
Lyrics: "Close Your Eyes"
In the mid-60's Larry Evoy and Paul Weldon were jamming in basements and experimenting with blues rock tunes. In 1966 bass player Craig Hemmings and drummer Dave Brown formed a band with Evoy and Weldon. They got guitarist Danny Marks to join them after he answered an ad. After a year they settled on the name The Edward Bear Revue. They got the name from A.A. Milne's children's book, Winnie The Pooh, whose central character has the proper name of Edward Bear. In time the band shortened their name to Edward Bear. The band originally was a blues and rock band and opened in 1968 for a Toronto concert with Led Zeppelin as the headliner.
In 1969 Craig Hemmings left the band and was replaced on bass guitar by Bill Loop. Dave Brown seems to have also left by 1970, and Larry Evoy took up the role of drummer and lead vocalist. Edward Bear released their first album, Bearings, on Capitol Records. A single from the album, "You, Me And Mexico", made the Top Ten across Canada and #9 in Vancouver. Edward Bear released a second album titled Eclipse, in 1970. A follow up single, "You Can't Deny It" was a Top 30 hit in Vancouver. Two singles that were commercial failures and a calamitous tour led Danny Marks to quit the band. He was replaced on guitar by Roger Ellis.
Fortunately, Edward Bear bounced back and released a self-titled album with solid singles among the tracks. "Fly Across The Sea" and "Masquerade" did well in Canada, and the latter made it to #10 in Vancouver. But "Fly Across The Sea" climbed to #4 here on the Canadian west coast.
Between 1970 and 1973 the group had three hits in the Top Five of the Canadian RPM Singles Chart. The band released a third single from their 1972 Edward Bear album titled "Last Song". At the time of the recording Edward Bear consisted of Larry Evoy, Paul Weldon, Roger Ellis, Bill Loop and Bob Kendall, who joined the band that year. The tune became a #1 hit in Canada, #2 in Vancouver and #3 on the Billboard Hot 100. In 1973 the band won a Juno Award for Outstanding Group Performance. At the end of 1972 Paul Weldon left the band and Bob Kendall became the only musician on keyboard.
A fourth album, Close Your Eyes, was released early in the year. The title track was the first single release.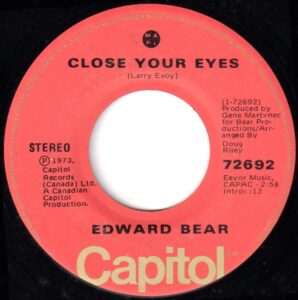 "Close Your Eyes" was written by Larry Evoy. The song is a sequel to "Last Song". It is about a woman who was the romantic interest of the singer in "Last Song". In that song there is a guy who has been going to bed for two years and leaving the porch light on, hoping his girlfriend will return. However, she never shows up. So he writes one last song and tells her he's tired of waiting for her. In "Close Your Eyes" the woman finally returns home, after having been around the world. The extensive travel wipes her out. She promises to try to make the relationship work again, and go back to school. However, sure enough, she loses her way – feeling out of synch with her decision. And so the guy sings "all the reason in the world could see she couldn't stay." So he helps her pack her bags as she leaves their home for a last time. But, in his parting words he tells her, "close your eyes, I'm right beside you. Run for miles you know I'll find you…. If you need a friend, close your eyes I'm back again."
This time they part with her knowing that he accepts that this is just who she is: someone who can't settle down, and needs the freedom to travel or "run for miles." Though the relationship is over, there is the promise of a lasting friendship. Of course, after having had a relationship with someone, it can be tricky to still pursue a friendship. New partners may not be satisfied to learn that someone you've dated or lived with is still in your social circle. But that is a verse that was never written.
"Close Your Eyes" peaked at #3 in Sioux Falls (SD), #4 in Vancouver (BC) and Salisbury (NC), #6 in Augusta (ME), #7 in Jefferson City (MO, #8 in St. Louis and Seattle, #9 in Winnipeg (MB), and #10 in Kansas City (MO). Over half the states in the USA "Close Your Eyes" got little airplay, and stalled at #37 on the Billboard Hot 100.
A followup single from the Close Your Eyes album, "Walking On Back" got little attention. There were two non-album singles, including "Freedom For The Stallion" which made the Top 20 on CHUM-AM in Toronto. But, the bandmates had differences of opinion regarding their direction and they split up in 1974. Although there have been hopes they would reunite, Edward Bear has never had a reunion since their break-up in 1974.
After Edward Bear's demise, Larry Evoy ran a music publishing business and a recording studio. He released "Here You Go Again" which became a Top Ten hit in Ottawa in 1978. And "Dreams" was a Top 20 hit in Vancouver (BC) in 1979. Evoy also operated a horse farm with his spouse in King City, Ontario, north of Toronto. Danny Marks has played as a blues guitarist and hosted local radio shows, while Bill Loop has been a guitar teacher and continues to play with local session musicians. Paul Weldon has been an instructor at Seneca College and a member of a jazz combo. In 1977 Roger Ellis released a single titled "I Believe In Christmas". Since 1997, Roger Ellis has had a TTC (Toronto Transit Commission) license to perform in the Toronto subway system. Ellis has been found in locales like the York Mills subway entertaining commuters.
October 28, 2020
Ray McGinnis
References:
"Roger Ellis, former Edward Bear guitarist, plays at York-Mills," Toronto Star, August 17, 2012.
Emily Jackson, "Underground Rock Star: Edward Bear Guitarist Roger Ellis Auditions for TTC License. The Onetime Rock Star Now Plays in Subway Stations, Happy to still Be Making Music after Years Out of the Business," Toronto Star, August 17, 2012
Roberta Brokenshire, Danny Marks, and The Murf, Edward Bear – Bio, Canadian Bands.com.
The Story Behind 'Last Song': Q&A with Songwriter Larry Evoy: Edward Bear Frontman Shares His Inspiration for the Song, Talks About its Success and Fills us in on What He's Up to Now, Canadian Songwriters Hall of Fame.ca, June 30, 2015.
"CKLG 'Thirty'," CKLG 730 AM, Vancouver, BC, May 18, 1973.
For more song reviews visit the Countdown.