#878: C'mon by Poco
Peak Month: May 1971
8 weeks on CKVN's Vancouver Charts
Peak Position ~ #9
Peak Position on Billboard Hot 100 ~ #69
YouTube.com: "C'mon"
Lyrics: "C'mon"
Paul Richard "Richie" Furay was born in 1944 in Yellow Springs, Ohio. He is a singer, songwriter, and Rock & Roll Hall of Fame member. Furay is best known for forming the band Buffalo Springfield and later forming the band Poco. Prior to forming Buffalo Springfield, Furay was a member of the nine member group called the Au Go Go Singers who performed at New York City's Cafe Au Go Go. In 1967, one of the production engineers for the album, Buffalo Springfield Again, was Jim Messina. He was the producer for the bands final album in 1968, Last Time Around. Messina was born in Maywood, California, in Los Angeles County, in 1947. While still 16 years of age in 1964, Messina recorded his first record credited to Jim Messina And His Jesters, primarily a surf guitar album.
By the age of 19 Messina was a recording engineer and at the age of 20 he played bass guitar on two of the tracks on Buffalo Springfield's Last Time Around. During this time Messina got to be friends with Ritchie Furay. When Buffalo Springfield disbanded part way through 1968, Furay and Messina formed Poco. Another person to join Poco was Rusty Young. He'd been hired to play steel guitar on "Kind Woman" on the Last Time Around album. George Grantham became the bands drummer.
After the release of Picking Up The Pieces, Poco's fifth bandmate, Randy Meisner, quit the band and formed a band called The Eagles. The musician who'd been Poco's second choice, Timothy B. Schmit joined Poco on bass guitar and vocals. Schmit, born in Oakland in 1947, had been part of a band called New Breed who had a regional hit in California in 1965 called "Green-Eyed Woman". The song climbed to #1 in Sacramento and made the Top Ten in the California towns of Paradise and Yuba City.
In 1970, Poco released their first single to make the Billboard Hot 100 titled "You Better Think Twice". The song was followed by a release from a track off of their first live album, Deliverin' called "C'mon".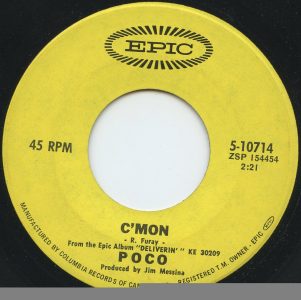 "C'mon" is a song inviting someone who gets down, sad and lonely to shake it off and love someone they're connecting with. The song laments when communication breaks down and love that is offered to someone is "mistaken." The upbeat song advises, "I believe that you and I as men should love one another." Of course, in 1970, although the Stonewall riot in June 1969 had occurred in New York City, the sentiment in "C'mon" is using "men" in reference to all persons. At the time the Youngbloods encouraged everyone to "smile on their brother" in "Get Together." In 1970, although things were changing and feminism was emerging, songwriters were still penning songs about men, brothers, brotherhood and "man" and intending it as a generic term for all people. Otherwise, "C'mon" could have been adopted as a gay anthem. But this was not understood in the gay community as a liberation song.
"C'mon" also celebrated having peace of mind and being satisfied. Why be sad or lonely, the song asked. "C'mon" climbed to #5 in Cleveland, Ohio. It made the Top Ten in Fredonia, New York at #7, and Vancouver, British Columbia, at #9.
After "C'mon" was released, Jim Messina quit Poco from exhaustion due to the bands' touring schedule. He teamed up with Kenny Loggins. Loggins and Messina had a Top Ten hits in 1972 with "Your Mama Don't Dance".
Poco had to wait until their thirteenth album, Legend, before they had a single that broke into the Top 40 nationally in the USA. In 1979, "Crazy Love" climbed to #17 on the Billboard Hot 100. The album produced a second Top 20 single with "Heart Of The Night." They went on to release 19 studio albums, 9 live albums and 30 compilation albums. They had one more Top 20 hit in the USA in 1989 titled "Call It Love." The single came on the occasion of a Poco reunion tour with all of the original members.
Ritchie Furay left Poco in 1973 and had a brief solo career with limited success. Eventually, he became a pastor of a church in the Denver area in 1983.
Timothy B. Schmit sang backing vocals for Steely Dan in the '70's, including on "Rikki Don't Lose That Number," "Peg" and "Deacon Blues". Schmit also sang backing vocals for the 1977 Top Ten hit for Firefall titled "Just Remember I Love You". He joined The Eagles after their Hotel California tour. He sang lead vocals on their Top Ten hit "I Can't Tell You Why". He also sang backing vocals for "Heartache Tonight" and "The Long Run". After the Eagles breakup, Schmit went on to contribute vocals to a number of hit songs in the 1980's. These include "Dirty Laundry" for Don Henley, "Fire Lake" for Bob Seger, "Look What You've Done For Me" for Boz Scaggs, and several songs for Toto including "Africa". In the early 90's, Schmit was a member of Ringo Starr & His All-Starr Band
Rusty Young retired from Poco in 2013 after 45 years of being on the road. He released a solo album in 2017. Jim Messina continues to perform in concert and has over a dozen concert dates scheduled in February and March 2019. George Grantham was in the band until 1977. He returned for several iterations of Poco reunion tours until he had a stroke in 2009.
November 14, 2018
Ray McGinnis
References:
Poco Celebrating 50 Years, Poco Band.com
Jim Messina concert dates, Jim Messina.com/tour
The Rusty Young (Poco) Interview, Vintage Rock.com.
"Your Average Rock and Roll Radio Survey," CKVN 1410 Am, Vancouver, BC, May 21, 1971.
For more song reviews visit the Countdown.