#1053: C'mon Everybody by Elvis Presley
Peak Month: August 1964
7 weeks on Vancouver's CFUN chart
Peak Position #6
Peak Position on Billboard Hot 100 ~ did not chart
YouTube.com: "C'mon Everybody"
Lyrics: C'mon Everybody"
Elvis Aaron Presley was born on in a two-room house in Tupelo, Mississippi, on January 8, 1935. His twin brother, Jessie Garon Presley, was stillborn. When he was eleven years old his parents bought him a guitar at the Tupelo Hardware Store. As a result Elvis grew up as an only child. He and his parents, Vernon and Gladys, moved to Memphis, Tennessee, in 1948. The young Presley graduated from high school in 1953. That year he stopped by the Memphis Recording Service to record two songs, including "That's When Your Heartaches Begin". Elvis' musical influences were the pop and country music of the time, the gospel music he heard in church and at the all-night gospel sings he frequently attended, and the black R&B he absorbed on historic Beale Street as a Memphis teenager. In 1954, Elvis began his singing career recording "That's All Right" and "Blue Moon Of Kentucky" at Sun Records in Memphis.
In late 1955, his recording contract was sold to RCA Victor. In 1956 he had his first #1 record titled "Heartbreak Hotel." He had a sound and style that uniquely combined his diverse musical influences and blurred and challenged the social and racial barriers of the time. Bill Haley & His Comets ushered in the rock 'n roll into mainstream culture in 1955 when "Rock Around The Clock", appeared in the film about juvenile delinquents and anti-social behavior in an inter-racial school. The song became an anthem for teenage rebellion. However, it was Elvis in 1956 who ensured rock 'n roll was here to stay with his swiveling hips and R&B infused songs with sexually suggestive lyrics. He starred in 33 successful films, made history with his television appearances and specials, and knew great acclaim through his many, often record-breaking, live concert performances on tour and in Las Vegas. Globally, he has sold over one billion records, more than any other recording artist.
Of his many films, Viva Las Vegas was one of Elvis' most popular. Viva Las Vegas was a hit at movie theaters, becoming the #14 movie of the year of 1964 according to Variety Magazine. The storyline involves Lucky Jackson (Elvis) who goes to Las Vegas, Nevada to participate in the city's first annual Grand Prix Race. However, his race car, an Elva Mk. VI, is in need of a new motor (engine) in order to compete in the event. Lucky raises the necessary money in Las Vegas, but he loses it when he is shoved into the pool by the hotel's nubile swimming instructor, Rusty Martin (Ann-Margret). Lucky then has to work as a waiter at the hotel to replace the lost money to pay his hotel bill, as well as enter the hotel's talent contest in hopes of winning a cash prize sizable enough to pay for his car's engine. During all this time, Lucky attempts to win the affections of Rusty. His main competition arrives in the form of Count Elmo Mancini (Cesare Danova), who attempts to win both the Grand Prix and the affections of Rusty. Rusty soon falls in love with Lucky, and immediately tries to change him into what she wants.
A song from the film that made the Top Ten in Vancouver was "C'mon Everybody".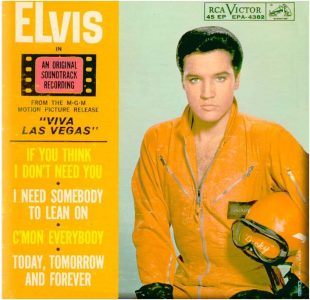 "C'mon Everybody" is a celebration of mutual love and admiration arising from the discovery that the one you love is in love with you too. In the song Elvis invites people to snap their fingers, clap their hands, whistle a tune, stomp their feet, turn their heads to the left and the right and take a deep breath. When we find out that someone we love returns our affection their is often a feeling of elation. In this case the finger snapping, hand clapping, whistling and foot-stomping are images of cutting loose and feeling suddenly cheerful and confident about life and being in love. Moreover, when you initially see someone that catches your attention romantically, the person in your view can be a real head turner, a knockout. Seeing him or her walk in the room can make you want to take a deep breath to collect yourself to get the confidence to go up and introduce yourself to them.
In the song the lyrics remind listeners that the new generation listening to rock 'n roll weren't the first to start to grow their hair long. In the golden age of classical music when Johannes Brahms, Ludwig Van Beethoven and Johann Sebastian Bach were alive, variously between the 18th and 19th centuries, they had long hair. In 1960 The Beatles began performing in clubs in Liverpool and Hamburg, Germany, wearing their hair much longer than the conventional crew cut or flat top. The social revolution of the 1960's, let by the hippies, contributed to a renaissance of long hairstyles for men. Long hair was often worn as a political or countercultural symbol or protest and as a symbol of masculinity and youthful fertility. As Viva Las Vegas was released after the Beatles had taken North America by storm, the lyrics in "C'mon Everybody" invite people to chill out over the issue of long hair since the classical composers also wore their hair long.
"C'mon Everybody" was written by Joy Byers who had written a modest charting single for Elvis earlier in 1964 called "It Hurts Me". She would later write "Please Don't Stop Lovin' Me" for Elvis' 1966 film, Frankie and Johnny, and "Let Yourself Go" in his 1967 movie, Speedway. Byers also had modest success in the mid-60's with Top 50 hits for Timi Yuro ("What's A Matter Baby)" and Brenda Lee ("When You Loved Me").
June 29, 2017
Ray McGinnis
References:
Elvis Presley bio, Rolling Stone, New York, NY.
Lichter, Paul. The Boy Who Dared to Rock: The Definitive Elvis. Garden City, NY: Dolphin Books, 1978.
Elizabeth Nix, 7 Fascinating Facts About Elvis Presley, History.com, July 1, 2014
Sauers, Wendy. Elvis Presley: A Complete Reference. Jefferson, NC: McFarland, 1984.
Danny Collins and Sophie Roberts, "Found Dog? Why do people think Elvis Presley is still alive, where have the latest sightings been and when did The King die?," The Sun, UK, November 7, 2017.
Doll, Susan M. Understanding Elvis: Southern Roots vs. Star Image (Studies in American Popular History and Culture). Routledge, Abingdon, UK, 2017.
George Sidney, Viva Las Vegas, Metro-Goldwyn-Mayer, 1964.
Jenn Harris, "Classic and Mod Looks," Los Angeles Times, January 2012.
Roger Wink, R.I.P. Nashville Songwriter Joy Byers At 82, Melbourne, Australia, May 21, 2017.
"C-FUNTASTIC FIFTY," CFUN 1410 AM, Vancouver, BC, August 1, 1964.
For more song reviews visit the Countdown.