#849: The Colour Of My Love by Jefferson
Peak Month: October 1969
7 weeks on Vancouver's CKLG chart
Peak Position #7
Peak Position on Billboard Hot 100 ~ #68
YouTube.com: "The Colour Of My Love"
Lyrics: The Colour Of My Love"
Geoffrey Turton was born in Birmingham, UK, in 1944. Turton attended Turves Green Secondary Boys School. He played clarinet in the school band and it was there he met fellow clarinetist, Brian "Chuck" Botfield, around 1954. Botfield went on to Moseley College of Art and formed a skiffle band called the Bobcats. (In the late 50's, one of the band members was Christine Perfect. She went on to become Christine McVie and was a lead vocalist for Fleetwood Mac). The Bobcats were renamed The Rockin' Berries since they played a lot of songs by American R&B singer and guitar player, Chuck Berry. Meanwhile, Geoff Turton was in another band called The Swinging Chimes. The Rockin' Berries had a tour to Germany, but had failed to land a record contract. Some of the band members departed and Chuck Botfield asked Geoffrey Turton to join the band ahead of the German tour. Turton remembers, "I got the call from Chuck right out of the blue so I literally downed tools – I was working in a factory as a toolmaker – and flew out to Germany to join them."

Once they got to Germany Turton found the band was playing six-hour sets at concert halls. This was too hard for lead singer, Clive Lea, to do all the singing. "I'd never really sung before, just played the guitar. We…needed more than one singer. Clive was doing all the lead vocals at that time, I was doing back-ups and so I tried a few things out. We suddenly found that I could sing in this falsetto. The first thing I did on stage was Frank Ifield's hit 'I Remember You'," explains Turton. When they returned home to Birmingham the band soon got a record contract with Decca. They had several Top Ten hits in the UK. The first was "He's In Town," in October 1964, featuring Geoff Turton's falsetto. The Carole King-Gerry Goffin song was a cover of a tune first recorded by The Tokens (#43 on Billboard Hot 100). While "He's In Town" climbed to #3 in the UK, The Rockin' Berries were an opening act on tour with headliners, Bill Haley & The Comets and Manfred Mann. Geoff Turton recalls, "We really couldn't believe it when it first happened to us. It was the last thing we expected. We knew all about the screamers of course because of all the hit groups and singers we'd been supporting and touring with. We just couldn't hear ourselves playing or singing!"
Most of the singles The Rockin' Berries released were covers of recording artists from the USA and Canada. The band had one more Top Ten triumph covering a minor hit for the Detroit band, The Reflections, of "(Just Like) Romeo And Juliette" fame. The Reflections' single "Poor Man's Son", was recorded by The Rockin' Berries and climbed to #5 on the British charts. However, their star began to fade. By early 1966 they scored their final Top 50 hit. Though they released another eight singles, they were all commercial failures. Among these was "Smile," a cover of the Charlie Chaplin classic. While other British recording artists became part of the British Invasion in the mid-60's, The Rockin' Berries focused on cabaret performances in Britain.
Geoff Turton left The Rockin' Berries at the end of 1966 to focus on family commitments. Turton went solo in 1968 and released a single that was a flop. Picadilly Records advised Turton to change his stage name to Jefferson. With a new pop music persona he released "Colour Of My Love". The single was a hit in the UK, peaking at #22, and reaching #68 on the Billboard charts. It peaked at #7 in Vancouver.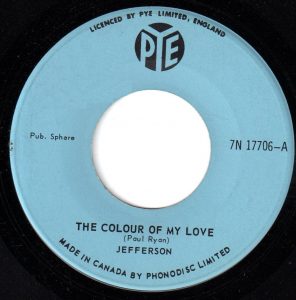 "The Colour Of My Love" is a song about a guy who is in love with a woman. He is convinced she loves him back, but she won't let him get close to her. He thinks she may have a boyfriend, but still is determined to win her love. He asks the metaphorical muse of romantics, love maker, to help him compose a song for him so he can woo her. Meanwhile, he's in a trance thinking about the colour of her hair and its likeness to the sun, as well as the colour of her eyes that are equally entrancing. Songs about the determination of a guy to woo a female away from another guy is not uncommon in pop music. It was only five days ago, on March 22/18, that I reviewed "I'm Gonna Love You Too", Terry Jacks cover of an old Buddy Holly song. In that case the guy is gonna do his best to "hook" the gal of his dreams. In the case of "The Colour Of My Love", the strategy is to "play the game" his "own true love" is playing.
"The Colour Of My Love" was originally written and recorded by Barry Ryan, a British pop singer. Ryan's version climbed into the Top 30 in Denmark, but missed the UK singles chart as Jefferson's version of the song raced up the UK pop charts into the Top 30. Ryan had been part of a duo with his twin brother, Paul, who had three Top 20 hits in the mid-60's. Barry Ryan had a #2 hit in the UK in 1968 called "Eloise".
After the single's success, Geoff Turton was injured in a car crash. He stopped performing live in concert. The accident kept him in hospital for six months. Once out of hospital Turton recorded a follow up single as Jefferson that his British label decided not to release. However, "Baby Take Me In Your Arms" climbed to #23 on the Billboard Hot 100, #4 in Toronto and #6 in Windsor, Ontario. Consequently, Jefferson did some touring in North America. He next recorded "Love Grows Where My Rosemary Goes". Though it wasn't a hit for him, it became a gold record for Edison Lighthouse later in 1970.
Turton left Jefferson, as a stage name, behind when The Rockin' Berries reunited for reunion tours in the late 70's. Geoff Turton was happy to tour with the band on nostalgia circuits into the 1990's. Geoff Turton has been doing tours into his seventies. When he was 73 he was reviewed in a performance in Telford, UK, in 2017, the reporter commented: "Turton showed he still had it with a thoroughly respectable James Brown impression that was startling to see from a 73-year-old Brummie white man."
March 27, 2018
Ray McGinnis
References:
"The Rockin' Berries bio," Brum Beat.net
Tom Morton, "Jasper Carrot's Stand Up And Rock The Place, Telford," Shropshire Star, Shropshire, UK, 2017.
"Boss 30," CKLG 730 AM, Vancouver, BC, October 17, 1969.
For more song reviews visit the Countdown.