#507: Come As You Are by Nirvana
Peak Month: April 1992
11 weeks on CKLG's Vancouver Chart
Peak Position ~ #5
Peak Position on Billboard Hot 100 ~ #32
YouTube: "Come As You Are"
Lyrics: "Come As You Are"
Kurt Donald Cobain was born in 1967 in Aberdeen, Washington. By age two he was singing and at age four started playing piano. His parents divorced when he was nine. Before the end of grade nine Cobain dropped out of school and lived homeless for several years. His uncle gave him a guitar for his 14th birthday. In 1985 Cobain fronted a punk band from Aberdeen named Fecal Matter. One of his friends in the punk scene was Krist Novoselic, who listened to a demo by Fecal Matter. Novoselic convinced Cobain to join with him in a band they called the Sellouts, a Creedence Clearwater Revival tribute band. The band was short-lived as Cobain wrote new material and they subsequently formed a band they called Nirvana. But before they settled on this name, the band was variously called Skid Row and Ted Ed Fred.

Krist Anthony Novoselic was born in Compton, California, in 1965. His family moved to Aberdeen (WA) in 1971. Novoselic spent part of his teen years in Croatia before moving back to Aberdeen. He learned to play bass guitar, guitar, accordion and organ. Cobain and Novoselic worked with a number of musicians in the first few formative years of Nirvana. The band released its first single in 1989. But things jelled when Dave Grohl became the band's drummer in 1990.
David Eric Grohl was born in Warren, Ohio, in 1969. Grohl's family moved to Virginia while he was a child and his parents subsequently divorced. He learned to play guitar in high school, but it was the drum that he fell in love with. He auditioned for a DC-based punk band called Scream when he was only 17. That year when Scream was in concert in Toronto, Dave Grohl played drums for Iggy Pop's band. Scream suddenly disbanded and when he learned Nirvana was looking for a new drummer, he contacted Cobain and Novoselic. He was flown to Seattle and after his audition joined Nirvana.
Nirvana was a forerunner of the grunge rock or Seattle sound. Grunge is a word that is slang for either "dirt" or "someone or something that is repugnant." Other bands from Seattle associated with this sound include Pearl Jam, Alice in Chains, the Stone Temple Pilots and Soundgarden. Instrumentally, grunge involves guitar with a "thick" middle register and rolled-off treble tone and a high level of distortion and fuzz. Grunge rock bands use very loud amplifiers. Notably, grunge rock didn't feature guitar solos in album tracks, a longstanding feature of heavy metal rock. Vocally, grunge rock singers like Kurt Cobain sang with raspy, gravelly effects. They combined these with groans, moans, screams and mumbles for emotional resonance. Grunge lyrics typically gave expression to social alienation, family breakdown, addictions, self-loathing, disillusion, uselessness and mistrust of authority. Grunge songs concerned tolerance of differences, suspicion of corporations and standing up for women's equality. Grunge concerts often involved audience members moshing – a style of dance in which participants push or slam into each other.
Grunge rock also evoked an anti-establishment fashion-sense. The grunge look involved wearing thermal underwear, ripped jeans, flannel shirts and any items from a thrift shops and second-hand clothes stores. The anti-consumer sentiment of grunge dictated that oversized knit sweaters and band-themed T-shirts were "in."
In 1991 Nirvana released the album Nevermind. It became a huge seller topping the Billboard 200 Album chart in January 1992 for two non-consecutive weeks. The debut single from the album, "Smells Like Teen Spirit", peaked at #6 on the Billboard Hot 100. The song won the band the MTV Video Music Award for Best Alternative Video in 1992. In addition "Smells Like Teen Spirit" earned Nirvana a second MTV Video Music Award for Best New Artist.
The followup single release from Nevermind was "Come As You Are".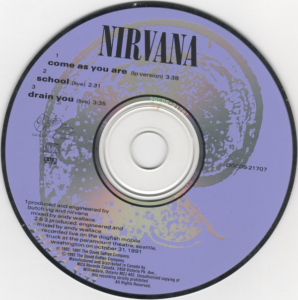 "Come As You Are" was written by Kurt Cobain. The song contained a guitar riff that resembled the post-punk British band Killing Joke's song "Eighties". However, Killing Joke chose not to go to court over concerns of plagiarism. The song's title may be taken from the historic Morck Hotel in Aberdeen, Washington, where Cobain stayed when he was 17. The hotel's motto was "Come As You Are." Cobain once told a reporter the song was about "people and what they're expected to act like." A contradictory line in the song sums up the double-messages youth are given by society and their elders: "Take your time, hurry up, choice is yours, don't be late." At one point in the song Cobain sings "And I don't have a gun." Music critic Mark Deming from AllMusic.com suggests that the "I don't have a gun" lyric is Cobain's "attempt to reassure listeners that … his target is the world at large rather than the individuals in it, and that there was still room in this damaged world for everyone."
"Come As You Are" peaked at #1 in Los Angeles, and #5 in Vancouver (BC) and New York City. Elsewhere, "Come As You Are" peaked at #3 in New Zealand, #5 in Belgium, #7 in Ireland, #8 in Finland, Italy and Portugal, and #9 in Denmark, Poland and the UK. However, on the Billboard Hot 100 the song stalled at #32. In 2005, as a tribute to Cobain, his hometown of Aberdeen, Washington erected a sign that reads "Welcome to Aberdeen: Come As You Are."
Two more singles were released from Nevermind: "Lithium" and "In Bloom". Both received praise from music critics and the latter earned Nirvana another MTV Video Music Award at the 1993 ceremonies for Best Alternative Video. The single made the Top Ten in Ireland and Portugal.
In 1993 Nirvana released its third and final album In Utero. The album shot to the top of the Billboard 200 Album chart. The album also made the Top Ten in over 15 countries internationally. In 1994 was nominated for a Grammy Award for Best Alternative Music Album. At the 1994 MTV Video Music Awards, the albums' debut single "Heart-Shaped Box" won two awards for Best Alternative Video and Best Art Direction. The single made the Top Ten in Finland, Ireland, New Zealand, Portugal and the UK. Although it topped the Billboard Alternative Songs chart, it didn't chart on the Billboard Hot 100.
The second single release from In Utero was "All Apologies". The single climbed into the Top Ten in Poland and also charted on the Billboard Alternative chart. In 1995 it was nominated for a Grammy Award for Best Rock Performance by a Duo or Group with Vocal. It lost to Aerosmith's "Crazy". In 1995 "All Apologies" won Nirvana the BMI Award for Most Played Song on College Radio. The single was a double A-Side release with "Rape Me", which charted at #5 in Denmark.
A third single release from the album was planned in April 1994 for "Pennyroyal Tea". However, Kurt Cobain killed himself by a gunshot to the head. The B-side on the single was titled "I Hate Myself And I Want To Die". The record company decided it was in poor taste to promote the single, especially with the B-Side title, and so they recalled the single and destroyed the copies. Although some still survive. "Pennyroyal Tea" did get a limited single release in Germany and the UK. The single was re-issued in 2014 and topped the Billboard Hot Singles Sales chart that April.
In the fall of 1994 Nirvana released "About A Girl" and the single topped the Iceland and Billboard Alternative Airplay charts. The single also made the Top Ten singles charts in Australia, Canada, Finland and Poland.
The last song Kurt Cobain recorded with Nirvana in 1994 was a song he wrote titled "You Know, You're Right". It was posthumously released as a single in 2002 and topped the Billboard Mainstream Rock, Alternative Airplay, Active Rock and Alternative Top 50 charts. In 1995 "The Man Who Sold The World" made the Top Ten on the Billboard Alternative Airplay chart. And in 1996 "Aneurysm" topped the Canadian Alternative Airplay chart and made the Top 20 on the same chart in the USA.
By 1994 Kurt Cobain's heroin addition was very serious. Nirvana began a tour of Europe on March 1, 1994. However, on March 4, Courtney Love found Cobain unconscious in a hotel suite in Rome. He was rushed to hospital and the tour was cancelled. Though he agreed to go into rehab, he left the facility after just one week. Kurt Cobain returned home to Seattle and was dead from a self-inflicted gunshot on April 8, 1994.
In November 1994 Nirvana released MTV Unplugged in New York. The album won Nirvana a Grammy Award in 1996 for Best Alternative Music Performance. Nirvana released two more live albums: Nirvana: Live! Tonight! Sold Out!! (1994) and From the Muddy Banks of the Wishkah (1996). The latter album became the band's fourth number one album on the Billboard 200 Album chart.
With the death of Kurt Cobain Grohl and Novoselic officially disbanded Nirvana. Grohl went on to found the Foo Fighters. Novoselic formed a band called 75 Sweet in 1995. In 1996 he sang a track on a Willie Nelson tribute album together with Johnny Cash. Subsequently, Novoselic was in the bands Eyes Adrift and Flipper. In 2010 Krist Novoselic was invited to join the Foo Fighters for the recording of their album Waisting Light, released in 2011. On several occasions he has collaborated in concert with Paul McCartney. Aside from his musical pursuits, Novoselic became a political activist in the Seattle area, and championed electoral reform in the USA. He also ran for political office in 2009. Also in 2009, Novoselic had an acting role in the Robin Williams film World's Greatest Dad.
In 2014 Nirvana was inducted into the Rock and Roll Hall of Fame. Dave Grohl has appeared in a number of documentaries and on The West Wing, Sesame Street and The Muppets.
September 4, 2020
Ray McGinnis
References:
Johnathan Freedland, "Kurt Cobain: an Icon of Alienation," Guardian, April 5, 2014.
Kevin Allman, "The Dark Side of Nirvana's Kurt Cobain," Advocate, February 9, 1993.
David Fricke, "Krist Novoselic on Kurt's Writing Process and the 'In Utero' Aesthetic," Rolling Stone, October 3, 2013.
Matt Wiklinson, "Dave Grohl teams up with Nirvana's Krist Novoselic on New Foo Fighters Album," NME, UK, October 27, 2010.
Phil Alexaner, "Krist Novoselic: "We Weren't Just this Spooky, Heavy Gang. We Could be Light, Too. Maybe that's what Made Us Different," Kerrang!, June 13, 2018.
Lynn Hirschberg, "Strange Love: The Story of Kurt Cobain and Courtney Love," Vanity Fair, September 1992.
Keith Cameron, "'I've Never Gotten Off on Chaos'," Guardian, September 14, 2007.
"Vancouver's Official Top 40," CKLG 730 AM, Vancouver, BC, April 27, 1992.
For more song reviews visit the Countdown.