#93: Come Back by the J. Geils Band
Peak Month: April 1980
15 weeks on Vancouver's CFUN chart
Peak Position #2
Peak Position on Billboard Hot 100 ~ #32
YouTube.com: "Come Back"
Lyrics: "Come Back"
The classic lineup of the J. Geils Band had five members. They are John "J" Geils on lead guitar; Danny Klein on bass guitar; Peter Wolf as lead vocalist and on percussion; Magic Dick on harmonica, saxophone, trumpet; Seth Justman on keyboards and backing vocals; And Stephen Jo Bladd on drums, percussion, and backing vocals. John Warren Geils Jr. was born in 1946, in New York City. He grew up in New Jersey. He learned jazz trumpet and drums and was part of a marching band in school. He dated Meryl Streep in 1962. In the mid-60's he switched from jazz trumpet to guitar. In 1966, he formed a jug band named Snoopy and the Sopwith Camels, which was rounded out with Danny Klein and Magic Dick. This was different from the San Francisco band Sopwith Camel who had a Top 30 hit in the winter of 1966-67 with "Hello Hello." Danny Klein was born in the Bronx, New York, in 1946. Richard "Magic Dick" Salwitz was born in New London, Connecticut, in 1945. He first learned to play the trumpet, and then harmonica and saxophone. Peter Walter Blankfield was born in the Bronx in 1946. In 1964, billed as Peter Wolf, he formed a Boston-area band called The Hallucinations, which included drummer Stephen Jo Bladd. Wolf was later DJ Woofa Goofa on Boston station WBCN, with an all-night blues and jazz radio show. Stephen Jo Bladd was born in Boston in 1942. Seth Justman was born in 1951 in Washington D.C. The J. Geils Band formed in Worcester, Massachusetts in 1968.
In 1970, the J. Geils Band released their debut self-titled studio album. They toured as an opening act that year for the Byrds, B.B. King and the Allman Brothers. On October 11, 1973, the J. Geils Band gave a concert in Vancouver at the PNE Agrodome. In 1974 the band charted "Must Have Got Lost" to #12 on the Billboard Hot 100. After the release of their sixth studio album titled Hotline, the J. Geils Band performed on January 24, 1976, at the PNE Garden Auditorium in Vancouver.
On June 29, 1977, the J. Geils Band appeared in concert in Vancouver at the Pacific Coliseum. They continued to struggle to chart singles into Top 40 AM radio. One of their songs to crack the Top 40 was "Come Back".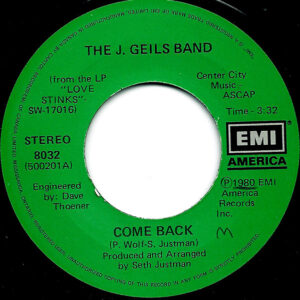 "Come Back" was written by Peter Wolf and Seth Justman. It is a song about a guy who doesn't feel very strong on his own. Now that his "baby" has gone and left him, he wants her to come back.
"Come Back" peaked at #1 in Boston, #2 in Vancouver (BC), Toronto, Providence (RI), and Framingham (MA), #3 in Lewiston (ID), #5 in Bangor (ME), #7 in Richmond (IN), and #10 in Regina (SK), Oklahoma City, and Presque Isle (ME).
In 1981 the J. Geils Band hit a home run with their album Freeze Frame. From the album came the #5 song of 1981 on Billboard titled "Centerfold". The number-one US hit was kept out of the top spot in Vancouver by "Tainted Love" by Soft Cell, which hung onto #1 for twelve consecutive weeks. "Centerfold" spent five weeks at #2 and twelve weeks in the Top Ten of the CKLG Top 20. The song that knocked "Tainted Love" out of the top spot was the next J. Geils Band release "Freeze Frame". The single spent two weeks at number-one in Vancouver, and eleven weeks in the Top Ten on CKLG. The album, Freeze Frame became the number five album of the year on the Billboard 200 album chart.
While both "Centerfold" and "Freeze Frame" were in the Top Ten in Vancouver, the J. Geils Band came to Vancouver for a concert on April 9, 1982. Their venue was the Pacific Coliseum.
At the peak of their success, the J. Geils Band wasn't able to repeat their winning formula. Two more studio albums failed to catch on. The band recorded the title theme for the film Fright Night. And that was it.
After the band's 1985 split, J. Geils returned to his love of cars. He founded KTR Motorsports in Carlisle, Massachusetts, to service Italian marques such as Ferrari and Maserati. He sold the business in 1996, but over the years owned a string of vintage Italian sports cars and motorcycles. He died in 2017.
Peter Wolf released a half a dozen singles. This included "Lights Out", a #12 hit in the USA in 1984, and "Come As You Are", a #15 hit on the Billboard Hot 100 in 1987. After the band split, Magic Dick joined the Cambridge Harmonica Orchestra. In 1992 he formed a band called Bluestime which included J. Geils.
Seth Justman went on to produce former Blondie lead singer Debra Harry's second studio album, Rockbird, in 1986. Danny Klein went on to form Danny Klein's Full House.
November 18, 2022
Ray McGinnis
References:
"J. Geils Obituary," Guardian, April 12, 2017.
"J. Geils Band Concert Dates – Canada," Setlist.fm.
"C-FUN Top Thirty," CFUN 1410 AM, Vancouver, BC, April 5, 1980.
For more song reviews visit the Countdown.