#1345: Come Dance With Me by Eddie Quinteros
Peak Month June 1960
7 weeks on Vancouver's CFUN chart
Peak Position #11
Peak Position on Billboard Hot 100 ~ #101
YouTube.com link: "Come Dance With Me"
"Come Dance With Me" lyrics and chords
Eddie Quinteros was born in San Francisco, California, in 1943. He started his musical career at the age of 13. At the time he was not a member of the musicians union. He was playing in a Bay area union house and got busted. After that he joined the musicians union. In 1956 he had a rock n' roll band that did a stint in San Francisco on KPIX radio. The manager for Bobby Freeman, a singer who had the 1958 hit "Do You Wanna Dance" saw Quinteros perform shortly after Freeman's song was starting to climb the charts. Eddie Quinteros was asked if he wanted to play guitar with them. Freeman was going to tour in Hawaii. His manager needed a guitar player who could read music. Eddie auditioned and got the job at the age of 15.
Eddie played many dances in Northern California and at the age of 15 started performing as an opening solo act for many other established rock & roll artists. He sometimes would assist bands by playing the lead guitar parts for the artists songs. Eddie's recording career started at the age of 17 with the release of "Come Dance With Me". The 45 RPM featured a doo-wop ballad on the B-side, called "Vivian". It was released on Brent Records, a label on the east coast. Brent Records had recently had a hit with "Cherry Pie" by the duo Skip and Flip. "Come Dance With Me" got some regional airplay and peaked at #15 both on WMGM in New York City and KQV in Pittsburgh, and on KYA in San Francisco at #13. But it was in Vancouver the song had its highest peak in North America at #11.
"Come Dance With Me" was a fast-paced rock n' roll dance tune. Quinteros sounded similar to fellow chicano teen idol, Ritchie Valens. The song simply expresses a boys invitation to a girl to dance with him, hold him tight, kiss him and squeeze him all through the night. Quinteros wrote all his songs.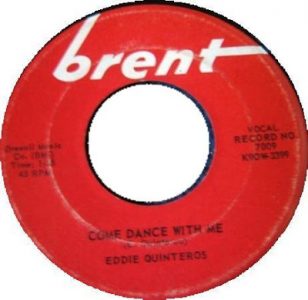 Eddie performed on the Dick Clark Show including the Saturday Night Beechnut Show. He toured America in 1959 with the Alan Freed Review. Freed's Easter Tour was a series of one-nighters. Freed's staff filled the bus up with performers. Quinteros recalls, "you would perform that night, drive all night to the next venue. It was grueling. That's kind of how I started. I was on Dick Clark's American Bandstand four times, including the Saturday Night Beechnut Show. The bad part, I wasn't getting royalties. My father checked into it. I was 17 at the time. What he (my father) found out was that Dick Clark sent us a letter saying the payments (for appearing on the show) had been made but the checks were endorsed and cashed by my manager who didn't have the power of attorney. The record company ~ all of your expenses to promote and record came out of the royalties. Studio time, all expenses ~ we lived quite well, very well ~ but found there was nothing left." Quinteros performed "Come Dance With Me" on American Bandstand on February 11, 1960.
Quinteros performed on stage with Bobby "Do You Wanna Dance" Freeman and Carl "My Heart Is An Open Book" Dobkins Jr., among others.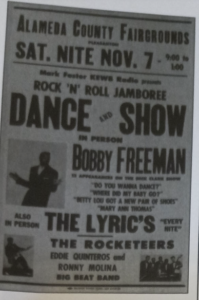 After that experience Quinteros recalls he was "pretty bummed about it." He talked to several members of the band who were older them him who gave him the advice not to keep touring into his 30's and 40's. They told Eddie, "you will be playing in backup bands with nothing in you're your future but one nighters." Eddie recorded several more records. "Please Don't Go" was a doo-wop ballad released on Brent Records in the spring of 1960.
"Slow Down Sandy", also on Brent Records, was released in August 1960. It was a rockabilly tune that resembled the energy on "Come Dance With Me". It was covered by Australia's Billy Adams in 1961. "Come On Little Girl" was recorded by Eddie Quinteros and the Rockin Aristocrats. This time it was on the suburban Bay area company, ED-DAR Records, in Daily City, California. The single was another fast-paced effort, but like other releases it missed the Billboard Hot 100. "At Last You've Come Back"/"Pretty Baby I Love You" was the final single released by Quinteros as a solo act. It was released on the Del-Fi label in 1961. While "Come Dance With Me" at least got some regional chart action, the other single releases never built on the initial exposure Quinteros got from his Bandstand appearances and Alan Freed Tour.
"Come Dance With Me" is a straight forward invitation to dance, have fun and have some romance. Since they are dancing under the sun, it seems the "couple" are open to hanging out for a long time in each others company: "under the sun…all night long."
Eddie decided to go back to school and then college. Still, Quinteros fell back into meeting up with his band mates John Gentile (drums) and Tommy Lucia (bass). They decided to give making music another shot. In 1965 he was in the San Francisco Bay area band, The Au-Go's, who had a regional hit with "All Over Town".
Quinteros found himself in charge of the administration of the band's gigs and finances. Quinteros faced the choice of either sticking with the music biz or furthering his education in university. He opted to go to university full time. Though he was invited on numerous occasions to perform again he declined them. As of 2016 Eddie Quinteros is retired and living in Northern California.
October 12, 2016
Ray McGinnis
References:
Chicano definition, Wikipedia.org
Randall Layton, Eddie Quinteros – At Last You've Come Back Del-Fi 1961, Youtube.com, September 21, 2016.
American Bandstand History, In The 00's.com.
"Hi-Fi Forty," CFUN 1410 AM, Vancouver, BC, June 18, 1960.
For more song reviews visit the Countdown.