#1029: Come Outside by Mike Sarne
Peak Month: July 1962
8 weeks on Vancouver's CFUN chart
Peak Position #7
Peak Position on Billboard Hot 100 ~ did not chart
YouTube.com: "Come Outside"
Lyrics: "Come Outside"
Michael Scheuer was born in London, UK, in 1940. He learned to become an actor and adopted a stage name. In 1961 Mike Sarne starred in a minor role in the film Invasion Quartet, a parody of The Guns of Navarone. The parody was about two wounded officers, one British and one French who are deemed unfit and surplus to requirements. They leave their hospital and together with an explosives expert suffering from mental illness, and a Colonel thought too old to serve in the Army, make their way to France to destroy a long range German artillery piece.

Interested in boosting his acting career, it was suggested the twenty-one year old record a number of singles and see if he could be a success on the British record charts. In 1962 Sarne recorded "Come Outside" with backing vocals by Wendy Richards. She was 19 years old at the time and had first appeared in the British TV series, Stranger On The Shore, in 1961. The series featured the instrumental theme song by Mr. Acker Bilk. Richards distinctive Cockney accent was picked as the "date" in the song "Come Outside".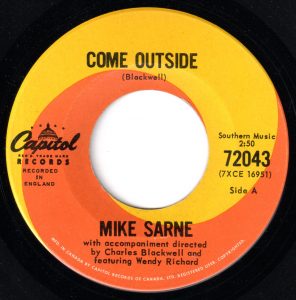 "Come Outside" is a novelty song that appeared on the British pop charts during the dance craze of the early 60's when "The Twist," "The Peppermint Twist", "The Mashed Potato", "The Locomotion" and other dance songs were dominating the club scene on either side of the Atlantic. In the song the female date at the club wants to keep jiving. The guy wants to go outside to kiss, romance and have a bit of "slap and tickle," a slang term in the UK for physical amorous play between interested parties. Despite the guys repeated pleas to come outside, she tells him variously: "what for," "what's the rush," "it's cold outside," "why," "you do keep on," "lay off," "shove it" and "get lost." She's letting him know in subtle, and also very direct, language that she's not interested in coming outside with him. She'd rather dance and tells him "I want another twist" and "why don't you listen to the beat.?" If he wants to go outside with someone she suggests, "go and ask Lil." In 1962, in Britain, it was funny to hear a song about a couple who were in constant disagreement about how to spend time with one another when they were out on a date: stay in the club and dance or go outside and kiss, "slap and tickle." At the time, there were other songs on the radio sending the message that girls really wanted whatever the boys wanted. In her song 1960 "No," Dodie Stevens advised "oh, don't you know, that a girl means yes when she says no." So all of this protesting, for some guys at the time, was seen as a kind of verbal foreplay. A guy could think "she's protesting, but she really wants to go as far as I do and is just playing hard to get." In the case of "Come Outside," the fellow doesn't get her out the door and so was laughably considered back then as rather hapless and unlucky.
In the song, "Come Outside", the guy just won't take no for an answer. In his article, "Why Some People Can't Take a Hint," David Klaasen reveals "there is always someone who… will choose to interpret what you're saying in a completely different way than what you intend, or they simply won't take a hint." Some people in society pay no attention to another person's tone of voice or body language. This is due to being focused on their own feelings. So non-verbal communication, such as folding ones arms, yawning or drumming your fingers on the table won't alert them to a lack of interest, boredom or impatience on the part of the other person. No matter how clear a person is about their lack of interest, if the pursuer presumes you are the one for them this bias will be the filter through which they hear your every word.
Between the fall of '62 and the summer of '63 Mike Sarne had three more singles in the UK Top 30. "Will I What?" picked up on the gag of a guy trying to get to first base with no luck. In this case the song is about a guy who asks a woman to go with him to a soda shop and she's not the least bit interested. I assume a lot of guys in the UK in the early 60's were familiar with being turned down when they made overtures to treat a gal to a soda or an ice cream.
In 1963 Sarne starred in the crime movie A Place To Go. In 1965 he starred in the musical comedy Everyday's A Holiday, alongside British pop stars Freddie and The Dreamers and John Leyton. For a number of years in the mid-60's Sarne was host of an ITV show Junior Criss Cross Quiz. He also appeared in the crime TV show Jonathan Creek, the spy-spionage shows The Avengers and Man in a Suitcase, the crime-comedy TV show Minders and later in the multi-decade long police series, The Bill. Sarne went on to direct several films starting in 1968 with Joanna, about an art student who has an affair with her teacher. He won the New York Film Critics Circle award for Best Direction for Joanna. In 1970 Sarne put Gore Vidal's book on screen with Myra Breckinridge, about a gay man who has a sex change and becomes Myra Breckinridge. Raquel Welsh starred as Breckinridge. Her character poses as a widow of the man she used to be (though in fact audiences learn at the end of the film that a sex change never took place). At the time the film was universally panned as tasteless and absurd. Sarne has mounted other films, including the romance movie The Punk and The Princess in 1993.
In 1966, just after Brigette Bardot married millionaire industrialist and playboy Gunter Sachs, Mike Sarne had an affair with Bardot a few days after her honeymoon. Sarne was eight years younger than Sachs. In 1967 Sarne would play opposite Bardot in the film Two Weeks In September (French title: À coeur joie). The plot of the movie concerned a model named Cecile who spends two weeks away from her older lover Philippe and is tempted by a younger man. Sarne would be cast in another nine films between 1968 and 2012, including Telstar: The Joe Meek Story, the 2008 film adaptation of a play about the songwriters-record producer who guided The Tornados, The Honeycombs, John Leyton and others to success on the UK pop charts and stardom.
Wendy Richards went on to star in a number of TV series for British audiences and was best known for her role as Miss Shirley Brahms in the BBC sitcom Are You Being Served? which ran from 1972 to 1985.
August 20, 2017
Ray McGinnis
References:
Jay Lewis, Invasion Quartet, M-G-M, 1961
Basil Deardon, A Place To Go, Bryanston Films, 1963
Nick Moran, Telstar: The Joe Meek Story, Aspiration Films, 2008.
Serge Bourguignon, Two Weeks In September, Paramount Pictures, 1967
Michael Sarne, Myra Breckinridge, 20th Century Fox, 1970
Are You Being Served?, BBC
Andy Martin, Review – Waiting For Bardot, Andy Martin Ink.com, 1996
David Klaasen, Why Some People Can't Take A Hint, Inspired Working.com, December 15, 2011.
"C-FUNTASTIC FIFTY," CFUN 1410 AM, Vancouver, BC, July 21, 1962.
For more song reviews visit the Countdown.