#1265: Come On Down (From The Top of That Hill) by Jackie De Shannon
Peak Month: February 1967
8 weeks on CFUN's Vancouver Charts
Peak Position ~ #13
Peak Position on Billboard Hot 100 ~ #121
YouTube.com:"Come On Down (From The Top of That Hill)
Sharon Lee Myers was born in Hazel, Kentucky, in 1941, a town on the Tennessee and western Kentucky border. When she was only two years old she received her first vocal training. By 1947, she was appearing on a local radio station as a child country and western singer. And by 1952, Sharon Lee Myers was hosting her own radio show. In 1954, with the family farm posing mounting challenges, the family moved to her mother's home town of Aurora, Illinois, a seven hour drive north of Hazel. A year later, when she was in 8th grade, the family moved to nearby Batavia, Illinois. Her dad became a barber and young Sharon got instant recognition in the local paper. A headline in on May 5, 1955, in the Batavia Herald read "Sharon Lee Myers, Only 13, Is Talented Batavia Vocalist." The paper enthused, "Though only 13, the youngster can boast almost 11 years of voice training and experience and in the past she has toured most of the south making personal appearances. Also she has sung on radio with a rhythm band for 2 years and has appeared on television 3 times."

The following year, now billed as Sherry Lee Myers, the young singer appeared on a TV broadcast of CBS affiliate in Chicago on March 3, 1956. In anticipation of her upcoming TV appearance, the Batavia Herald wrote: "Sherry Lee is a busy young lady. Each Saturday morning at 9:30 she is on the WMRO radio show, Saturday nights she is the vocalist with the valley's Square Dance Band, Don Lee and his Fox Valley Boys. She had made appearances with the Pee Wee King Show at Ottawa, Rockford and LaSalle in recent weeks. Following her television appearance this Saturday night, the young Batavia artist will appear at the West Aurora Junior High School auditorium on Sunday, March 4th for three shows, 2, 4, and 8 P.M."
In 1956, Sherry Lee recorded her first single on Mar-Vel Records based in Hammond, Indiana. On the Mar-Vel label, their singles bore the motto: "Hits of Tomorrow Recorded Today." Mar-Vel Records had her billed as "Sixteen year old Miss Country Music" on the label credits. Lee was described as a confident young girl with a clear, warm voice. The single, "Baby Honey," featured Sherry Lee attempting a fast paced country waltz with ringing steel guitar behind that got out of synch with the rhythm with each successive verse.
Next, Myers was billed as Jackie Dee. Billboard wrote in their June 10, 1957, issue that Sherry Lee Myers is a "16-year old C&W singer of Batavia, Illinois." Music writer Bill Sachs reported that Myers had been "recently signed as a rockabilly artist by George Goldner's Gone Records in New York, out of the Gale Agency in the Big Town." Her managers, Irving Schacht and Paul Kallett, had changed her name to Jackie Dee. Her single for Gone Records was "I'll Be True", a 1953 R&B hit for Faye Adams, and "How Wrong I Was". With her single release, Jackie Dee appeared at the Uptown Theater, Philadelphia on 3rd July 1957, and at the Paramount in Brooklyn, New York, with Alan Freed's Big Rock'n' roll Show in mid-July.
Then, in 1958, Jackie Dee recorded two songs she wrote in Nashville. The "Strolypso Dance" was a tune that borrowed from both Brenda Lee and Paul Anka in vocal style. The song was set to a beat that could be danced to either The Stroll or Calypso. The other tune, "Buddy," imitated Brenda Lee and got Jackie Dee some attention on a few radio stations. After Liberty Records released this single, Jackie Dee switched to Fraternity Records to release "Just Another Lie". But this time she the song was credited to Jackie Shannon and The Cajuns. Then in 1959, Jackie Shannon released "Trouble", a song featured in the Elvis Presley film King Creole. This time she appeared on the PJ label. Several more releases in 1959 appeared on Edison International under the billing of Jackie DeShannon. After one more single release with this label, she switched back to Liberty Records. In 1961, she moved to Hollywood.
From 1960 to 1964, Jackie DeShannon released 15 singles with Liberty. A couple of these, including "Needles And Pins" and "When You Walk In The Room" made the Billboard Hot 100 at #84 and #99 respectively. In Vancouver, the former song charted to #8 and the latter to #21. In 1964, she appeared in a surfing movie with Bobby Vinton titled Surf Party. In February 1964, Jackie DeShannon formed party of a touring band with Ry Cooder to open for The Beatles North American tour that included 26 concerts. That same year she wrote "Come And Stay With Me", a hit for Marianne Faithfull.
In 1965, Jackie DeShannon switched labels again and had a Top Ten hit in the USA with "What The World Needs Now Is Love". The song climbed to #6 on CKLG in Vancouver. While the sales from the single were auspicious, Jackie DeShannon wouldn't crack the Top 60 again until 1969. Over the next few years she had little success with her commercial releases. One of these,"Come On Down (From The Top Of That Hill)", stalled beneath the Billboard Hot 100 at #121. But in Vancouver, the tune reached #13.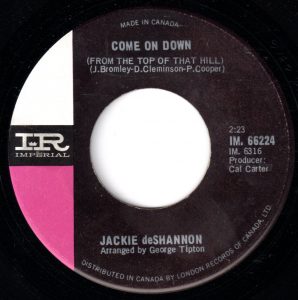 "Come On Down (From The Top Of That Hill)" is a song arranged by George Tipton. He was a composer of multiple themes for TV shows. Among his TV themes were The Love Boat, The Golden Girls, The Courtship of Eddie's Father, Soap, Benson, The Empty Nest, It's a Living and others. Tipton also arranged songs for numbers of recording artists. These include for "Everybody's Talking'" by Nilsson, "Light My Fire" by Jose Feliciano, The Sunshine Company, Jan and Dean and others.
"Come On Down (From The Top Of That Hill)" is about two people. One of them doesn't have the fortitude to climb up a hill. The other person likes to climb to the top of a hill to see the view. The person at the bottom of the hill tries to coax the person on the top of the hill to come down, to see and enjoy the flowers that are growing. From the bottom of the hill, she calls out to the person on the top of the hill. She asks if they can see the town where she was born. And she asks "can you see me? I can see you."
The song could be about a game two people are playing who are children or youth or adults. The question and statement in the lyrics, "can you see me?/I can see you," suggest that the age of the two persons involved is on the younger end of the spectrum. Not that some adults might not engage in this kind of banter. But the songs' melody and instrumentation are suggestive of childlike innocence and playfulness.
In 1967, Jackie DeShannon appeared in a college-themed film titled C'mon, Let's Live A Little. She co-starred with Eddie Hodges and Bobby Vee. In 1969, she had her biggest hit, "Put A Little Love In Your Heart", which climbed to #4 on the Billboard Hot 100. After the sixties, DeShannon turned to songwriting for other recording artists. He biggest success was with "Bette Davis Eyes", a #1 song recorded by Kim Carnes in 1981. Between 1963 and 2000, she recorded twenty-one studio albums and was featured on two soundtrack albums.
November 28, 2018
Ray McGinnis
References:
Marc Myers, Put a Little House in Your Heart: After touring with the Beatles, Jackie DeShannon became a hit pop-rock songwriter in L.A., Wall Street Journal, December 12, 2013.
Sharon Lee Myers, Only 13, Is Talented Batavia Vocalist", Batavia Herald, Batavia, Illinois, May 5, 1955, p. 1.
"Batavia Banter: On Television Show." Batavia Herald, Batavia, Illinois, March 1, 1956, p. 12
Peter Lerner, Sweet Sherry: The Early Recording Career of Jackie DeShannon, Spectropop.com.
Bill Sachs, Folk, Talent & Tunes, Billboard, June 10, 1957, p. 61.
"C-FUNTASTIC FIFTY," CFUN 1410 AM, Vancouver, BC, February 11, 1967.
For more song reviews visit the Countdown.