#777: Come On Up by The Young Rascals
Peak Month: October 1966
7 weeks on Vancouver's CKLG chart
Peak Position #5
Peak Position on Billboard Hot 100 ~ #43
YouTube.com: "Come On Up"
Lyrics: "Come On Up"
In 1942, Felix Cavaliere was born in Pelham, New York, a 15 minute drive north of Times Square in midtown Manhattan. He was trained in classical piano from the age of six. He learned to play keyboards and as a singer, in 1963, was hired to join Joey Dee And The Starliters, of "The Peppermint Twist" fame. Eddie Brigati was born in Garfield, New Jersey, in 1945. He learned to sing and play percussion. In 1963, he became a member of Joey Dee and The Starliters. Brigati co-wrote most of the Young Rascals songs, along with Cavaliere. Guitar player, Gene Cornish, was born in New Jersey and grew up in Ontario and in Rochester, New York. In 1964, he joined Joey Dee And The Starliters. By late 1964, Cavaliere, Brigati and Cornish teamed up with Jersey City native, Dino Danelli, to form the Young Rascals. Danelli was a drummer. Eddie Brigati's brother, David, helped with studio recordings and was a reliable backup singer on the records. David Brigati is sometimes referred to as the "Fifth Rascal." However, it was just the four ~ Felix Cavaliere, Eddie Brigati, Gene Cornish and Dino Danelli ~ who performed in live concerts.
The Young Rascals first appeared on TV on the variety show Hullabaloo on February 24, 1966. They sang their single release, "I Ain't Gonna Eat Out My Heart Anymore". In the spring of 1966, the group had a #1 hit single with "Good Lovin'". They released a second album which included a track titled "Come On Up".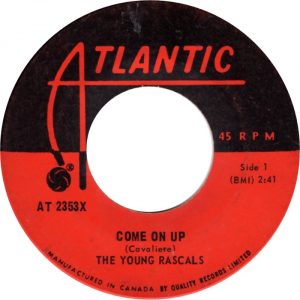 "Come On Up" was the second of three singles that featured on the Young Rascals second album, Collections. The album released in 1967 featured three charted singles from 1966, "You Better Run", "Come On Up" and "I've Been Lonely Too Long". "Come On Up" was released after the bands first #1 hit from the spring of 1966, "Good Lovin'". Felix Cavaliere, the leader of the band, composed "Come On Up." Cavaliere was born in Pelham, New York, and was first a member of Joey Dee and the Starlighters. That pop group had a #1 hit in the winter of 1961 called "The Peppermint Twist".
"Come On Up" is about feeling the beat of the music, hearing and seeing how the music moves you as you start to dance and interact with others on the dance floor. The lyrics invite those dancing to the tune to "have a good time," to not "worry about a thing," and let the music "take you where you wanna go." Specifically, the song is about a couple enjoying dancing together and feeling a connection.
The song was a garage band classic from the mid-sixties. It peaked at #5 in Vancouver, but only #43 on the Billboard charts and #57 on Canada's national RPM charts. Other notable chart runs for the song in North America include #4 in Boston and Colorado Springs, #5 in Buffalo, #6 Tallahassee and #10 Tucson. "Come On Up" was the third of fifteen songs that the Young Rascals, later named The Rascals, charted in the Top 30 on the Vancouver pop charts for the group between 1966 and 1969. These included "Groovin'", "How Can I Be Sure", "A Girl Like You", "It's A Beautiful Morning" and "People Got To Be Free". The latter song was the number-one single in Vancouver for the week of August 30, 1968. The Rascals appeared in concert at the Kerrisdale Arena in Vancouver (BC) on September 6, 1968.
After the Rascals split up, Cornish and Danelli formed a band in 1972 named Bulldog, who released a single titled "No". The pair also co-produced Canadian rock band, April Wine's fourth album: Live! in 1974. Cavaliere went on to record seven solo albums. In 1995 he was a member of Ringo Starr's All-Starr Band. and won a Grammy nomination in 2009.
The Rascals reunited for a Broadway play-concert fusion in 2012 titled Once Upon A Dream, which ran for six performances. Felix Cavaliere continues to perform in concert, including sharing the stage with Billy Joel in May 2015. He currently had 14 upcoming concerts between July and November, 2018, across 14 states, one Canadian province and on a cruise ship.
In the 1980's Eddie Brigati was a member of the New York Rock and Soul Revue. Others in that musical project included Donald Fagen, Phoebe Snow, Michael McDonald, Box Scaggs, legendary 20th Century R&B singer Charles Brown and the Doobie Brothers. In 1991, a live album was recorded at the Beacon Theatre in Manhattan that Brigati performed in titled The New York Rock And Soul Revue: Live At The Beacon. The album was a tribute to the 1980's New York Rock and Soul Revue.
June 27, 2018
Ray McGinnis
References:
Elliott Stephen Cohen, "Feature Story: Felix Cavaliere Traces the Tumultuous History of The Rascals," Goldmine Magazine, April 21, 2010
Felix Cavaliere: King of Blue-Eyed Soul, Felix Cavaliere Music.com
Felix Cavaliere: Shows, Felix Cavaliere Music.com
The Rascals Reunite for Broadway Dates, AP, February 22, 2013.
"Best of the Week: Tom Petty, Cantus Does the Beatles, Flint Hills Children's Festival, More," Star-Tribune, Minneapolis, MN, May 27, 2017.
Gene Cornish bio, Gene Cornish.com.
"Boss 40," CKLG 730 AM, Vancouver, BC, October 22, 1966.
For more sone reviews visit the Countdown.