#1050: Here Comes The Boy by Tracey Dey
Peak Month: January 1964
9 weeks on Vancouver's CFUN chart
Peak Position #10
Peak Position on Billboard Hot 100 ~ #93
YouTube.com: "Here Comes The Boy"
"Here Comes The Boy" lyrics
Nora Ferrari was born in 1943 in Yonkers, New York. After completing high school, at the age of 19, while taking classes at Fordham University Ferrari made a demo tape of a song. Producer, Bob Crewe, became aware of her demo tape and signed her to his production company, Genius Inc. In the summer of 1962 Crewe had produced a song for a new pop group named The Four Seasons called "Sherry". The song climbed the national charts in the USA for five weeks (as well as three weeks in Vancouver). Crewe got the idea for an answer song and had co-written "Jerry (I'm Your Sherry)". The song was released on the Vee Jay, the same label the Four Seasons were with, billing the singer not as Nora Ferrari but as Tracey Dey. It appeared on a record survey in Phoenix, Arizona, the second week of October 1962, when "Sherry" was #1 on the Billboard Hot 100 for its fifth and final week. "Jerry (I'm Your Sherry)" got airplay in New York City, made the Top 30 on CHUM in Toronto and #8 in Fresno, California. Though the song was only a regional hit, Bob Crewe was encouraged and Tracey Dey became part of what was dubbed the "girl group" sound for both female solo and female group singers in the early to mid-60's.
After her debut chart run, Dey's next release was "Long Time, No See", co-written by Bob Crewe and Sid Bass. The record only got limited airplay on KRUX radio in Phoenix. However, she broke into the Billboard Hot 100 with her third single, "Teenage Cleopatra", was co-written by Beverly Ross who had success penning the 1958 hit,"Lollipop", for The Chordettes. "Teenage Cleopatra" was released at the time of the box office hit film, Cleopatra, starring Elizabeth Taylor. With all things ancient Egyptian on the radar of Americans in the summer and fall of 1963, the tune climbed to #75 on the Billboard Hot 100, and made the Top 20 in Toronto and several other radio markets in southern Ontario.
Tracey Dey's four single was "Here Comes The Boy". The song was co-written by Eddie Rambeau, Bud Rehak and Bob Crewe. The songwriting trio would have a Top Ten hit in 1964 with the Diane Renay's "Navy Blue".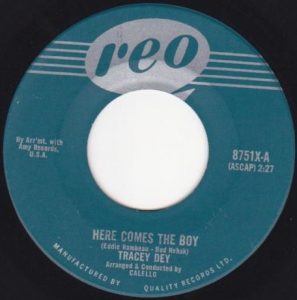 "Here Comes The Boy" is a song about "love at first sight." In her song she lists the things she finds appealing about the boy that she loves: He's quite, shy and sweet and he walks with a swagger. She's figured out that he isn't the most classically handsome boy and he doesn't make much money. But she notices his feet. And well, as the song says "but, oh my." This is enough to make her determined to let the other girls know to "cool it" and "keep your hands off him." What is going on here? How can the character in Tracey Dey's song be so certain this is the boy that she loves?
In an article published in Boston College's The Heights in 2006, titled "Love At First Sight May Not Be As Implausible As It Seems," columnist Alexis Mark cites Ingrid Olsen as a lead researcher of a team at the University of Pennsylvania who did a study on the scientific basis for love at first sight. They concluded there are two bases for love at first sight. The first is that the attractiveness of a person can be very quickly determined, with the average time in one study being 0.13 seconds. The second is that the first few minutes, but not the first moment, of a relationship have shown to be predictive of the relationship's future success, more so than what two people have in common or whether they like each other ("like attracts like"). In a BBC show from 2004, "What Makes You Fancy Someone," some key features that are frequently considered when evaluating whether you are attracted to someone are facial symmetry, waist to hip ratio, and how similar the other person's looks compare to your own.
Another study exploring what makes people attracted to one another was done by David Perrett, a cognitive psychologist at the University of St. Andrews in Scotland. Perrett developed a computerized system where faces are morphed. In his study he had participants identify the face they they were most attracted to. In most cases, the face the participant chose resembled their own face but was (in most cases) a mirror facial expression of a person of the opposite sex. Perrett deduced that this is because our own faces are attractive. First, most of us look at our own faces in a mirror frequently. And secondly, our faces resemble the genetic facial features of the faces we constantly saw during our early childhood, the faces of our mothers and fathers. (It would be interesting to know how this may vary for children who've been adopted). With Perrett's study prior to 2004, it builds on Sigmund Freud's assertion that women want a man who resembles their father and men prefer a woman with characteristics that closely resemble their mother's.
Dey's biggest hit was a re-make of "Gonna Get Along Without You Now", a song that Patience and Prudence had the most success with in 1956. This was Tracey Dey's follow-up to "Here Comes The Boy", and it made the Top 40 in Vancouver and peaked at #51 on the Billboard Hot 100.
In all, Dey released nine solo singles between 1962 and 1966. Although none became major hits, numbers of music critics regard them as stellar examples of girl group era recordings. Interestingly, two more of her single releases were covers of songs written for other groups. These were "Blue Turns To Grey", a hit for her in Halifax in 1965, and first recorded by The Rolling Stones. Tracey Dey's version torques the tune toward a pop-country sound. Dey also released a single of the Jeff Barry-Ellie Greenwich tune, "Hanky Panky", in the spring of 1965. The song had been written in 1963 for the girl group, The Raindrops, who had no success with the their single. It is a footnote in pop music history that when Tommy James and The Shondells released "Hanky Panky" in the spring of 1966, radio listeners in Philadelphia remarked "isn't that a remake of Tracey Dey's hit from 1965?" In 1966 Tracey Dey also released a single with Gary Knight. He wrote some songs with Bob Crewe. And Gary Knight and Tracey Dey's one recording, "I'm Gonna Love You Tomorrow", was credited do Dey And Knight. The tune was a regional hit, especially in Connecticut in early 1966. For a couple of years Tracey Dey often appeared on The Clay Cole Show in the mid-60's, a rock 'n roll TV show based in New York City.
Leaving behind the music business and the Tracey Dey moniker in the late sixties, Ferrari completed a master's degree in Theater Arts at Columbia University and, for a while, taught college courses. She later began acting and writing screenplays and had a small part in the 2007 film, Reservation Road. The film was based on the 1999 novel by John Burnham Schwartz about a tragic accident that sets in motion a cycle of violence and retribution. It features two haunted men and their families are engulfed by the emotions surrounding an unexpected and horrendous death. Ethan (Joaquin Phoenix), a respected professor of literature at a small New England college, is wracked by an obsession with revenge that threatens to tear his family apart. Dwight (Mark Ruffalo), a man at once fleeing his crime and hoping to get caught, wrestles with overwhelming guilt and his sense of obligation to his son.
July 28, 2017
Ray McGinnis
References:
Tracey Dey, Revolvy.com
Sheila Burgel, History of American Girl Groups, Cha Cha Charming Magazine.com
Alexis Mark, Health & Science: Love at First Sight may not be as Implausible as it Seems, The Heights, Boston College, Boston, MA, November 14, 2009.
Trailer, Reservation Road, Focus Features, 2007.
"C-FUNTASTIC FIFTY," CFUN 1410 AM, Vancouver, BC, January 4, 1964.
For more song reviews visit the Countdown.