#1350: Comfy 'N Cozy by Conway Twitty
Peak Month: May 1962
8 weeks on Vancouver's CFUN chart
Peak Position #14
Peak Position on Billboard Hot 100 ~ did not chart
Peak Position on Music Vendor ~ #120
YouTube.com: "Comfy 'N Cozy"
Lyrics: "Comfy N Cozy"
Conway Twitty was an American Country and Western singer with three crossover pop hits on the US charts and five crossover hits on the pop charts in Vancouver. He went on to chart 58 songs in the Canadian Country charts between 1968 and 1990 (61 songs on US Country & Western charts). Born Harold Lloyd Jenkins, in 1957 he decided his real name didn't have the right stuff for the music business and becoming a star. He looked on a map and finding Conway, Arkansas and Twitty, Texas, he put the two towns names together and became Conway Twitty. From his initial #1 hit in 1958, "It's Only Make Believe," 25 year old Conway Twitty became known for his blend of country, rockabilly and rock n' roll.

Born Harold Lloyd Jenkins on September 1, 1933 in rural Friars Point, Mississippi, the boy had uncommon abilities and a penchant for helping those around him. Given his first guitar, a Sears & Roebuck acoustic, at the age of four, Harold demonstrated a musical gift. He formed his first band, the Phillips County Ramblers when he was 10 after the family had moved to Helena, Arkansas. His mother was the breadwinner and his father found spotty work as a Mississippi riverboat pilot. Harold obtained employment as a carhop and used his earnings to buy clothes and shoes for his brother and sister.
When one of a group of friends horsing around in a local cemetery was pinned under a fallen tombstone, young Harold started to flee with the rest of the frightened pack of boys. He stopped short, however, returning to assist his friend and lifting the stone enough for the boy to scramble free. When the full group returned the next day to reset the stone, they marveled at the feat, as the entire group of them were unable to lift it.
He landed a weekly radio show, and in his other passion, baseball, developed his skills to the point of playing semi-pro and being offered a contract by the Philadelphia Phillies after high school. Jenkins figured his destiny was decided when he was drafted by the Philadelphia Phillies. Fate intervened, however, when he was drafted by a much bigger team — the U.S. Army. While stationed in Japan, he kept both his dreams alive by forming a band and playing on the local Army baseball team. The band was called the "Cimmarons" and played at different clubs. After his release from the army it was the mid 1950s and the sudden popularity of a young man named Elvis Presley drew a still very young Harold Jenkins to Memphis.
While recording at Sun Studios with Presley, Johnny Cash, Carl Perkins and Jerry Lee Lewis, Jenkins began developing a sound that would lead to a record deal with MGM. He also took a stage name, contracting the names of two cities: Conway, Arkansas and Twitty, Texas. In 1958, Conway Twitty scored his first No. 1 hit titled "It's Only Make Believe."
His career as a rock-n-roll act took off, with the single topping the chart in 22 different countries and going on to sell eight million copies. Despite making a name for himself as a rock n roller, Twitty had always loved country music. In fact, his reverence for the genre and its seasoned performers factored into his decision to become a rock n roll performer. Twitty also enjoyed a short-lived movie career, appearing in films like Sex Kittens Go To College (with Mamie Van Doren), Platinum High School (Mickey Rooney), and College Confidential (Steve Allen) and writing the title and sound track songs for the films. A play and movie was created titled "Bye Bye Birdie" which was a story about a young rock-n-roll star. It was written with the idea that Conway would do the starring role. The lead character's name, Conrad Birdie, was created specifically with Conway in mind. Conway did a lot of soul searching and decided that theatre and the movies were not for him, so he turned down the offer and remained focused on his true love of music.
At first, rock n roll seemed to be a place where Twitty and his raw talent could thrive. Through his early recording and touring Twitty got to know a fair number of country stars, eventually abandoning his insecurities so he could "compete with my heroes." By 1964, after eight years of playing sock hops and dance clubs, Twitty heard the ticking of an internal clock that seemed to guide all the major decisions in his life. One night on a stage in Summer's Point, New Jersey, Twitty looked out at a room full of people he didn't know. With a wife and three kids at home, he realized his days of providing background music for sweaty teens were over. Twitty put down his guitar, walked off the stage and embarked on one of the greatest country careers in history.
Before his career in rock 'n roll had faded Conway Twitty retained a lot of fans in Vancouver. He actually did better on the local pop charts than in the USA. After 1959-60 with "Lonely Blue Boy" Twitty had six singles in the local Top 20 while none reached the Top 20 on the Billboard Hot 100. His second to last single to reach the Top 20 was on CFUN was with "Comfy 'N Cozy," written by Otis Blackwell.
Few 1950s rock & roll songwriters were as talented and successful as Otis Blackwell. Among his compositions are Little Willie John's "Fever", Elvis Presley's "Don't Be Cruel" and "All Shook Up", Jerry Lee Lewis' "Great Balls Of Fire" and "Breathless", and Jimmy Jones' "Handy Man". Blackwell helped shape the musical vocabulary of rock & roll when it was in its infancy. Blackwell grew up in Brooklyn, and was influenced by western singer Tex Ritter and blues singers Chuck Willis and Larry Darnell. By 1952, Blackwell parlayed a victory at an Apollo Theater talent show into a recording deal with veteran producer Joe Davis for RCA, switching to Davis' own Jay-Dee logo the next year. From 1955 on Blackwell concentrated primarily on songwriting.
"Fever," co-written by Cooley, was Blackwell's first winner (he used the pen name of John Davenport, since he was still contractually obligated to Jay-Dee). The song was first made famous by Little Willie John and subsequently by Peggy Lee. Blackwell never met Elvis in person, but his material made it to the recording studios where the King of Rock n' Roll released "Don't Be Cruel", "All Shook Up", "Return To Sender" and "One Broken Heart for Sale" among others. Dee Clark charted two hit singles written by Blackwell, "Just Keep It Up" and "Hey Little Girl". Thurston Harris, Clyde McPhatter, Brook Benton, Ben E. King, the Drifters, Bobby Darin, Ral Donner, Gene Vincent all recorded songs penned by Otis Blackwell. Add to that list Conway Twitty with "Comfy N Cozy".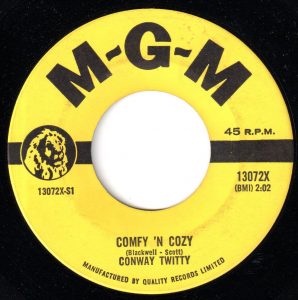 Conway Twitty gives a Elvis-sound-alike performance on "Comfy 'N Cozy", like a number of male singers in the late 50s and early 60s.
Otis Blackwell wrote a song for Twitty inviting listeners to tune out the outside world and give their full attention to someone special. Among news stories in May 1962 over 1,200 babies in Japan were born from ghastly deformities after pregnant mothers took the drug thalidomide as a cure for morning sickness. Children born with these deformities were referred to as "thalidomide babies". Meanwhile, President Nikita Khrushchev authorized the USSR to place nuclear missiles in Cuba, and a segregationist named George Wallace won the Democratic Primary to go on to become the next Governor of Alabama. Who didn't wish to be comfy and cozy and be left alone from the cares of the world?
"Comfy 'N Cozy" was the B-side to "A Little Piece of My Heart". But it was the B-side that CFUN listeners made requests to hear on the station and it peaked at #14. It peaked at #15 in Jackson, Mississippi, but elsewhere it stalled and didn't crack the Billboard Hot 100.
In 1965 Twitty was signed by producer Owen Bradley to MCA/Decca. Twitty released several singles before 1968's "Next In Line" became his first #1 on Billboard Country music charts. Between 1968 and 1990 Conway Twitty scored 65 Top Ten hits on the US Country charts, including over 40 at #1. He died while he was on tour at the age of 59 in 1993.
October 5, 2016
Ray McGinnis
References:
alancakett.com ~ Conway Twitty bio
conwaytwitty.com ~ Conway Twitty bio
Dennis Hevesi, Conway Twitty, 59, Dies on Tour; Country Star Had 50 No. 1 Songs, New York Times, June 6, 1993
"C-FUNTASTIC FIFTY", CFUN 1410 AM, Vancouver, BC, May 5, 1962.
"Otis Blackwell, 70, Wrote Hits for Presley, Others," New York Times, May 9, 2002.
Rock and Roll Hall of Fame ~ Otis Blackwell bio
For more song reviews visit the Countdown.