#970: Concrete And Clay by Unit Four plus Two/Eddie Rambeau
Peak Month: May 1965
7 weeks on Vancouver's CFUN chart
Peak Position #5
Peak Position on Billboard Hot 100 ~ #28/#35
YouTube.com: "Concrete And Clay" ~ Unit Four plus Two
YouTube.com: "Concrete And Clay" ~ Eddie Rambeau
Lyrics: "Concrete And Clay"
The east Hertfordshire, UK, based Unit Four plus Two had originally been formed as a four piece band named Unit Four. It was the brain child of the former lead guitarist of the Hunters, and member of Adam Faith's Roulettes, Brian Parker. Parker, born in 1940 in Cheshunt, dropped out of the original line up (Parker, Moeller, Meikle, and Moules) because of failing health, but stayed in the background. Unit Four plus Two's style was closer to folk music than progressive beat music. Still, they got a recording contract with Decca. Their singles were largely ignored and failed commercially in the UK singles chart until Parker co-wrote and produced the song "Concrete and Clay." Pianist and guitar player, Tommy Moeller, born in Liverpool in 1945, was the other co-writer of the song, and a member of the group. This was a diversion from the folk material the band had been working with. Two of Parker's former colleagues from the Roulettes (Russ Ballard and Bob Henrit) were drafted in to boost the rhythm section. The resulting record was a #1 hit in the UK which peaked at #28 on the Billboard Hot 100.
In 1962, Brian Parker, then the guitar player and songwriter with The Hunters, decided to form his own vocal harmony group. He asked his friend David 'Buster' Meikle (born in the Goff's Oak in 1942) to join him. They asked singers Tommy Moeller and Peter Moules (born in Barnet in 1944), who were at school together, to join their group which they called Unit 4. With his wholesome good looks and thick dark hair, Tommy Moeller had become a rival local attraction to another Cheshunt rock singer, Harry Webb, who later adopted the stage name Cliff Richard. Unit 4 was later joined by Russ Ballard (born in Waltham Cross in 1947) on guitar and Robert 'Bob' Henrit (born in Broxbourne in 1944) on drums. Ballard and Henrit became the "plus Two" of the group, making it a six piece, four-part vocal harmony group. Tommy Moeller was lead singer and frontman, from the first show as the Unit 4 vocal group to the last show as Unit Four plus Two as vocal group with instruments.
With Decca Records Unit Four plus Two first released a song called "Green Fields," which was not a cover of the identically titled hit for the Brothers Four in 1960. It climbed to #48 on the UK pop charts in 1964. A follow-up single, "Sorrow And Pain," conjured an alien atmosphere to the Big Beat that dominated British pop music in 1964 and it failed to chart.
Their next single release was "Concrete And Clay."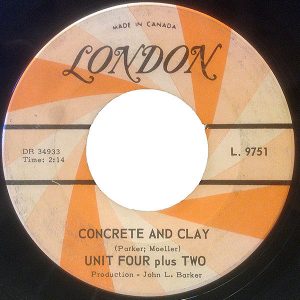 Originally, "Concrete And Clay," was arranged as a slow, soulful semi-acoustic track much like the earlier singles by the group. By the time they finished the recording their arrangement had a pronounced Latin influence, using acoustic guitars with the sound of Bahia, in northwestern Brazilian. These distinctive elements helped boost "Concrete and Clay" to the #1 position on the UK Singles Chart on April 10,1965. In North America, Unit Four plus Two charted "Concrete And Clay" best in Hartford (CT) at #1, Los Angeles (#5), New York (#6) and Vancouver (#5).
The song uses a simile comparing the enduring love of the lovers to things that seem solid and permanent, like concrete sidewalks and mountains. These things will eventually crumble, but their love is eternal. Other songs at the time offered embellished comparisons to transitory things while lauding an eternal love. Barbara Lewis, in her Top Ten hit from 1965 "Baby, I'm Yours," promised: Baby I'm yours. And I'll be yours until two and two is three/Yours until the mountain crumbles to the sea. In other words, until I eternity. And Petula Clark in her #1 hit from 1966, "My Love," promised:
My love is warmer than the warmest sunshine, softer than a sigh.
My love is deeper than the deepest ocean, wider than the sky.
My love is brighter than the brightest star that shines every night above,
And there is nothing in this world that can ever change my love.
In the mid-60's, at least on AM Top 40 radio, love was unshakable, eternal, forever.
The band also was releasing singles and albums with their name spelled both as Unit Four plus Two and Unit 4 + 2. This was not confined to America, Canada, the UK or continental European countries. So if you happened to disagree with a friend about how to spell the group's name, you were both right.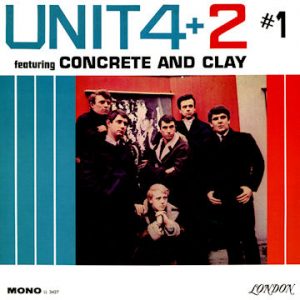 After charting their hit to #1 on the UK pop charts, Unit Four plus Two had a follow up single called "You've Never Been In Love Like This Before". It climbed to #14 on the UK charts and #95 on the Billboard Hot 100. Two subsequent singles were commercial failures. Their seventh single release with Decca was their last appearance on the UK charts, titled "Baby Never Say Goodbye," which barely cracked the Top 50. An additional seven singles were released in the UK through to 1969. Unit Four plus Two roamed the British college and dance hall circuit until their feet began to crumble in 1969 and they disbanded. Unit Four plus Two briefly resurfaced for a tour of U.K. clubs during 1970 with Tommy Moeller remaining as front-man, but with an entirely new backing band.
Band members, Russ Ballard and Bob Henrit, went on to join the UK band Argent, with lead singer, Rod Argent, who had a hit in the early 70's titled "Hold Your Head Up". Ballard and Henrit remained with Argent until 1978. Henrit went on tour in 1978 with The Kinks and was a session drummer on several albums for The Who in the early 80's. Henrit also played with Don McLean, Ritchie Havens, Genesis, Leo Sayer, Ringo Starr and others. In 2013 he released his autobiography, Banging On!
Russ Ballard went on to produce a number of records including a Top Ten hit on the UK and German charts in 1975 for the UK band Hello titled "New York Groove". Ballard wrote "You Can Do Magic" which climbed to #8 for America in 1982. He also wrote for Carlos Santana and had several songs he wrote recorded by KISS.
Among the other members of Unit Four plus Two, co-writer of "Concrete and Clay", Brian Parker, ended up teaching guitar. Buster Meikle went on to be part of a pop duo called Bill & Buster.
Meanwhile, American record producer Bob Crewe, best known for his work with the Four Seasons, had heard the Unit 4 + 2 hit version of "Concrete and Clay" while on a trip to the UK. Upon his return to the USA, Crewe quickly got a cover version of "Concrete and Clay" recorded by Eddie Rambeau. At the time Rambeau was a staffwriter at Crewe's music publishing firm.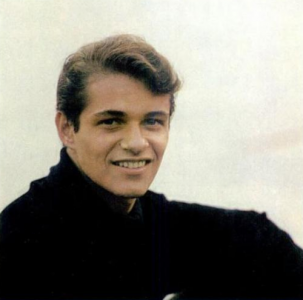 Eddie Rambeau was born Edward Cletus Fluri, 30 June 1943, Hazelton, Pennsylvania). He is an singer, songwriter, and actor. Rambeau sang at record hops in Hazelton where he impressed deejays with his talent. One of the deejays, Jim Ward, set up an audition for Rambeau at Swan Records. He was signed to the label and released his first single, "Skin Divin'", under his new name, Eddie Rambeau, on graduation day in June 1961. The song made the Top 20 in several radio markets in Idaho and Massachusetts. The following year, 1962, Rambeau recorded two more singles, "My Four Leaf Clover Love" and "Summertime Guy". Just minutes before he was about to debut the latter song on American Bandstand, he was informed by deejay, Dick Biondi, that due to a potential conflict of interest, he would have to perform the B-side of the record instead. "Summertime Guy" was written by Chuck Barris, who had also composed "Palisades Park" for Freddy Cannon earlier in the year. Since Barris was employed by ABC at the time, and American Bandstand aired on the same network, it was felt that Rambeau's performance of the song might create problems with the FCC. On top of that, the song was pulled from all ABC affiliates nationwide, both radio and TV. Barris would later revamp the song as an instrumental to use for his television show The Newlywed Game. "Summertime Guy" did make it to #3 in Vancouver and Boston, but struggled elsewhere. In the following years Eddie Rambeau composed songs for other artists including the top ten 1964 hit, "Navy Blue", for Diane Renay.
"Concrete and Clay" was co-listed on the Vancouver pop charts as one entry with both Unit Four plus Two and Eddie Rambeau's versions as the tune enjoyed seven, and six, weeks on the local pop charts.
With "Concrete And Clay" Eddie Rambeau got some notice in the music industry not only for his songwriting, but for his singing. He appeared in 1965 twice on Shindig!, as well as guest starring on American Bandstand and Where The Action Is. His version did best in Wichita and Milwaukee at #2, Kansas City and Calgary at #4, Honolulu, Detroit and Akron, Ohio, at #5. Eddie Rambeau released six more singles, all which were commercial failures. In the late 60's and early 70's Rambeau appeared in the Broadway production of Hair and later Jesus Christ Superstar.
In his book, Sal Mineo: A Biography, Michael Gregg Michaud details how Mineo's six-year relationship with Courtney Burr III included Mineo putting up with a side affair between Burr and Eddie Rambeau. Burr and Rambeau had met while costarring in the off-Broadway play, Norman, Is That You? prior to its brief run at the Lyceum theatre in February 1970. In 1972, Eddie Rambeau got a role in an off-Broadway play titled Tubstrip, a gay comedy.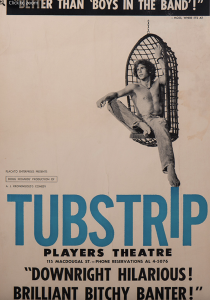 In the 1970's, Rambeau established a management company and had a disco group from the New York City area, called the Front Runners, record a disco version of Miss Toni Fisher's 1960 hit, "The Big Hurt".
During the 1980's and 1990's, Rambeau shortened his first name from Eddie to Ed. He broadened his repertoire to include the easy-listening genre and Broadway show tunes. Rambeau resumed his live performing, mainly on cruises. In 2011, Rambeau published his first novel, a murder-mystery called Forbidden Steps. The plot concerns a 22-year old top male model named Chad who is going back home to be at his dad's funeral.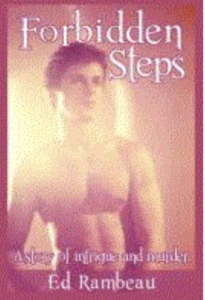 Eddie Rambeau also has appeared on the TV soap opera, Guiding Light, according to the author notes on the back cover of his murder-mystery novel. In addition, Eddie Rambeau has developed a talent for painting and photography.
"Concrete And Clay" by Unit Four plus Two appeared on the soundtrack to the 1999 comedy-drama film, Rushmore. The movie's plot is about Max Fischer, an eccentric 15-year-old, who is a scholarship student at Rushmore Academy, a private school in Houston. Fisher is both Rushmore's most extracurricularly active and least scholarly student.
October 27, 2017
Ray McGinnis
References:
Rice, Jonathan. The Guinness Book of 500 Number One Hits. Guinness World Records Limited, London, UK, 1982.
Russ Ballard, Let Me Introduce Myself, Russ Ballard Music.com.
Henrit, Bob. Banging On!. Bank House Books, London, UK, 2013.
The Newlywed Game, ABC-TV, 1966…
Eddie Rambeau, Shindig!, ABC-TV, 1965.
John J. Grecco, Eddie Rambeau -From Rockwell to Rock N'Roll, Craftweg.org.
"C-FUNTASTIC FIFTY," CFUN 1410 AM, Vancouver, BC, May 15, 1965.
For more song reviews visit the Countdown.