#126: Conquistador by Procol Harum
Peak Month: July 1972
10 weeks on Vancouver's CKLG Chart
Peak Position ~ #1
Peak Position on Billboard Hot 100 ~ #16
YouTube: "Conquistador"
Lyrics: "Conquistador"
Procol Harum named themselves after a male blue Burmese cat, which had been bred by Eleonore Vogt-Chapman and belonged to her friend Liz Coombes. Band manager Guy Stevens suggested the group name themselves after its name, to which the group immediately accepted. However, the cat's pedigree name was in fact Procol Harun, the Procol being the breeder's prefix. But the name was taken down over the telephone, causing a misspelling with the final letter an "m" instead of the correct "n."

Gary Brooker was born in 1945 in London. In his childhood, Brooker learned to play piano, coronet and trombone. His father died when he was eleven, and Gary started to work a paper-round to help make ends meet for his widowed mom. In 1962, at the age of 17, Brooker formed The Paramounts with his friend Robin Trower. In 1963 they had a Top 40 hit in the UK with a cover of the Coasters' "Poison Ivy". The Paramounts opened on tour for the Rolling Stones in 1964. But five more single releases from '63 to '65 failed to chart in the UK.
In 1966, Brooker formed Procul Harum with Keith Reid. Born in Hertfordshire in 1946, Reid was the son of a Holocaust survivor. Though he was a lyricist and not a musician, Reid appeared in concert with Procul Harum.
Matthew Fisher was born in South London in 1946. He learned guitar, but after hearing the Animals, and Georgie Fame, he decided in 1964 to focus on the organ. He also took classical training at the Guildhall School of Music. Fisher became part of Billy Fury's backing band the Gamblers. And in 1966 joined Peter Jay and the Jaywalkers, and then joined the Savages. While with the Savages, Fisher was invited by Brooker and Reid to join Procul Harum.
Dave Knights was born in Islington, London, UK, in 1945. He was a bass guitar player with Procul Harum from 1967 to 1969. Ray Royer was born in Essex in 1945. He played guitar with Procul Harum on "A Whiter Shade of Pale". Royer left Procul Harum by the end of 1967 to form a band called Freedom. Royer later found work as an actor.
Barrie James "B. J." Wilson was born in London in 1947. At the age of 15 he joined the Paramounts. In 1966 he was a session drummer for tracks recorded by Cat Stevens and Lulu. Though jazz session musician Bill Eyden (formerly of Georgie Fame and the Blue Flames on "Yeh Ye" and "Get Away"), was the drummer in the studio for "A Whiter Shade of Pale", it was B.J. Wilson who was with the band and in concert from the summer of '67.
Robin Trower was born in London in 1945. With Brooker and Wilson, he was a member of the Paramounts. When Brooker and Reid were forming Procul Harum, they asked Trower to join.
In May 1967, Procol Harum released their debut single titled "A Whiter Shade of Pale". Keith Reid recalls "A Whiter Shade Of Pale was just another bunch of lyrics. I had the phrase 'a whiter shade of pale,' that was the start, and I knew it was a song. It's like a jigsaw where you've got one piece, then you make up all the others to fit in. I was trying to conjure a mood as much as tell a straightforward, girl-leaves-boy story. With the ceiling flying away and room humming harder, I wanted to paint an image of a scene. I wasn't trying to be mysterious with those images, I wasn't trying to be evocative. I suppose it seems like a decadent scene I'm describing. But I was too young to have experienced any decadence." Reid has also stated he overheard someone at the party saying to a woman, "You've turned a whiter shade of pale", and the phrase stuck in his mind.
On its face, the song is set at a party. "We skipped the light fandango." A fandango is a couples dance, with origins in Spain and Portugal. It is lively and similar to a bolero, with romantic overtones. The singer and his amor have gotten quite drunk: "I was feeling kind of seasick." However, the party keeps on getting more out of hand: "the room was humming harder, as the ceiling flew away. When we called out for another drink, the waiter brought a tray." As the waiter didn't bring just one drink each, but a tray full of drinks, the pair are going to get smashed.
The chorus begins that a little while later "as the Miller told his tale." This is likely a reference to "The Miller's Tale" by Geoffrey Chaucer from The Canterbury Tales (1380s). The Miller's Tale is about a miller and his lovely wife, and two young men eager to sleep with her. So, we can infer that there are others romantically interested in the singer's amor. In "A Whiter Shade of Pale" her face "at first just ghostly turned a whiter shade of pale." She looked ashen. Was she drained of color due to her extreme discomfort with the party, with the company of her boyfriend?
In the next verse, the girlfriend is explaining she's breaking up with the guy: "she said there is no reason, and the truth is plain to see." However, he doesn't accept her decision. So he wanders through his playing cards – a metaphor for offering a series of attempts, appeals – to persuade her not to leave him. Nonetheless, he watches as she leaves: "one of sixteen vestal virgins were leaving for the coast." In ancient Rome, vestal virgins chosen before puberty, cultivated the sacred fire and took a vow of chastity for 30 years. The idea of remaining with the boyfriend has almost drained the life out of the ghostly faced girlfriend. While the boyfriend sees everything that is happening in front of him with his eyes wide open, "they just might as well have been closed."
In a subsequent verse, performed only live in concert by the band, the young man concludes:
"'You must be the mermaid, who took Neptune for a ride.'
But she smiled at me so sadly, that my anger straightway died."
In 1967, "A Whiter Shade of Pale" was an international hit selling over 10 million copies. It climbed to number-one in Australia, Canada, France, West Germany, Ireland, Italy, the Netherlands, New Zealand, South Africa, and the UK. It also was a Top Ten hit in Argentina, Denmark, Finland, Norway, Poland, Spain, Sweden, Switzerland, and the United States.
"A Whiter Shade Of Pale", with its psychedelic rock lyrics, was also a catalyst for numerous misheard lyrics. These include:
Original: "When we called out for another drink" vs misheard: "when we called our for an entrée"
Original: "the waiter brought a tray" vs misheard: "a way to rob a train."
Original: "And so it was that later" vs misheard: "and so it was a maid, her"
Original: "they just might as well been closed" vs misheard: "they just might have well been toast"
Original: "would not let her be" vs misheard: "and mindin' her bees"
The followup single, "Homburg", was a non-album release. It peaked at #1 in Italy, #6 in the UK, #15 in Canada and #34 in the USA. In 1969, Procol Harum had a #3 hit single with "A Salty Dog" in the Netherlands. It was the title track from the bands' A Salty Dog, which was most successful commercially in the Netherlands, Norway and Canada. In 1970, Procol Harum's album Home peaked at #13 on the Canadian RPM album chart. And in 1971, the album Broken Barricades was a #5 album in Denmark.
The band's self-titled debut album included a track titled "Conquistador".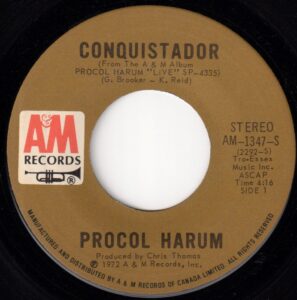 In 1971, Procol Harum recorded a live version of the song with the Edmonton Symphony Orchestra from Edmonton, Alberta.
"Conquistador" is a song written by Gary Brooker and Keith Reid. On the 1971 version of the recording, Matthew Fisher had left Procol Harum in 1969, and was replaced with Chris Copping. Born in London in 1945, Copping joined the Paramounts in 1960 at the age of 15. He left the band in 1962 and studied chemistry. He played organ, piano and bass guitar with Procol Harum from 1969-77.
As well, Robin Trower left Procol Harum in 1971 and was replaced with Dave Ball (born in Birmingham in 1950). Alan Cartwright was born in 1945 in London. He joined Procol Harum as a guitarist in late 1971.
On November 18, 1971, Procol Harum played in concert at the Northern Alberta Jubilee Auditorium in Edmonton. The concert was captured on the 1972 album release Procol Harum Live: In Concert with the Edmonton Symphony Orchestra. Brooker had written a piece of Spanish-flavored music before Procol Harum had officially formed. Keith Reid decided to write lyrics about a conquistador.
Conquistadors were the explorer-soldiers of the Spanish and Portuguese Empires of the 15th and 16th centuries. During the Age of Discovery, conquistadors sailed from Europe to the Americas, Oceania, Africa and Asia, colonizing the native peoples and opening trade routes. They brought much of the Americas under the dominion of Spain and Portugal. This included the Aztecs, Incas, and many other peoples. They also brought with them smallpox, typhus and the flu. By the late 16th century gold and silver imports from America provided one-fifth of Spain's total budget.
In the song, the conquistador is dead. His "stallion stands in need of company," because the rider is dead. The conquistador is on the ground with his "armor-plated breast" and his "death mask" – something a conquistador never wore while he was alive. With his corpse on the ground, a "vulture sits upon your silver shield." The body is by the sea that has "washed across your face and taken of its fill."
Though some might think of the conquistador as a person of high esteem, the person finding the conquistador dead on a beach by the sea finds no aureole: no radiance of luminous cloud which, in paintings of sacred personages, surrounds the whole figure. Instead, there is only gloom. The conquistador in the song "did not conquer, only die." While the life of a conquistador could be romantic and full of adventure, that's wasn't always the way the cookie crumbled.
"Conquistador" peaked at #1 in Vancouver, #2 in Boston, and Rochester (NY), #3 in Tucson (AZ), St. Petersburg (FL), Hamilton (ON), Hartford (CT), Rochester (NY), Fort Wayne (IN), Augusta (GA), Chicago, and Washington D.C., #4 in Worcester (MA), #5 in Syracuse (NY), Olympia (WA), Tampa (FL), #6 in Minneapolis/St. Paul, New Orleans, Cedar Rapids (IA), Nashville, and Albany (NY), #7 in Toronto, Dallas, Tulsa (OK), Providence (RI), and Flint (MI), #8 in Denver, La Crosse (WI), Miami, and Omaha (NE), #9 in Big Spring (TX), Salt Lake City, Fresno (CA), St. Louis, Pittsburgh, and Birmingham (AL), #10 in Boise (ID), Louisville (KY), Grand Rapids (MI), and New Haven (CT).
Internationally, "Conquistador" peaked at #3 in New Zealand, #4 in Australia, #7 in Canada, and #8 in the Netherlands. It stalled at #16 on the Billboard Hot 100. The album, Procol Harum Live: In Concert with the Edmonton Symphony Orchestra, climbed to #5 on the Billboard 200 album chart in 1972.
After leaving Procol Harum in 1971, Robin Trower went solo in 1973 and released the commercially successful album Bridge of Sighs in 1974. It was his second album. In 2022, Trower released his 22nd studio album. Trower also collaborated with Jack Bruce of Cream, and Brian Ferry of Roxy Music.
In 1986 Keith Reid co-wrote "You're The Voice" for John Farnham. Dave Knights left Procul Harum in 1969. He went on to play with a band called Ruby, who released one album. Afterword, Knights left the music industry.
Matthew Fisher remained with Procol Harum until the early '90s, and in 1995 became a full-time computer programmer, writing databases. Fisher had not received royalties for "A Whiter Shade of Pale", and in 2006 a High Court declared he could receive 40% of royalties from the song, but only from 2005 onward.
B.J. Wilson declined an offer in 1968 to become the drummer for Led Zeppelin, and Jimmy Page and Robert Plant subsequently chose Jon Bonham one drums. Wilson played drums on Joe Cocker's UK number-one 1968 cover of The Beatles "With A Little Help From My Friends". He also played on Lou Reed's 1973 album Berlin. In 1975, B.J. Wilson was the drummer in the film The Rocky Horror Picture Show. Wilson remained with Procul Harum until 1977. In the early 70s, Wilson was voted Best Drummer in the popular Playboy Music Polls. He was a session musician and touring drummer variously with Supertramp, Tom Petty & The Heartbreakers, AC/DC and others. In 1987 Wilson was hospitalized after a drug overdose which left him in a vegetative state until he died at age 43 in 1990.
Chris Copping moved to Australia in 1978 after leaving Procol Harum the previous year. Dave Ball left Procol Harum in 1973. He has collaborated with Paul Hester of Crowded House. He also did jingles for TV commercials including Singapore Airlines, and several animated short films.
Dave Ball was featured as a session musician on Long John Baldry albums, and played with Procol Harum in concert in 2007. He died in 2015 at the age of 65 of bowel cancer.
Alan Cartwright left Procol Harum in 1975 and worked for decades as a bartender. He died of stomach cancer in 2021 at the age of 65. Gary Brooker died at age 76 in 2022. Dave Knights is 77 this August 2022.
Procol Harum recorded studio 13 albums and eight live albums. In 2001 a biography of the band was published by author Claes Johansen titled Procol Harum: Beyond the Pale.
References:
Andy Greene, "Procol Harum Frontman Gary Brooker Dead at 76," Rolling Stone, February 22, 2022.
Carl Wiser, "Keith Reid of Procul Harum," Songfacts.com, April 2, 2009.
"Organist wins Procol Harum battle," BBC, December 20, 2006.
"B.J. Wilson Obituary," Corvallis Gazette-Times, Corvallis, Oregon, October 10, 1990.
Claes Johansen, Procul Harum: Beyond the Pale, SAF Pub Ltd., 2001.
"Chris Copping bio," ProculHarum.com.
"Dave Knights bio," ProculHarum.com.
"Dave Ball obituary," Let It Rock, April 1, 2015.
"Procol Harum's former bassist Alan Cartwright has died," Loudersound.com, March 9, 2021.
Fernando Cervantes, Conquistadores: A New History of Spanish Discovery and Conquest, Viking, 2021.
"CKLG 'Thirty'," CKLG 730 AM, Vancouver, BC, July 14, 1972.
For more song reviews visit the Countdown.