#37: Conscience by James Darren
Peak Month: May 1962
11 weeks on Vancouver's CFUN chart
Peak Position #1
Peak Position on Billboard Hot 100 ~ #11
YouTube.com: "Conscience"
Lyrics: "Conscience"
James William Ercolani was born in 1936 in Philadelphia. From a young age he wanted to be an actor. He recalls, "I wasn't really a singer. I was a kid in Philly whose dad would take him to bars and nightclubs and I would get up and sing two songs." Just after he turned twenty, Ercolani went to the Brill Building in Manhattan and was instantly offered a contract with Columbia Pictures. He was quickly given the stage name James Darren. His first film was a crime film noir in 1956 titled Rumble on the Docks. Darren was given the lead role as a young man caught up in the rivalry between two gangs, who eventually changes his ways and gets work in his father's print shop. In 1957, Darren starred in the military comedy Operation Mad Ball with Jack Lemmon. That year, James Darren was cast in the laundry business meets crime syndicate film noir The Brothers Rico. His third film noir was in 1957 titled The Tijuana Story, and Darren was given second billing. In 1958, it was the western film Gunman's Walk where James Darren appeared with top billing on the movie poster along with Tab Hunter and Van Hefflin.

But it was the 1959 movie starring Sandra Dee and Cliff Robertson, Gidget, where James Darren got to take off his shirt. He played the dark-haired, puppy dog-eyed dreamy surfer Moondoggie. The California surf culture film got Darren more fan mail than ever. From the film, James Darren had his first hit single "Gidget". It climbed to #41 on the Billboard Hot 100.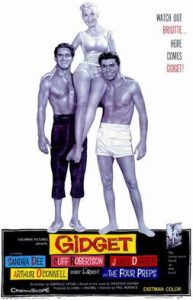 In 1959, James Darren co-starred with Sal Mineo in The Gene Krupa Story. The film explored both Krupa's success as a musician and his use of marijuana. In 1960, Darren starred in the teen film Because They're Young. Alongside Dick Clark from American Bandstand and Duane Eddy – whose instrumental from the film was a Top Ten hit, Darren played himself. As well, in 1960 Darren played alongside Sidney Poitier and Alan Ladd in All the Young Men. The Korean War film dealt with desegregation in a platoon of survivors during the war. In yet another film in 1960, Darren starred with Burl Ives and Shelley Winters in the crime noir film Let No Man Write My Epitaph.
In 1961, Darren was back on the big screen with The Guns of Navarone. The World War II film had Darren alongside Anthony Quinn, Gregory Peck and David Niven. The film was nominated for seven oscars, winning just one at the Academy Awards in April 1962. As well, Darren was a lead in the romantic comedy Gidget Goes Hawaiian. Meanwhile, James Darren continued to release singles with no commercial success. By the summer of 1961, the actor had released 14 singles with only two making the Top 50 and nothing cracking the Top 40. However, his next release, "Goodbye Cruel World". The single climbed to #3 on the Billboard Hot 100 and number-one in Vancouver in October-November 1961. A followup, "Her Royal Majesty", peaked at #4 in Vancouver in February '62. A third single from his album James Darren Sings For All Sizes was titled "Conscience".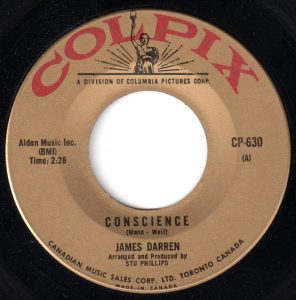 "Conscience" was written by Barry Mann and Cynthia Weil. Barry Imberman was born in Manhattan in 1939. Raised in a Jewish family, he began his professional career as a songwriter in 1958 at Aldon Music in the Brill Building. His first songs, all credited to Barry Mann, included recordings by Sal Mineo, the Kalin Twins, the Pony-Tails, "Don't Destroy Me" by Crash Craddock, and "She Say (Oom Dooby Doom)" by the Diamonds – a Top 20 hit on the Billboard Hot 100 in 1959. That year Mann also wrote the B-side to the Top 20 hit "Here Comes Summer" by Jerry Keller, and "Footsteps" and "Come Back Silly Girl" for Steve Lawrence. In 1961, Barry Mann also recorded a Top Ten hit he wrote in 1961 titled "Who Put The Bomp (In the Bomp, Bomp, Bomp)".
Mann met Cynthia Weil in the Brill Building on Broadway. Their professional relationship became personal and they married. Mann and Weil cowrote many songs including "Don't Know Much" for Aaron Neville and Linda Ronstadt, "Hungry" and "Kicks" for Paul Revere And The Raiders, "Somewhere Out There" for Linda Ronstadt and James Ingram, "(You're My) Soul And Inspiration" and "You've Lost That Lovin' Feeling" for the Righteous Brothers, "On Broadway" for The Drifters, "Walking In The Rain" for the Ronettes and Jay and The Americans, "I'm Gonna Be Strong" for Gene Pitney, "Blame It On The Bossa Nova" for Eydie Gorme, "Here You Come Again" for Dolly Parton, "Make Your Own Kinds Of Music" and "It's Getting Better" for Mama Cass, and "Rock 'N Roll Lullaby" for B.J. Thomas. In addition, Barry Mann wrote (or co-wrote) "I Love How You Love Me" for the Paris Sisters, "Patches" for Dickey Lee, and "Sometimes When We Touch" with Dan Hill.
Cynthia Weil was born in 1940 in Manhattan and raised in a conservative Jewish family. In her teens she studied acting and dance but went on to develop her skills as a songwriter. Early in 1960 she landed a position with the Frank Music Company headed by Frank Loesser, writer of "Baby, It's Cold Outside" and the musicals Guys And Dolls, Hans Christian Andersen and How To Succeed in Business Without Really Trying. Weil moved on to Aldon Music in the Brill Building late in 1960.
"Conscience" is a song about a guy who is struggling with his sexual desires and being a model date. In the song we hear his inner dialogue as he fends off any inclination to be too forward.
"Conscience" peaked at #1 in Vancouver (BC), #2 in Mobile (AL), #3 in Worcester (MA), Akron (OH), El Cajon (CA), Syracuse (NY), Phoenix, and Boston, #4 in Akron (OH), and Little Rock (AR), #5 in San Bernardino (CA), and Portland (ME), #7 in Denver, and Tulsa (OK), #8 in Springfield (MA), and Cleveland, #9 in Seattle, and Atlantic City (NJ), #10 in Hamilton (ON), and Toronto.
"Conscience" was James Darren's last successful hit single. The followup, "Mary's Little Lamb", stalled at #39 on the Billboard Hot 100. Meanwhile, in 1963, Darren was cast as the boyfriend in Gidget Goes To Rome. In 1964, Darren provided vocals for one of Yogi's songs in the animated film Hey There, It's Yogi Bear! As well, James Darren played a rich kid who was on the prowl for some sex and romance in the summer 1964 movie For Those Who Think Young. Among the cast were Tina Louise and Bob Denver later appeared in a new TV show called Gilligan's Island, which debuted on September 26, 1964. In October 1964, Darren was again on the big screen playing a young mechanic developing a turbine car engine. He co-starred with another pop singer, Joanie "Johnny Get Angry" Sommers, in The Lively Set.
From September 1966 to April 1967, Darren was cast as Dr. Anthony Newman in the sci-fi TV series Time Tunnel. Project Tic-Toc is a top-secret U.S. government effort to build an experimental time machine, known as "The Time Tunnel" due to its appearance as an elliptical passageway. Darren appeared in all 30 episodes. Although the ratings for the show that aired on Friday nights were solid, producers of a Western TV series The Legend of Custer lobbied to get the Friday night slot. Time Tunnel was cancelled, though The Legend of Custer lasted only 17 episodes and was itself cancelled due to poor TV ratings by December 1967.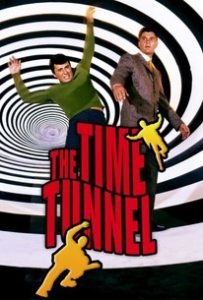 Over the decades, Darren has appeared on TV in The Donna Reed Show, Voyage to the Bottom of the Sea, S.W.A.T., Charlie's Angels, Hawaii-Five-O, The Love Boat, Fantasy Island and others. On March 12, 1965, James Darren was the voice of animated singer pop Jimmy Darrock in an episode of The Flintstones titled "Surfin' Fred". On vacation at the beach, Fred is a hit with the surfing teenagers, but not with the lifeguard, who must repeatedly rescue him.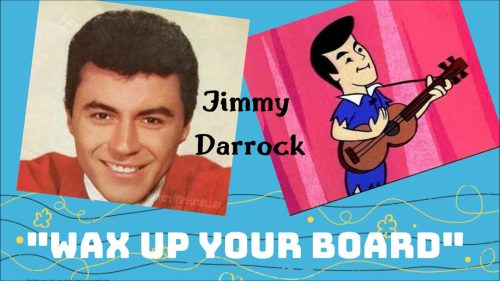 In 1969 he played a jazz musician who becomes obsessed to the point of madness with the mysterious fur-clad Wanda in the film Venus in Furs. The erotic thriller that featured several semi-nude scenes, considered cutting edge in 1969, got mixed reviews.
From 1982-85 James Darren was cast as Officer Jim Corrigan in 66 episodes of the police drama T.J. Hooker. In 1999 Darren appeared in five episodes of Melrose Place, and eight episodes of Star Trek: Deep Space Nine. In 2017 James Darren was cast in the film Lucky, about a 90-year-old man's search for enlightenment.
April 14, 2023
Ray McGinnis
References:
Alison Martino, "Time Tunneling with James Darren," Los Angeles Times, August 10, 2015.
Susan King, "Memories of Moondoggie," Los Angeles Times, July 25, 2004.
"Barry Mann bio," mann-weil.com.
"Cynthia Weil bio," mann-weil.com.
"Rumble On The Docks", Trailer, Columbia Pictures, 1956.
"The Brothers Ricco", Trailer, Columbia Pictures, 1957.
"The Gene Krupa Story", Trailer, Columbia Pictures, 1959.
"Surfin' Fred," The Flintstones, March 12, 1965.
"Rendezvous with Yesterday", Time Tunnel, September 9, 1966.
"C-FUNTASTIC FIFTY," CFUN 1410 AM, Vancouver, BC, May 12, 1962.
For more song reviews on this website visit the Countdown.