#138: Contact by Platinum Blonde
Peak Month: November 1987
13 weeks on CKLG chart
Peak Position ~ #3
Peak Position on Billboard Hot 100 ~ did not chart
YouTube: "Contact"
Lyrics: "Contact"
Mark Holmes was born in the UK and lived in Manchester until the family moved to Toronto. He met several other musicians and formed a punk band that played covers to The Police and other new wave bands. After a lineup change, Holmes was playing guitar and the lead vocalist, Chris Steffler was the drummer and Sergio Galli was a second guitarist. The trio became Platinum Blonde. They got a record deal with CBS in 1983. Their debut album, Standing In The Dark, earned them two Video Of The Year nominations at the 1984 Juno Awards. But it was their second album, Alien Shores, which included "Crying Over You", a #1 single on the Canadian RPM charts in 1985, and in Vancouver.
Another Top Ten hit in Canada from Alien Shores was "Situation Critical". On that album a new bandmate, Glasgow, Scotland, born Kenny MacLean, was recruited. He was a former member of the Hairdressers. A third single, "Hungry Eyes", also made the Top Ten in Vancouver, peaking at #5. With the release of Alien Shores, Platinum Blonde featured a fourth band member named Kenny McLean. He played the keyboards and bass guitar. Chris Steffler left the band and was replaced by Alexander Tukatsch, who went by the name Sascha. A third album was released in 1987 titled Contact. The title track was released as a single.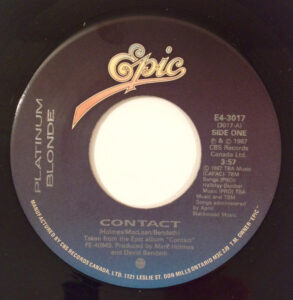 "Contact" was written by Holmes, MacLean and session musician and producer David Bendeth. Born in 1954 in London, UK, Bendeth's family moved to Toronto when he was nine-years of age. He learned to play guitar, and in the mid-70s played on several albums for Toulouse. In the late 70s he formed the David Bendeth Band and toured with the Pointer Sisters, Gary US Bonds, and the Police. He played guitar on B.B. Gabor's "Nyet Nyet Soviet (Soviet Jewellery)". From 1987 to 1995 he was an A&R scout for BMG Records and signed teh Crash Test Dummies, Cowboy Junkies, and others. In 1987, Bendeth wrote "Two Wrongs (Don't Make a Right)", which became a number-one international hit for Joe Cocker.
"Contact" is about making physical contact with someone who is attractive. The guy in the song has been flirted and seduced in the past by women with long dark dresses, and others with black silk stockings. But, he's making a connection with a new woman now. And "they don't compare, the way you take me there." But, it's her decision to jump in with him. He's interested. Is she? The song ends with "give me a try."
"Contact" peaked at #3 in Vancouver (BC), #6 in Ypsilanti (MI) #12 in Saskatoon (SK) and #19 in Hamilton (ON).
The followup single release was "Fire". Another single from Contact, "If You Go This Time", made the Top 20 in Vancouver.
Platinum Blonde released another album in 1990, but soon parted ways. They reunited in 2012 and released an album titled Now And Never. With the release, they mounted a reunion tour.
After the election of Donald Trump to the presidency of the United States of America, Mark Holmes told a reporter for the Calgary Herald: "People need to become hippies again." Eric Volmers of the Calgary Herald finds the statement ironic, given Platinum Blonde were "the epitome of Canada's fledgling video age of the 1980s, where successful acts understood that a carefully constructed, video-friendly image was key to burrowing into Canada's pop-culture consciousness." So, not exactly hippies.
In 2017, Platinum Blonde did a show in White Rock, BC, another at Ambleside Park in West Vancouver that summer, and at the Queen Elizabeth Theatre in Vancouver in November. In 2018, the band appeared in only a handful of concert venues. This included a concert on September 8, 2018, in Vernon, BC, with Loverboy. They currently have no upcoming tour dates scheduled.
July 22, 2022
Ray McGinnis
References:
Eric Volmers, "It Does Really Matter: Platinum Blonde's Mark Holmes Says World Ready For a Musical Revolution," Calgary Herald, January 27, 2017.
History, Platinum Blonde.com
Simon Rideout, Interview with Platinum Blond Frontman Mark Holmes, Things Nanaimo.com, July 7, 2015.
"David Bendeth," Davidbendeth.com.
"Top Thirty Hits," CKLG 730 AM, Vancouver, BC, November 8, 1987.
For more song reviews visit the Countdown.