#98: Could You Ever Love Me Again by Gary and Dave
Peak Month: September 1973
13 weeks on Vancouver's CKLG chart
Peak Position #2
Peak Position on Billboard Hot 100 ~ #92
YouTube.com: "Could You Ever Love Me Again"
Lyrics: "Could You Ever Love Me Again"
Gary and Dave was a duo that formed in 1969. Gary Weeks was born in 1950 in Charlottetown, Prince Edward Island. David Lloyd George "Dave" Beckett was born in Newmarket, Ontario, in 1949. Weeks and Beckett had been friends since grade school in the early 1960s. They played in numerous bands until 1966, when the pair competed in a United Appeal concert and came in fourth out of five hundred acts. In 1969, they got a contract with Quality Records and released "Tender Woman". It got little airplay. Still, they began to play the festival circuit, and became a top attraction at Expo '70 in Osaka, Japan.

In 1972, the duo switched to Axe Records. They released two singles titled "Can You Do It Now" and "Here It Comes Again". Both releases were commercial flops, though the latter got some airplay in St. John's (NL). However, a third release with Axe titled "Could You Ever Love Me Again" met with a good response.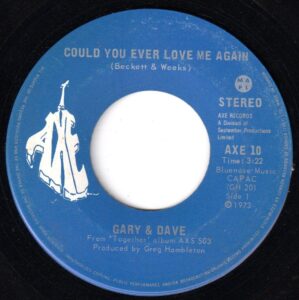 Gary Weeks and Dave Beckett co-wrote "Could You Ever Love Me Again". The song is about a couple who've "never had to try very hard" to understand each other "and how at times we both were feeling." Yet, when they are apart the guy starts to worry that he might not always stay in his girlfriends' heart. They haven't had any bumps on the relationship road to date. So he wonders, "if I let you down, disappointed you," or "cease to do little things for you," would the relationship survive. Could they bounce back and could she love him again (or fall in love with him again after these little setbacks)? Is the relationship is based on requiring the other to never disappoint, to never let the other down? In that case, it would be a very conditional relationship based more on perfect behaviour. The guy in the song wants to be reassured he doesn't have to be 'Mr. Perfect.'
"Could You Ever Love Me Again" peaked at #2 in Vancouver, Ottawa (ON), #3 in Montreal, #4 in Winnipeg (MB), #7 in Saint John (NB), and Cleveland, #10 in Hamilton (ON), #12 in Toronto, #13 in Windsor (ON), #14 in Cedar Rapids (IA), and #15 in Fargo (ND). Internationally, "Could You Ever Love Me Again" peaked at #1 in Canada, #7 in Australia, and #92 on the Billboard Hot 100.
In early 1974, Gary & Dave had a followup single titled "I Fell In Love With You Sometime". It climbed to #7 in Sault Ste. Marie (ON) and Oshawa (ON), #15 in Saint John (NB), and #17 in Toronto. Nationally, in Canada the single stalled at #25 on the RPM singles chart. The was followed by a Carole King-Gerry Goffin tune "It Might As Well Rain Until September". This effort charted to #8 in Sudbury (ON), #14 in Ottawa, #17 in Toronto, #18 in Hamilton (ON), and #19 in Vancouver. It also got some airplay in Illinois, Maine and New York state.
A followup single later in 1974, "I May Never See You Again", stalled at #35 on the Canadian RPM singles chart. This was followed up less successfully with "What Can You Do About It". In 1975, Gary & Dave had a number-one hit in Marystown (NL) with "All In The Past Now". However, the single didn't catch on. Next up, "I Can't Find The Words" failed to find the airplay. It briefly climbed to #92 on the RPM singles chart.
While they continued to record in the studio, both Gary Weeks and Dave Beckett pursued careers in aviation. They became pilots in 1975 with Air Transit STOL, and in time were both employed with Air Canada.
In 1976, Billboard magazine it was reported "A new signing to Polydor is Gary & Dave who were previously on the Axe Records label. Their first single, a remake of the old 1957 hit for Sam Cooke, "You Send Me", has just been released. They are now touring Canada and will play several dates on the U.S. West Coast before returning to Toronto where they will be performing at the end of December." But, there was little interest in Gary & Dave's cover of "You Send Me".
Back with Axe Records in 1977, Gary & Dave released "It's Alright, Darling" and "I'll Always Love You". They released The Greatest Hits of Gary and Dave.
After working as an airline pilot, in the 80's Gary Weeks became a pastor, and left Canada for Ireland, where he worked as a missionary. In 2005 Bob Cretney published a book titled Could You Ever Love Me Again? The Gary Weeks Story of Forgiveness. Promotional material about the book states:
Gary Weeks and Dave Beckett formed one of the most popular singing duos of the 1970's. They earned a gold record with their hit song, Could You Ever Love Me Again? Gary and Dave were nominated for five Juno awards in 1974 and had their own television show on CBC. Gary thought he had reached the pinnacle of success, having negotiated a major deal with a top management company in the United States.
Then in a two-minute phone call, it was all over. But his journey home had just begun.
"I'll never forget the sense of rejection, the confusion, the despair that loomed over me as I walked the streets of Montreal, alone and penniless. Just a few months earlier, I had been wining and dining in New York City, attending Broadway shows, meeting movie stars like Al Pacino, and preparing to have my own television variety show that would earn a great deal of money and fame. Suddenly, without warning, it all came to a screeching halt. My little empire came crashing down and I felt like my life had been thrown on a scrap heap that nobody cared about." – Gary Weeks
In 2016, Axe Records ran an article and Dave told them "I am coming back home with Katia to Canada now after working for major aircraft manufacturers and pilot training facilities in over 13 countries, including South Korea, Japan, South Africa, Singapore, England, Russia, Brussels, Iceland et al. The last 15 months were in the Middle East – UAE/Dubai and where Gary visited me and together we were 'flying on the wings of a song' again in a Boeing 737 New Generation Aircraft." While Gary said "Claudette and I have been called to what is often referred to as an "itinerant ministry". Our home church and base is Markham Bible Chapel. Over the past eighteen months we have served the Lord and His people mostly in Bible Teaching and various forms of counseling in Vancouver, Winnipeg, Ireland (six weeks), St. Catharines, Sudbury, Brantford, Toronto ON, Dubai (U.A.E.), Hong Kong, Macau and Beijing, China, six weeks total in Asia. We are very grateful for the many people we meet along the way and are happy to be of help and encouragement to each one. On behalf of the Weeks clan, thank you so much to all the radio folks who have played 'Gary and Dave' songs over so many years."
November 2, 2022
Ray McGinnis
References:
"Gary & Dave," Discogs.com.
Martin Melhuish, "Canadian Artists Get Heavy Polydor Push," Billboard, November 13, 1976.
Bob Cretney, Could You Ever Love Me Again? The Gary Weeks Story of Forgiveness, Gospel Folio Press, 2005.
Tim Cook, "Canada's newest pilot just 16, Now he'll learn how to drive," Globe and Mail, August 30, 2001.
"Gary and Dave – Still Flying," Axe Records, September 26, 2016.
"CKLG 'Thirty'," CKLG 730 AM, Vancouver, BC, September 28, 1973.
For more song reviews visit the Countdown.