#73: Cruel To Be Kind by Nick Lowe
Peak Month: November 1979
15 weeks on Vancouver's CFUN Chart
Peak Position #2
Peak Position on Billboard Hot 100 ~ #12
YouTube.com: "Cruel To Be Kind"
Lyrics: "Cruel To Be Kind"
Nicholas Drain Lowe was born in 1949 in Surrey, UK. He formed a band in 1968 named Kippington Lodge. The band was renamed Brinsley Schwartz and veered into a fusion of country and blues-rock. In 1974, Lowe wrote "(What's So Funny 'Bout) Peace, Love, and Understanding". The song was recorded by Elvis Costello in 1979. In 1976, Dave Edmunds co-founded a band named Rockpile with Nick Lowe, drummer Terry Williams and guitar player Billy Bremner. But, immediately, Rockpile ran into recording problems since Lowe and Edmunds were signed to different recording labels. Nonetheless, Rockpile went on tour in the UK in 1976. As well, in 1976 Lowe recorded "So It Goes". The single was voted the fifth-best single of the year according to the New Musical Express critics poll. That year, Lowe produced a single by The Damned titled "New Rose", along with the album Damned Damned Damned. In 1977, Nick Lowe produced Elvis Costello's first album, My Aim Is True. In 1978, Lowe produced Elvis Costello's second album, This Year's Model, with the outstanding track "Pump It Up". In 1978, Lowe had a Top Ten hit single in the UK titled "I Love The Sound of Breaking Glass". A third album by Elvis Costello, Armed Forces, was also produced by Nick Lowe. And in 1979, Lowe's song, "Milk And Alcohol", was a Top Ten hit in the UK for Dr. Feelgood.
In 1978, Nick Lowe produced The Pretenders single "Stop Your Sobbing". In 1979, Edmunds had the other three members of Rockpile record in the studio with him on his solo releases of "Girls Talk" and "Queen Of Hearts". Edmunds, Bremner and Williams also were session musicians for the recording of Nick Lowe's "Cruel To Be Kind".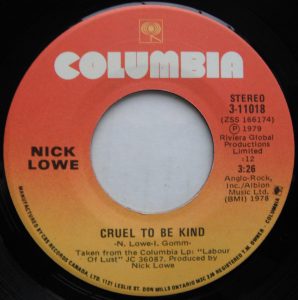 "Cruel To Be Kind" is a song about a guy who "can't take another heartache." He wants to be assured that the person he's in relationship is on his side. However, he's at his wits end. A problem in the relationship concerns communication. He states "You say your love is bonafide. But that don't coincide with the things that you do…" He asks his partner to "be nice." But the partner contends the importance of being "cruel to be kind." When it's done "in the right measure," the lover states "its a very good sign" and it "means that I love you." It seems just the same to be a rather antagonistic attitude the lover has. And so, the guys perplexed state.
Nick Lowe has said the phrase "cruel to be kind" comes from Shakespeares Hamlet.
I must be cruel only to be kind
Thus bad begins and worse remains behind
On the face of it, the phrase is a contradiction that doesn't appear to make sense.
The expression has become an idiom, something a father may say to a teenager when grounding her to protect her from something – possibly bad influences. "I must be cruel to be kind," he may say. It means that he is doing her a small injustice with the aim of avoiding an even greater injustice or harm. It's similar to the 19th century schoolmaster who sadly has to administer corporal punishment to a boy saying "This will hurt me more than it will hurt you."
In Act 4, Scene 3 of Hamlet, Hamlet is talking to his mother. It occurs after Hamlet has killed the eavesdropping Polonius with his sword. He first addresses that, saying he's sorry, but that Polonius deserved it. Then he returns to the topic he was dealing with his mother, Gertrude, before stabbing Polonius. He has been reprimanding her for her closeness to her new husband, the villainous Claudius, calling him a "mildewed ear." He explains that he has to be cruel to her only to be kind, to dissuade her from having sex with Claudius as that is a betrayal of her previous husband, Hamlet's father. He is being very harsh but his intentions are good ones. Certainly, he is being very cruel. He even threatens her. Hamlet tells his mother that if she suggests to Claudius that he's only pretending to be mad, her neck might break.
"Cruel To Be Kind" peaked at #2 in Vancouver, Ottawa (ON), Bangor (ME), Allentown (PA), and Fredericton (NB), #3 in Saskatoon (SK), Tampa (FL), Minneapolis/St. Paul, Montreal and New York City, #4 in San Diego, #5 in Toronto, Dallas, Green Bay (WI), Cincinnati (OH), and Kansas City (MO), #6 in Peterborough (ON), Milwaukee (WI), Regina (SK), Atlanta and Denver, #7 in New Haven (CT), Springfield (MA), Springfield (IL), Kalamazoo (MI), Buffalo, Framingham (MA), and Presque Isle (ME), #8 in La Crosse (WI), and #9 in Los Angeles, and Atlanta.
In 1982, Nick Lowe released his third album, Nick the Knife. A single titled "Stick It Where The Sun Don't Shine" climbed to #2 in Ottawa. However, it failed to crack the Billboard Hot 100. Further albums included a shift to roots and blues with Nick Lowe and His Cowboy Outfit in 1984. His 1988 album, Pinker and Prouder than Previous may have been a nod to gay liberation at the time.
In 2007, the Nick Lowe album At My Age, climbed to #10 on the Swedish Album Chart. And in 2011, Lowe's album The Old Magic peaked at #9 on the Swedish Album Chart. It also gained attention in the UK and USA album markets, cracking the Top 100 album charts for both countries. In all, Nick Lowe has recorded fourteen studio albums and three live albums. His most recent in 2020 is Live at the Haw River Ballroom (with Los straitjackets). In concert, Nick Lowe and Los Straitjackets appeared in Vancouver at the Vogue on December 19, 2015, and at the Imperial Theatre on October 11, 2018.
Over the years Nick Lowe has written songs recorded by Lene Lovitch, Leo Kottke, the Fabulous Thunderbirds, Diana Ross, Johnny Cash, Rod Stewart, Linda Ronstadt, Solomon Burke, Fatboy Slim, Mavis Staples, Paul Carrack, George Thorogood, Queen Ida and Her Zydeco Band, and others.
Though Nick Lowe has been around for decades, he told NPR in 2015 he knew he wasn't going to be famous. "I knew I wasn't going to be one of those people like Elton John or Cher or Neil Diamond, whose careers just span the decades in pop. I knew I wasn't one of those people. And I knew the end was coming. … Even so, when it did come, I had very mixed feelings. I was sorry to see it go. You know the public has gotten fed up with you and moved on. On the other hand, it had made me ill. It had made me completely exhausted and washed out. So I was relieved on one hand, so I could lie low."
January 9, 2023
Ray McGinnis
References:
Greg Kot, "Nick Lowe Interview: Pop Music for Grown Ups," Chicago Tribune, December 7, 2011.
"Nick Lowe: The Fresh Air Interview," NPR, September 15, 2011.
Mark Binelli, "St. Nick: The Long, Strange and Wonderful Career of Nick Lowe," Rolling Stone, November 29, 2018.
"Nick Lowe – concert dates – Canada," Setlist.fm.
"Cruel to be kind – Shakespeare quotes," notes.com.
"C-FUN Top Thirty," CFUN 1410 AM, Vancouver, BC, November 10, 1979.
For more song reviews visit the countdown.