#204: Cry by Godley and Crème
Peak Month: June 1985
12 weeks on Vancouver's CKLG chart
Peak Position #3
Peak Position on Billboard Hot 100 ~ #16
YouTube.com: "Cry"
Lyrics: "Cry"
Godley & Creme were a rock duo comprised of Kevin Godley and Lol Creme. Kevin Michael Godley was born in 1945 in a suburb of Manchester, England. Raised in a Jewish family, he formed a group named Group 17, along with four other members of the Jewish Lads Brigade. Godley studied Art and Design at Stoke On Trent College of Art from 1966-68. In the late '60s, Kevin Godley met Lol Creme at a wedding. Laurence Neil "Lol" Creme was born in 1947 in the same suburb of Prestwich as Kevin Godley. Creme was also raised in a Jewish family. The pair co-founded a band in 1970 named Hotlegs, who had a #2 hit in the UK titled "Neanderthal Man". The band split in 1970 and morphed into 10cc.
10cc was comprised of Godley, Creme, Eric Stewart and Graham Gouldman. Their debut single, "Donna", shot to #2 in the UK. Their next release was a #1 hit in the UK titled "Rubber Bullets". 10cc had to wait for their sixth single release, "I'm Not In Love" to get an international hit – not only peaking at #1 in the UK, but peaking at #2 in Vancouver, and spending six weeks in the Top Ten in the summer of 1975. The single made the Top Ten in Australia, Germany, Belgium, the Netherlands, New Zealand, Ireland and the USA. While 10cc had eleven Top Ten hits and three number one hits in the UK between 1972 and 1978, their only other international hit was "The Things We Do For Love" in 1977. However, that second international hit was released after Godley and Creme split from 10cc over artistic disagreements about the direction of the band.
The duo released their first album in 1977 titled Consequences. The environmental-themed album ran into the punk rock fad and was overlooked. They gained some critical acclaim with their next two albums in 1978 and 1979. But they waited until Ismism to get a commercial breakthrough in the UK. That album contained two Top Ten hits titled "Under Your Thumb" and "Wedding Bells".
"Under Your Thumb" concerned a man who boards a train. With the scent of the perfume of the woman he's been in a relationship with, he is haunted by her words "Don't want to be under your thumb forever." Suddenly he sees her sticking her head out of a train window in the car ahead of him, screaming "don't want to be under your thumb forever." The next day he reads about a woman who has jumped from a train and died. The headline of the paper reads: "Don't want to be under your thumb forever." The single climbed to #5 on the UK singles chart in the fall of 1981. The followup single was "Wedding Bells".
In 1985 the duo managed their only charted song in the Billboard Hot 100 titled "Cry".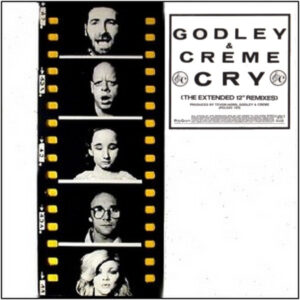 Godley & Creme cowrote "Cry". The song is written from a perspective of a man in a relationship where his partner lies and cheats on him. But unlike 10cc's "I'm Not In Love", it didn't come from real-life experience of either Godley or Creme. Godley later described the song's creation process as "patchwork like." Lyrically, the guy complains that his cheating, lying, partner doesn't recognize the sound of his tears falling, or their love dying. The extent of her emotional absence from the relationship is expressed in the line "you don't even know how to say goodbye."
"Cry" peaked at #1 in Toronto, #3 in Vancouver (BC), #4 in Boston, #5 in Ottawa (ON), #6 in Calgary (AB), Erie (PA), Provo (UT), and Montreal, #8 in Hamilton (ON), and Regina (SK), #9 Buffalo, #10 in Minneapolis/St. Paul, and #11 in Providence (RI) and Leavenworth (KS). Internationally, "Cry" climbed to #8 in West Germany, #12 in Austria, #13 in the Netherlands, and #19 in the UK.
In Godley & Creme were jointly nominated for a Grammy Award for Best Music Video, Long Form for: The Police: Synchronicity Concert in 1986. One final studio album in 1988 featured the single "A Little Piece Of Heaven". The single climbed to #12 in Belgium, #17 in the Netherlands and #18 in Austria. Soon after the single charted, Godley & Creme split up.
After the split, Kevin Godley went on to direct numerous music videos over the next few decades. These include "Blue Savannah" for Erasure, "Don't Look Back" for Fine Young Cannibals, "Can't Stop This Thing We Started" and "Thought I'd Died And Gone To Heaven" for Bryan Adams, "Even Better Than The Real Thing" for U2, "Out Of Reach" for Gabrielle, "Fields Of Gold" for Sting, and many others.
Godley and Creme reunited with the other original members of 10cc to release the studio album Meanwhile... in 1992. In 1998 Lol Creme became a member of the 80s avant-garde synth-pop English band Art Of Noise. In 2006 Creme became one of the members of the supergroup The Producers. The band changed its name to the Trevor Horn Band. They most recently played concerts in the UK in 2018.
February 4, 2022
Ray McGinnis
References:
Paul Lester, "Heirs to The Beatles: the Story of 10cc," Jewish Chronicle, December 27, 2012.
"Kevin Godley (10cc) Interview," GetReadytoROCK!, October 2006.
Dave Thompson, "Kevin Godley's got Hog Fever," Goldmine Magazine, April 7, 2016.
Mark Elliott, "Kevin Godley And Lol Creme After 10cc: The Things They Did For Love," UDiscoverMusic.com, August 2, 2019.
For more song reviews visit the Countdown.