#1207: Cry Your Eyes Out by Les Emmerson
Peak Month: September 1973
7 weeks on Vancouver's CKLG chart
Peak Position #13
Peak Position on Billboard Hot 100 ~ did not chart
YouTube.com: "Cry Your Eyes Out"
Les Emmerson was born in 1944. In 1963 he formed the Staccatos. The Ottawa group included lead singer and local disc jockey Dean Hagopian. After some local hits they got the attention of Capitol Records. One of their 1965 singles imitated the surfing sound with "Moved To California". In 1966 their Top 40 hit on the Canadian RPM singles chart, "Let's Run Away", won the group the two Juno awards that year for Best Produced Single and Vocal Instrumental Group Of The Year. Then they released "Half Past Midnight" and the song peaked on the Canadian RPM singles chart at #8 in May 1967. It won them a JUNO award for Best Produced Single and got them gigs in the trendy music scene in the downtown Toronto neighborhood of Yorkville. Coca-Cola lined them up for some jingles and they shared one of two sides of an album in 1968 with The Guess Who called A Wild Pair.
After failing to chart in the USA the group changed their sound and their name to the The Five Man Electrical Band. In 1969, they released a single titled "Sunrise To Sunset" which made it to #12 on CKLG in Vancouver. In 1971 the band got a Top Ten hit in Canada and the USA called "Signs" which peaked at #3 on the Billboard Hot 100 and in Vancouver. This was followed by "Absolutely Right" which peaked at #4 in Vancouver and reached the Top 20 in the USA. Several more singles were released including one of their 1973 single "I'm A Stranger Here", an anthem to environmental awareness. However, by 1973 the group was spent from touring and they disbanded, although Les Emmerson kept recording material under the groups name. He also recorded several singles under his own name. The most successful release was "Control Of Me" which climbed to #5 on the Canadian RPM singles chart in early 1973. However, that single did not chart in Vancouver.
On November 11, 1972, Billboard magazine ran an article with the headline, "Emmerson Settles Suit." The story concerned Emmerson's 1971 lawsuit against 4-Star and its distribution of his catalogue of songs worldwide.
Emmerson's only appearance on the CKLG chart in Vancouver was later in the fall of '73 with "Cry Your Eyes Out". The song offers some sage advice about how to proceed after a break-up. It seems that crying your eyes out and sitting all alone is a lose-lose proposition.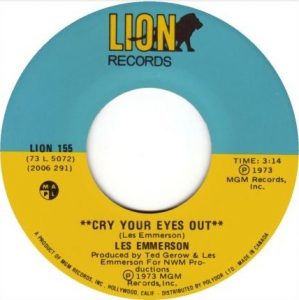 You can cry and cry your eyes out,
but thats' not the kind of feeling anybody wants to share.
You can cry and cry, but I doubt,
that sitting all alone is gonna get you anywhere.
Don't you know little fool anybody can win,
and I think it's a sin to hide that grin away.

Well, they say you were just a ray of sunlight,
that went out about the time your baby up and walked away,
and you acted just the way that anyone might,
but out of sight is out of mind and they'll forget your name.
Don't you know little child I'm the one that you need,
and I truly believe it's gonna be you and me.

I'm the one who loves you.
I guess I'll always love you.
Don't you know little girl what a fool you have been?
It's a dream you've that you're in and it's time to begin again.
So you can cry and cry until you die,
or you can go on out and start to live again.
Song peaked at #18 on the Canadian RPM singles chart and climbed to #13 in Vancouver. It did not chart in the USA. After the Five Man Electrical Band broke up in 1975, Emmerson released one more single called "Borderline" which did not chart anywhere.
Emmerson based himself in California from the mid-70s until 1981. During this time he launched Perfect Records with the engineer for Bachman-Turner-Overdrive and Pure Prairie League, Mark Smith. When he moved back to Ottawa in 1981 he became associated with The Cooper Brothers, an Ottawa band with a southern rock sound. Emmerson also established a recording studio in the nation's capitol.
1986 was the year the Five Man Electrical Band got together to perform a benefit concert. However, the benefit concert led to yearly tours of Eastern Canada into the 2010s. In 2000, at the age of 56, Les Emmerson suffered a heart attack. Thankfully, a stent procedure was successful. In 2008, The Canadian Songwriters Hall of Fame inducted Les Emmerson, primarily for his composition of "Signs", a song he was first inspired to write while driving down Route 66.
In 2015 Emmerson gave a concert as a fundraiser for the Ottawa Aphasia Center and Manotick United Church's community outreach activities. Terry McGovern, organizer of the concert said of Les Emmerson: "He's backed up Chuck Berry and he's played around the pool at Linda Ronstadt's house. The guy lived in Los Angeles for 10 years and he and his band were top musicians, so he's seen everything twice. He has a genuine story to tell and a love of storytelling and is very great at telling stories."
On June 8, 2016, Les Emmerson lost a longtime colleague from the Five Man Electrical Band, when bass player, Brian Rading died weeks short of his 70th birthday.
January 25, 2017
Ray McGinnis
Update: Les Emmerson died on December 2021 at the age of 77. See Ottawa Citizen article below for details.
References:
"Emmerson Settles Suit," Billboard, November 11, 1972
The Staccatos, "Moved To California,"1965
The Staccatos, "Let's Run Away," 1966
The Staccatos, "Half Past Midnight," 1967
Les Emmerson inductee: "Signs," Canadian Songwriters Hall of Fame, 2008.
Five Man Electrical Band: Rock Band Formed in Ottawa as The Staccatos, The Canadian Encyclopedia.ca, December 16, 2013.
Proudly Canadian: The Five Man Electrical Band, Cashbox Canada, July 31, 2014.
Megan DeLaire, "Les Emmerson Returns to Manotick," Hamilton Spectator, November 5, 2015.
Kelly Egan, "Egan: Five Man Electrical Loses Original Bass Player, Local Rock Pillar," Ottawa Citizen, Ottawa, ON, June 16, 2016.
Leanne Cusack, "Ottawa rock and roll royalty, songwriter of 'Signs' Les Emmerson dead at 77," Ottawa Citizen, December 12, 2021.
"CKLG 'Thirty'," CKLG 730 AM, Vancouver, BC, September 7, 1973.
For more song reviews visit the Countdown.