#973: Da Da Da by Trio
Peak Month: November 1982
8 weeks on Vancouver's CFUN chart
Peak Position #6
Peak Position on Billboard Hot 100 ~ did not chart
YouTube.com: "Da Da Da"
Lyrics: "Da Da Da"
Stephan Remmler was born in Witten, Germany, in 1946. Gert Kralle Krawinkel was born in 1947 in Wilhelmshaven. In the late 1960's the pair were part of a band called Just Us (a.k.a. MacBeats). They played a two-week engagement in the famous Star Club in Hamburg. Just Us split up in 1969 and Remmler and Kralle went separate ways. Kralle formed his own band Cravinkel, which released two albums in the early 70's. Stephan Remmler recorded two singles under the pseudonym, Rex Carter. In each case they met with commercial failure. During these years Peter Behrens played the drums in a psychedelic rock band called Silberbart and also released one album in 1971. The three guys knew each other. Behrens was the illegitimate son of an American GI, and was put up for adoption by his biological mother. He was adopted by the Behrens family, where he grew up in northern Germany.
After having no success both Stephan Remmler and Kralle studied and became teachers at the university of Oldenburg. They rented house in Großenkneten and also pursued musical interests alongside the gig at the university. In 1980 they searched for a drummer via ads in a couple of newspapers. A few people applied for the job. Before each applicant was allowed to play drums, he had to drink a Bommerlunder with the other two. When Peter Behrens showed up, they never got past the drinking. Behrens had worked as a circus clown. In the end, they decided against taking a bass player into the band, as they thought their sound was much more interesting without a bass and named themselves Trio.
Their first concert was at Gasthaus Kempermann, a bed and breakfast which had a biergarten. Later, Trio shot their promotion-video for "Da da da" at this location. In 1981 Klaus O.W. Voormann returned from the USA. Voormann was an intimate friend of the Beatles. He had known them since the early 60s. After the tragic death of John Lennon in October 1980, for whom he played bass to the very end, Voorman returned to Germany and became a talent scout and producer for Phonogram Records. Voorman had heard of Trio and decided to produce them. In October 1981 the first album of Trio was released. It was self-titled, Trio, and was recorded on a 16-track-tape-machine in an old pigbarn. Oddly, their private address and phone number (+49 4435 / 2300) was stamped in big letters onto the front of the plain white record-sleeve. To promote the album Trio played short gigs in German record stores on afternoons and at night they toured the clubs.
During this tour the song "Da da da" was written by Stephan Remmler and the music by Gert Kralle Krawinkel. They recorded the song together with Dieter Meyer, of Yello, in a studio outside of Zurich. The backings were performed by Anete Humpe who was a singer with the German band Ideal, from Berlin. "Da da da ich lieb dich nicht du liebst mich nicht aha aha aha" climbed to #2 on the German single-charts. The single was released in 30 countries. It was #1 in South Africa, Switzerland, New Zealand and Austria. It climbed to #2 in the UK, Denmark, Ireland, Israel, Norway and Sweden. It peaked at #3 in France and Canada and #4 in Australia and Belgium. Worldwide it sold 13 million copies. For the non-German-speaking countries an English version of "Da Da Da" was recorded.
The song didn't chart on the Billboard Hot 100, reflective of more conservative musical tastes in rock 'n roll in America. But in Canada, "Da Da Da" climbed to #6 in Vancouver, #1 in Ottawa and Halifax, #2 in Toronto and #3 in Montreal.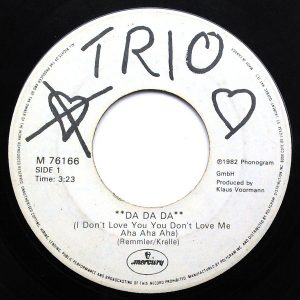 "Da Da Da" is a song about a couple who have different needs for expressing, giving and receiving love. On the one hand the guy let's his partner know "loved you though it didn't show." The muted expression of love towards his partner gives him pause to reflect, "after all is said and done, it was right for you to run." The relationship had shipwrecked as the will to move toward each other, instead of away from each other, has faltered. There are more things that they won't do then they will. There are more things that they can't do then they can. The guy knows why their ex went away and why they couldn't stay. It all boils down to this simple observation: "I don't love you, you don't love me." The monotonous syncopation of the song, the monotone vocals of the chorus and repetition of the words: Da, Da, Da, create a mood that agrees with the fate of the couple.
Trio got regular appearances on the "ZDF Hitparade" hosted by Dieter-Thomas Heck. A bunch of concerts followed, as the band became international stars. They played in some European countries and were seen in Top Of The Pops in the UK. Trio never wanted to be labeled Neue Deutsche Welle (New German Wave) and created another description for their music: New German Happiness.
Most people thought that Trio was just a pure comedy-band. But they were wrong. Trio just wanted to show the simple components of popular music and reduced all kinds of music to a basic minimum. Trio didn't use heavy recording techniques. There was no reverb, no delay, no light show, no complicated melodies.
In October 1982 the second single "Anna – Lassmichrein lassmichraus" was released, but it wasn't included on the album Trio. It reached #3 on the German singles charts and was also released internationally in an English version, "Anna – Let Me In, Let Me Out". The song climbed to #9 in Edmonton.
In June 1982 they played their last gig in Germany but continued to play on some TV-shows. In December 1982 they were seen on a worldwide broadcast and performed "Da Da Da." They also rented a house in Switzerland to write and record new songs. The first result was a single in May 1983 called "Bum bum." To promote this single, an expensive music video was shot in Spain. The clip featured Domenica, the most popular prostitute from Hamburg. Her gigantic tits can be seen on the front cover of the single – the words "BUM BUM" written in lipstick onto both of them. "Bum bum" was released in English as "Boom Boom". The single, like "Da da da" and "Anna" missed the charts in the USA.
With another album more singles were released, including "Hearts Are Trump" In the winter of 1983 Trio played a brief to across the USA and Canada. Yoko Ono attended their concert at Madison Square Garden, a concert the New York Times rated as "Excellent!"
In Germany Trio didn't play live anymore. Peter moved to Baden-Baden and Stephan moved outside of Munich. Only Kralle stayed in Großenkneten. Trio took a break and Kralle joined the band around Marius Müller-Westernhagen. Stephan released a single titled "Feuerwerk" which he performed with a nine-year-old girl known as "Nina." Peter Behrens tried to be an actor, but was charged with driving under influence of alcohol and went to jail for four months. In late 1984 they met again. They made a movie called Drei gegen Drei" ("Three against Three") that was a giant flop. It was seen just once on German Television. At the same time Trio released their last studio-album, What's the Password. Three singles were released and each failed to chart. After this flop Trio split up in 1985.
Stephan Remmler moved to Switzerland and released a series of singles. He had two notable hits "Keine Sterne in Athen" and "Alles hat ein Ende nur die Wurst hat zwei." "Keine Sterne in Athen" was released in English as "I Don't Go To U.S.A". The English version climbed to #1 in the Philippines. Remmler left the music industry in 1996. He returned in 2003 to produced several songs for his three sons Cecil, Jonni and Lauro. Their first single "Everybody Cha Cha Cha" reached position 28 in the single-charts. Remmler now lives in Lanzarote, Spain.
In 1989 Kralle left the house in Großenkneten and moved to Berlin. He travels often to Spain. In 1993 he released a solo-album and supported Stephan Remmler on a couple of concerts. Kralle was listed in the Guiness Book Of Records for the longest ride on a horse ever.
Peter Behrens released a handful unsuccessful singles, including a German version of Suzanne Vega's "Tom's Diner" which Vega liked. Behrens later said he spent what he earned with Trio on alcohol, drugs and prostitutes. In 1995 he worked as a clown in a circus. Later he took care of Aids-victims in Wilhelmshaven. Until 2003 he played drums in a band called Alec, Mike & Peter. He developed into a good example for a fallen star and attended some TV-shows in this role. Peter Behrens was frequently unemployed and lives in Wilhelmshaven in a small flat above a pub.
In 1997 a commercial for Volkswagen Golf was released in the USA which featured "Da da da". The song also appeared in a Pepsi commercial for the 2006 FIFA World Cup and in 2012 in a French Citroen commercial.
October 24, 2017
Ray McGinnis
References:
Da, Da, Da, Wikipedia.org
1997 Volkswagon Commercial – Da, Da, Da, Volkswagen, Wolfsburg, Germany.
Ahlers, Michael and Jacke, Christoph. Perspectives on German Popular Music. Routledge, London, UK, 2016.
For more song reviews visit the Countdown.