#555: Dance Desire by Haywire
Peak Month: November 1987
11 weeks on CKLG's Vancouver Charts
Peak Position ~ #9
Peak Position on Billboard Hot 100 ~ did not chart
YouTube.com: "Dance Desire"
"Dance Desire" lyrics
In 1981 five musicians in Charlottetown formed a band they named Haywire. They were keyboard player David Rashed, vocalist and steel pan drummer Paul MacAusland, guitarist Marvin Birt, drummer Scott Roberts and bass player Ronnie Switzer. In 1984 they entered the Homegrown Vol. 1 contest on Halifax, Nova Scotia, FM station Q104. The next year Haywire won the Labatt's Battle of the Bands in Saint John, New Brunswick. Winning $10,000 first prize, they used their prize money to record a 5-song EP. It sold over 5,000 copies across in the Maritimes. In 1986 Music Express Magazine named Haywire 'Canada's Best Group'. The accolades won Haywire a five-album contract with Attic Records. By this time Sean Kilbride had become the band's drummer.
Haywire's debut album was titled Bad Boys. It spawned three singles "Bad Bad Boy", "Standin' In Line" and "Shot In The Dark". Each song charted on the Canadian RPM singles chart, with "Bad Bad Boy" peaking at #21. In 1987 Haywire went back to the recording studio and released Don't Just Stand There. The first single released from the album was "Dance Desire".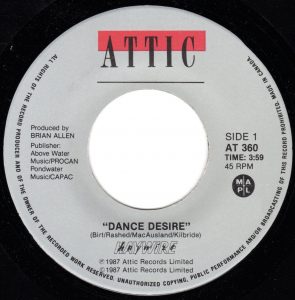 "Dance Desire" was co-written by bandmates Marvin Birt, David Rashed, Paul MacAusland and Sean Kilbride. The song is about desire, and the lyrics tell us the moment that the two strangers in the song first meet he notices the magic in her eyes. It has "nothing to do with love." For the guy narrating the song, the woman he is meeting for the first time matches the recurring dream he had been having, awakening his desire in real time.
"Dance Desire" peaked at #6 in Hamilton (ON), #9 in Vancouver (BC) and #10 on the Canadian RPM singles chart. Subsequent releases from their second album included "Thinking About The Years" which was named Canada's Most Played Song for 1988. Later in 1988 Haywire represented Canada at the World Popular Song Festival in Tokyo, Japan, and performed "Dance Desire".
In the late 80s and early 90s Haywire went on tours with Honeymoon Suite, Kim Mitchell and Corey Hart. Haywire flew to Norway and recorded their third album, Nuthouse, which they released in 1991. A fourth album, Get Off, featured their single "Buzz" which climbed to #13 on the Canadian RPM singles chart. In 1993 Haywire released a compilation album and disbanded so the musicians could pursue their own lives.
Over the years Sean Kilbride has also played drums for Tom Cochrane, Sass Jordan and Alannah Myles.
Paul MacAusland was in a relationship with a woman named Jeanie in the late 80s in Newfoundland. When she found out she was pregnant, she insisted he should pursue his dream as a musician. They were in touch in the early 2000s and Jeanie let Paul know he had a daughter named Leah. Subsequently, MacAusland began many trips to St. John's, Newfoundland, to get to know his then 15-year-old daughter. Then in 2005, he moved to St. John's to start a new life with his daughter and ex-girlfriend. By 2008 Paul MacAusland was engaged to Jeanie and the three were living together in an apartment.
On New Year's Eve, 1999, Haywire had a reunion concert in Charlottetown, Prince Edward Island. Since 2004 they have been performing and touring. In 2019 Haywire's concert dates have included Regina, Winnipeg, the Edmonton Rock Music Festival, and most recently at the Iceberg Alley Music Festival in St. John's, Newfoundland, on September 18, 2019.
September 27, 2019
Ray McGinnis
References:
"Haywire," Edmonton Rock Music Festival, Edmonton, Alberta, August 17, 2019.
Jason Saulnier, "Haywire Interview – Sean Kilbride," Musiclegends.ca, September 19, 2013.
"Haywire Interview," Rogers TV, Saint John, New Brunswick, 2004.
"Haywire Dad: Haywire Lead Singer Paul MacAusland Moved to St. John's to be with the Daughter he didn't Know he Had," Telegram, St. John's, Newfoundland. October 25, 2008.
"CKLG Top Thirty," CKLG 730 AM, Vancouver, BC, November 10, 1987.
For more song reviews visit the Countdown.