#483: Dancing In The Street by The Mamas & The Papas
Peak Month: December 1966
8 weeks on Vancouver's CFUN chart
Peak Position #3
Peak Position on Billboard Hot 100 ~ #73
YouTube.com: "Dancing In The Street"
Lyrics: "Dancing In The Street"
John Edmund Andrew Phillips was born in Paris Island, South Carolina, in 1935. His father was a military officer and John was sent to Linton Hall Military School from age seven to eleven. He hated the school and its corporal punishment. In his autobiography, Phillips recalls he also thought it was creepy that "nuns used to watch us take showers." In high school he assembled several doo-wop groups. After he dropped out of a Naval Academy in 1953, John Phillips studied at a men's college until 1959. In 1958 he formed a doo-wop group named the Abstracts, fashioned after the Four Preps and other popular groups of the era. The Abstracts changed their name in 1959 to the Smoothies. Another member of the group was Philip Blondheim III, who later changed his name to Scott McKenzie. The Smoothies played at night clubs in New York City with chorus girls and comedians.
In 1961 McKenzie and Phillips formed a trio called the Journeymen, along with banjo player Dick Weissman. During the folk music craze the Journeymen released seven singles including a rendition of "Kumbaya" which cracked the Top 30 on CFUN in Vancouver (BC) in early 1962. The more popular "Don't Turn Around" was released in the spring and spent eight weeks on the CFUN pop chart. The folk trio spent a lot of time in Greenwich Village in Manhattan, and appeared on Hootenanny several times. John Phillips met Dennis Doherty and Cass Elliot at a point when Phillips was looking out for what could come after the folk music craze. Doherty and Elliot were part of a folk-rock band called The Mugwumps. When Beatlemania came to North America, the Journeymen split and Phillips went on to form The Mamas & the Papas.
Holly Michelle Gilliam was born in Long Beach, California in 1945. Her father studied sociology on the GI Bill in Mexico City, and the family lived there while she was between the ages of six and thirteen. She returned to the USA at age 13 and learned to play piano, cello and guitar. She moved to San Francisco and took up modeling, even though she was not finished high school. At age eighteen she met John Phillips while he was touring with his band the Journeymen. Phillips got a divorce from his first wife of four years, and married Michelle while she was still 18 years-old, on December 31, 1962. After the Journeymen split, Michelle Phillips was one of the three co-founding members of The Mamas & the Papas in 1965.
Dennis Gerard Stephen Doherty was born in Halifax, Nova Scotia, in 1940. His father was a dockworker. In 1957, he made his first public appearance at the age of 16 singing the Pat Boone hit "Love Letters in the Sand" at amateur night at the local skating rink. In his teens Doherty was in a group called the Hepsters, the Colonials and finally the Halifax Three. The folk trio got a record contract from New York based Columbia Records. After they split Doherty, with Toronto-born Zal Yanovsky, Cass Elliot and John Sebastian, formed the Mugwumps. Doherty next co-founded the New Journeymen with John and Michelle Phillips, and Marsha Brickman. The New Journeymen morphed into The Mamas & the Papas when Brickman left the quartet and Cass Elliot was invited to join. Meanwhile, John Sebastian and Zal Yanovksy went on to form the Lovin' Spoonful.
Ellen Naomi Cohen was born in 1941 and raised in Washington, D.C. She adopted the name "Cass" in high school. Later she took the surname "Elliot," in memory of a friend who had died. She moved to Manhattan, pursuing an acting career where she toured in a musical production of The Music Man in 1962. She was part of a folk trio called the Big 3 from 1962 to 1964. From there she joined the Mugwumps, and met Denny Doherty.
The Mamas & the Papas first single, "Go Where You Wanna Go" was a commercial failure, although successfully covered by the Fifth Dimension in 1967. But their second single release, "California Dreamin'" became a classic pop hit, peaking at #4 on the Billboard Hot 100 and #1 in Vancouver (BC). It became the number one song for the year 1966 according to Billboard. Their next single, "Monday, Monday", peaked at #1 in Vancouver (BC) for four consecutive weeks, and for three weeks on the Hot 100. In early 1967 "Monday, Monday" earned The Mamas & the Papas a Grammy award as Best Contemporary Group Performance of 1966. They were also nominated It was also nominated for Best Performance by a Vocal Group, Best Contemporary Song and Record of the Year.
The second album was their self-titled The Mamas & the Papas. It was being recorded in June 1966 when Michelle Phillips let it slip out that she was having an affair with Gene Clark of The Byrds. She was promptly fired from the group on June 4, 1966. Producer Lou Adler's girlfriend, Jill Gibson provided vocals for the balance of the recording. The first single from the album was "I Saw Her Again", climbed to #4 in Vancouver (BC). The next big single from the album was "Words Of Love". The B-side was "Dancing In The Street".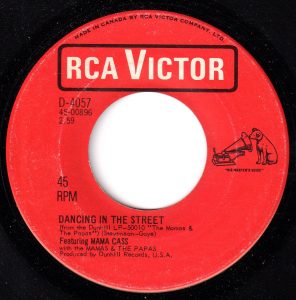 "Dancing In The Street" is a song co-written by Marvin Gaye and William Stevenson. Marvin Pentz Gay Jr. was born in Washington D.C. in 1939. He was part of an R&B group that backed Bo Diddley in the mid-50s. He also sang as a session musician on a couple of recordings by Chuck Berry late in the decade. He changed his surname by adding an "e" in 1961. Gaye penned "Beachwood 4-5678" for the Marvelettes, a Top 20 hit on the Billboard Hot 100 in 1962. He became a solo artist with hits that included "How Sweet It Is (To Be Loved By You)", "Ain't That Peculiar", "I Heard It Though The Grapevine", "What's Going On", "Mercy Mercy Me (The Ecology)", "Let's Get It On", "Trouble Man", "Got To Give It Up" and "Sexual Healing" among his string of Top Ten hits between 1963 and 1982. He died at the age of 44 in 1984, after his father fatally shot him with two bullets.
William "Mickey" Stevenson was born in Detroit in 1937. In addition to cowriting "Dancing In The Street", he also wrote "It Takes Two" for Marvin Gaye and Kim Weston, "What Becomes Of The Brokenhearted" for Jimmy Ruffin, "Uptight (Everything's Alright)" for Stevie Wonder and "Devil With A Blue Dress On", a hit for Mitch Ryder and the Detroit Wheels. He has spent many decades in management positions in the recording industry. "Dancing In The Street" was a #2 hit for Martha & The Vandellas in 1964 on the Billboard Hot 100. It became a civil rights anthem with the opening line "calling out around the world, are you ready for a brand new beat."
"Dancing In The Street" is a song inviting people all around to dance in the streets because "summer's here and the time is right…" The song also lets people know "it doesn't matter what you wear." Societal norms for dress codes are cast aside in this song. This was a matter of counter-culture urgency, where young Americans were now wearing blue jeans, tie-dye t-shirts and rejecting the conservative styles of their parents generation. In the Mamas & the Papas version of "Dancing In The Street" the following cities are listed by name: Chicago, New Orleans, Detroit ("the Motor City"), New York City, Philadelphia, Baltimore, Washington D.C., Los Angeles ("way down in LA"), Amherst (the name of a town in twelve states and Nova Scotia, Canada, where Denny Doherty was born), Boyle Heights (California), Alexandria and Falls Church (Virginia).
"Dancing In The Street" peaked at #2 in San Antonio (TX), #3 in Vancouver (BC), Billings (MT) and Tucson (AZ), #4 in Omaha (NE), Eugene (OR) and Indianapolis (IN), #5 in Erie (PA), Hartford (CT) and Chicago, #6 in Milwaukee (WI), #7 in Seattle, #8 in Dallas, #9 in Edmonton (AB) and Pensacola (FL).
At the Monterey Pop Festival in June 1967, when the Mamas and the Papas ended their set with "Dancing in the Street" Cass Elliot told the audience at the festival: "You're on your own." This was the last time that the group performed live in concert. "Dancing In The Street" was later covered by Van Halen in 1982 and by David Bowie and Mick Jagger in a duet in 1985 which became a Top Ten hit in over 15 countries.
The Mamas & the Papas had two more Top Ten hits on the Billboard Hot 100. These were a cover of the Shirelles 1961 hit "Dedicated To The One I Love" and "Creeque Alley", a song about how the group formed and moved to California.
In 1968 there was an affair between Michelle Phillips and Denny Doherty, who Cass Elliott had lusted after. This poisoned the already complicated dynamics in the group, as husband John Phillips was not amused. A cover of a 1931 pop standard, "Dream A Little Dream Of Me", was released credited to Mama Cass with the Mamas & the Papas. It peaked at #13 in Vancouver (BC) in August 1968. While the group officially split in early 1969, they owed Dunhill Records one more album. In 1971 the briefly set aside their respective solo careers to release their fifth and final studio album, People Like Us.
Michelle Phillips went on to a successful acting career. Her performance in the 1973 film Dillinger resulted in being nominated for a Golden Globe Award for Most Promising Newcomer. In 1974 she provided backing vocals in the Cheech and Chong novelty song "Basketball Jones". She has appeared in nearly 200 episodes in various TV shows, including six years of episodes of Knots Landing between 1987 and 1993. She has also appeared in around twenty films, including the 2019 documentary Echo In The Canyon.
John and Michelle Phillips divorced in 1969. He recorded one commercially unsuccessful album and got addicted to narcotics. He collaborated to create the soundtrack for the David Bowie inspired 1976 film The Man Who Fell to Earth. In 1981, Phillips was convicted of drug trafficking. In 1988 he cowrote "Kokomo" which became a #1 hit for the Beach Boys. After years of addiction, he died in 2001 at the age of 65.

Denny Doherty recorded, but did not release his subsequent material. In 1982 he joined a reconstituted The Mamas & the Papas consisting of John, John's daughter MacKenzie Phillips, and former Spanky & Our Gang vocalist, Elaine "Spanky" McFarlane. In the mid-80s he produced an off-Broadway show called Dream a Little Dream, detailing his perspective on the story of The Mamas & the Papas. It was well received and got positive reviews. Doherty provided voice overs for the CBC children's program Theodore Tugboat between 1993 and 2001. And Doherty acted in 22 episodes of Pit Pony, a film about rural life in Nova Scotia in set in 1904. He died at age 66 in 2007.
Cass Elliot pursued a solo career that included the singles "It's Getting Better" and "Make Your Own Kind Of Music". "It's Getting Better" peaked at #30 on the Billboard Hot 100. However, due to its 19-week chart run, the song ended up at #55 on the Billboard year-end Top 100 song list of 1969. In July 1971 Cass married Donald von Wiedenman, heir to a Bavarian barony, in a ceremony at a private home in Hollywood. Baroness Cass Elliot planned to move to France, but by January 1972 the marriage collapsed when the couple cited "irreconcilable differences." In 1974 von Wiedenman became the Features Editor of The Advocate, a gay magazine. In the mid-90s he founded Stable Entertainment, which produced triple-X bisexual and gay videos.
In 1972 Cass played an active and visible role in the Presidential Campaign of George McGovern, who was running against President Richard Nixon. In July 1974 Cass Elliot completed two weeks of sold-out performances at the London Palladium. Donald von Wiedeman wrote of that time, "The phone rings…. Cass is… leaving the next day for London. She's going to play the Palladium as a solo act, her life-long dream. She tells me that she thinks she's in love, that her life is finally falling into place.… A week later she calls from London. She is a smash, critically acclaimed, selling out every night.… I ask her about the new man in her life. She tries to change the subject but then tells me that someone told her that Alan Carr, her newly hired manager, had paid her new boyfriend to be with her. She says it uncertainly, telling me she doesn't really know if it is true…"
On July 29 Cass Elliot died at the age of 32 in a flat she was staying in owned by pop singer Harry Nilsson. A coroner issued an inconclusive report stating that Elliot "probably choked to death." Though the coroner added it was also plausible she died from a "heart attack" and it "appears the singer had not died of natural causes." A Belgravian physician named Dr. Anthony Greenburgh entered the flat that morning while the press was outside. Greenburgh told the Daily Express "she appeared to have been eating a ham sandwich and drinking Coca-Cola while lying down — a very dangerous thing to do. She seemed to have choked on a ham sandwich." Dr. Greenburgh's opinion failed to account for the fact that Cass had not bitten into the sandwich, as Inspector Kenneth Humm noted in his police report. But the press ran with the story that Mama Cass died due to her own gluttony.
An autopsy by Dr. Keith Simpson concluded that Cass' heart muscle "turned too fat." Biographer Jon Johnson writes that the conclusion reached by Simpson was termed "improper" by Vanderbilt University heart specialist Dr. George V. Mann who stated "It is true that obesity is related to high blood pressure and stroke, but there's no correlation with a heart attack. He's (Dr. Simpson) stating an old-fashioned dogma, a Victorian concept of fatty degeneration that has gone out in modern times. Old time pathologists tend to look at deposits of adipose tissue around the surface of the heart and associate it with a heart attack. But a heart attack is due to limitation of blood supply to the heart muscle with the result that some of the muscle dies."
Author Eddi Fiegel, in his book Dream a Little Dream of Me: The Life of Cass Elliot, writes about some peculiar connections Cass Elliot had to a criminal element. At the time of her death Cass Elliot was dating a man named Pic Dawson, whose father was an American State Dept. foreign attaché. Dawson was under investigation by Scotland Yard for international drug smuggling. Though he was Cass Elliot's boyfriend at the time of her death, he didn't attend the funeral. According to Fiegel, Pic Dawson was dealing drugs to numbers of the people who were at Roman Polanski's home, 10050 Cielo Drive, on August 8, 1969. He was one of three suspects arrested by the LAPD in connection with the five "Tate" murders committed at Polanski's home in Benedict Canyon. Dawson was subsequently cleared of charges and released. Cass Elliot personally knew two of the people Dawson was selling drugs to, Wojciech Frykowski and Jay Sebring, who were murdered at the Cielo Drive home. She was also a friend of the murder victim Sharon Tate, a cameo detail in the 2019 film Once Upon A Time In Hollywood. While multiple murder mastermind, Charles Manson, met Abigail Folger, at Cass' home. The wealthy coffee heiress was later found dead among the carnage on Cielo Drive. Did Cass Elliot know something about the Tate-LaBianca murders by the Manson "Family" that resulted in her being a victim of foul play?
Alex Constantine, author of The Covert War Against Rock, posits some darker explanations for the death of Cass Elliot. Dr. Simpson claimed that there were "no drugs" detected in Elliot's bloodstream at the time of death. Though former husband Donald von Wiederman observed that Cass "was always high. She took drugs on a daily basis." Constantine speculates that if Dr. Simpson "admitted to traces of drugs in her system, he would have had to list and quantify them. Elliot's blood samples would be subject to peer review. He was forced to deny that there was any trace of drugs in her system. If he included them in his report, there was a risk that the toxin used to kill her would be detected on subsequent analysis."
Alex Constantine cites the Senate Church Committee (United States Senate Select Committee to Study Governmental Operations with Respect to Intelligence Activities) hearings in 1975 for context. The Church Committee, headed by Senator Frank Church from Idaho, heard testimony from CIA Director William Colby in discussion about a modified 1911 Colt gun. During the hearing Senator Frank Church asked CIA director William Colby, "Does this pistol fire the dart?" Colby replied, "Yes, it does, Mr. Chairman, and a special one was developed which, potentially would be able to enter the target without perception." Colby also explained the toxin would not appear in an autopsy—so there would be "no way of perceiving that the target was hit."
Author Alex Constantine speculates that the gun the CIA developed, and was using by by the time 32-year-old Cass Elliot died, needs to be considered as plausible an explanation for her death. Constantine notes that the Church Committee hearings established that there were intelligence activities against "restless youth" and celebrities connected with the anti-war movement.
The 1976 Church Committee report included a leaked Intelligence memorandum advising agents with respect to musicians connected to the anti-war movement. "Show them as scurrilous and depraved. Call attention to their habits and living conditions, explore every possible embarrassment. Send in women and sex, break up marriages. Have members arrested on marijuana charges. Investigate personal conflicts or animosities between them. Send articles to the newspapers showing their depravity. Use narcotics and free sex to entrap. Use misinformation to confuse and disrupt. Get records of their bank accounts. Obtain specimens of their handwriting. Provoke target groups into rivalries that may result in death."
In his biography of Mama Cass, Jon Johnson published twelve photocopies from her FBI file, released after a Freedom of Information Act (FOIA) request. According to the Church Committee Report there were open files on over 100,000 American citizens. The pages in Cass Elliot's file were almost entirely obscured by black ink. The FBI report mentions "She reportedly has associated with drug addicts, and individuals opposed to the President's Vietnam policy." One report marked "urgent" and "confidential" noted that Cass attended a fund-raiser in Hollywood hosted by the Entertainment Industry for Peace and Justice Committee (EIPJ).
Cass Elliot attended a number of Democratic Party functions and in 1972 joined the Anti-War Coalition founded by Jane Fonda. In an interview on the Mike Douglas Show, two years before her death, Cass said "I think that I would like to be a senator or something in twenty years. I don't think I really know enough yet. I'm just 30 now and I wouldn't even be eligible to run for office for another five years. But I have a lot of feelings about things. I know the way I would like to see things for this country and in my travels, when I talk to people, everybody wants pretty much the same thing: peace, enough jobs, no poverty and good education."
January 15, 2020
Ray McGinnis
References:
John Phillips, Papa John – An Autobiography, (Doubleday & Co. 1986).
Michelle Phillips, California Dreamin': The True Story of the Mamas and the Papas The Music, the Madness, the Magic that was, (Grand Central Pub, 1986).
Dave Laing, "Denny Doherty: Lead singer with the Mamas and the Papas," Guardian, January 22, 2007.
Jon Johnson, Make Your Own Kind of Music: A Career Retrospective of Cass Elliot, Hollywood: Music Archives Press, 1987, pp. 71-72.
Alex Constantine, "The Death of Cass Elliot and Other "Restless Youth"," in The Covert War Against Rock, (Feral House, 2000), 35-41.
Donald von Wiedenman, "The Baron and The Pop Star" Hershey Bars & Nylons.com, 1975.
"Ham and Wheeze," Snopes.com, New Zealand, January 19, 2007.
Eddi Fiegel, Dream a Little Dream of Me: The Life of Cass Elliot, (Chicago Review Press, 2005).
"Former CIA employee Mary Embree discusses… Heart Attack Gun," 1998 interview.
"CASSt Your Vote! Cass Elliott & Politics," The Official Cass Elliot Website.
Senate Select Committee To Study Governmental Operations With Respect to Intelligence Activities Report, "Intelligence Activities and the Rights of Americans," Book II, April 26, 1976.
Pit Pony, CBC, 1999.
Theodore Tugboat, CBC, 1993-2001.
"C-FUNTASTIC FIFTY," CFUN 1410 AM, Vancouver, BC, December 31, 1966.
For more song reviews on this website visit the Countdown.