#756: Dancing With Tears In My Eyes by Ultravox
Peak Month: September 1984
11 weeks on CKLG's Vancouver Chart
Peak Position ~ #12
Peak Position on Billboard Hot 100 ~ #108
YouTube: "Dancing With Tears In My Eyes"
Lyrics: "Dancing With Tears In My Eyes"
Dennis Leigh was born in 1948 in Chorley, 19 miles northwest of Manchester, UK. In his youth he experimented with synthesizers and learned to play 12-string guitar with Stack Waddy in the early 70s, by which time his professional name was John Foxx. In 1973 he formed a band named Tiger Lilly, which by 1976 morphed into Ultravox! Foxx was the lead vocalist for the band until he left for a solo career in 1979. Others who joined the band in 1974 were Stevie Shears on guitar (1974-78), Chris Cross on backing vocals, bass guitar and synthesizers (1974-88), Warren Cann on drums, percussion, backing and occasional lead vocals (1974-88), and Bill Currie on synthesizers, keyboards, violin and viola (1974-88).
Christopher Thomas Allen was born in 1952 in Tottenham, North London. When he became a professional musician, he chose the stage name Chris Cross. His early influences were the Small Faces, Desmond Dekker and the Aces, and The Crazy World of Arthur Brown. Warren Cann was born in Victoria, British Columbia, Canada, in 1950. His parents were both born in the UK, and Cann moved to London in 1972. William Lee Currie was born in 1950 in the West Yorkshires. By the age of ten he was playing guitar and singing in choirs. He learned to play violin at age eleven and viola at age twelve. In a few years, he added piano to his resume.
In 1977 Ultravox! released their debut self-titled album. This was quickly followed later that year with Ha-Ha-Ha! A third album in 1978, Systems of Romance appeared when the band had dropped the exclamation mark from their title. Now they were simply Ultravox.
In 1979, the bands' founder, John Foxx, left to pursue a solo career. He was replaced by Midge Ure. Born James Ure in the suburbs of Glasgow, Scotland, in 1953, he acquired the nickname Midge. Ure told the Guardian "I was born in a one-bedroom tenement flat on the outskirts of Glasgow. It was pretty slummy and I was there for the first 10 years of my life. My brother and I slept in the bedroom. There was a cooker in a tiny little hole that connected the sitting room to the bedroom, and the sitting room had a sink in it that we used to bathe in. Opposite the sink was a thing called a cavity bed, which was like a hole in the wall with a mattress for my parents, and there was an outside toilet. I thought it was a fabulous place."
Midge Ure became the bands' lead vocalist. In November 1974, Salvation changed its name to Slik. In 1976 Slik had a number one hit in the UK with "Forever And Ever". Subsequently, Ure joined a punk band named PVC2, then formed Rich Kids, and next a synth pop band named Visage. With Visage Ure had a Top Ten hit in nine European countries in 1980 with "Fade To Grey", which peaked at #1 in Germany and Switzerland. Meanwhile, Ure became the lead vocalist for Ultravox.
On September 15, 1980, Ultravox appeared in concert at the Commodore Ballroom in Vancouver (BC).
In 1981 Ultravox had a number one hit in Ireland, Belgium and the Netherlands with "Vienna". The single, from their album Vienna, also made the Top Ten in three other European nations, and the Top 20 in Australia and New Zealand. A followup single from the album, "All Stood Still", climbed to #8 on the UK pop chart in 1981. That summer Ultravox released Rage In Eden and managed two more hit singles in the Top 20 on the UK charts: "The Thin Wall" and "The Voice".
In 1982 Midge Ure released his first solo single titled "No Regrets", a cover of a 1968 song by Tom Rush. The cover climbed to #9 on the UK singles chart.
In December 1982, Ultravox's single "Reap The Wild Wind" was a Top Ten hit on the Alternative CFMB radio chart in Montreal. In January 1983 "Hymn" appeared for five weeks on CFMB in Montreal, including four weeks in the Top Ten. And in the spring of 1983 "We Came To Dance" appeared on the Top 20 of the CFMB chart. These three singles, plus "Visions In Blue", were tracks from the band's 1982 album Quartet. All four singles made the Top 20 on the UK Singles chart. "Hymn" climbed to #6 in Switzerland and #9 in Germany. While "Reap The Wild Wind" peaked at #10 in Ireland.
On April 5, 1983, Ultravox appeared in concert at the UBC War Memorial Gymnasium in Vancouver (BC). In 1984 Ultravox released their seventh studio album, Lament. It included four single releases, including the title track and "Dancing With Tears In My Eyes".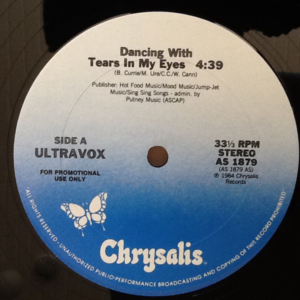 "Dancing With Tears In My Eyes" was written by Bill Currie, Midge Ure, Chris Cross and Warren Cann. In the music video there is a looming nuclear power plant meltdown. The video depicts Midge Ure driving home after discovering that a nuclear explosion is imminent. The video ends with the nuclear power plant exploding. There is an image of Ure watching a home video of himself, his wife and their child as the film melts away. The song's lyrics also reflect an apocalyptic ending: "It's five and I'm driving home again. It's hard to believe that it's my last time. The man on the wireless cries again. It's over, it's over." After driving home, the man makes love to his partner one last time. In this imagined end time, he sings "we drink to forget the coming storm."
"Dancing With Tears In My Eyes" is a song offering a political commentary about the dangers of a meltdown of a nuclear power plant. The singer is "weeping for the memory of a life gone by."
In 1978 Australian physician, Dr. Helen Caldicott, authored a book titled Nuclear Madness: What You Can Do. In her best-seller she told readers:
"Each 1000-megawatt nuclear reactor contains as much long-lived radioactive material ("fall out") as would be produced by one thousand Hiroshima-sized bombs. A "meltdown" (in which fissioning nuclear fuel overheats and melts, penetrating the steel and concrete structures that encase it) could release a reactor's radioactive contents into the atmosphere killings hundreds of thousands of people, depending upon the wind direction and population density, and contaminating thousands of square miles."
"Each operating reactor daily releases carcinogenic and mutagenic effluent. Those radioactive materials raise the level of background radiation to which we are constantly exposed, increasing our risk of developing cancer and genetic disease."
"Each reactor annually produces tons of radioactive waste, some of which remains dangerous for more than 500,000 years. No permanent fail-safe method of containment of storage has yet been found for them, despite millions of dollars spent during four decades of research."
Caldicott toured around Australia, New Zealand, Europe and North America, bringing her message about the dangers of both nuclear weapons and nuclear power plants. Then on March 28, 1979, there was a partial meltdown at the Three Mile Island nuclear plant in Harrisburg, Pennsylvania. The accident unnerved many citizens. And it was this accident that was in the minds of Ultravox when they wrote "Dancing With Tears In My Eyes".
Fast forward to 2019, a headline in the Washington Examiner warned "Feds Fear EMP 'Meltdown' of Nuclear Power Plants." The article stated that the United States military were concerned about the risk of a terrorist electromagnetic pulse attack that could result in a meltdown of a nuclear power plant. The military worried that in addition to deaths from radiation, there would be radioactive contamination of water and food. And this would cause other deaths due to the scarcity of safe food or water. The military said there was no fail-safe way to protect from this possible terrorist threat.
In 1984 "Dancing With Tears In My Eyes" climbed to #5 in Ottawa (ON), #12 in Vancouver (BC) and #14 in Montreal on the AM-Top 40 station CKGM. Internationally, "Dancing With Tears In My Eyes" climbed to #2 in Belgium, #3 in the UK, #6 in the Netherlands, #7 in Germany and #8 in Ireland.
However, Midge Ure had his biggest success in 1984 from co-writing the music for a song for charity titled "Do They Know It's Christmas?" by Band Aid. The charity single to raise funds in response to the Ethiopian famine eventually sold 3.8 million copies.
In 1985 Midge Ure pursued a solo career and released his debut album, The Gift. His debut single from the album was "If I Was". While Ure was touring to promote his album, Ultravox took a break. They reassembled in 1986, but Warren Cann was sacked, and replaced by Big Country drummer Mark Brzezicki. The bandmates later reflected that their eighth studio album U-Vox, was unfocused. The single releases from the album failed to excite their fan base. After touring, Ultravox decided to disband in 1988.
After the band split, Midge Ure focused on his solo career. Chris Cross became a therapist. Warren Cann moved to the USA in 1986 and became an actor. And Billy Currie continued to work and tour as a musician in collaboration with Robin Simon, a former Ultravox guitarist (1978-79). Between 1992 and 1996 Billy Currie remounted Ultravox with a new lineup of musicians. They released two albums that met with meagre commercial success. This iteration of the band split in 1996.
Warren Cann, Chris Cross, Billy Currie and Midge Ure reformed Ultravox again in 2008 for a UK tour in April 2009, entitled "Return to Eden". This was the first time the classic line-up of Ultravox performed together since Live Aid in 1985. In 2012 the reformed Ultravox released a final studio album titled Brilliant. In 2017 Billy Currie decided it was time to call it quits. Other bandmates agreed that a future reunion of Ultravox in concert was now unlikely. Over the years Currie has released twelve studio albums, his most recent The Brushwork Oblast was in 2020. While Midge Ure has released ten studio albums. Original founder of Ultravox!, John Foxx, went on to have a solo career and has recorded over thirty studio albums as either a solo act, or in collaboration with others.
Midge Ure has performed in concert in Vancouver (BC) on January 5, 2017, August 23, 2018, and January 21, 2020, all at the Rickshaw Theatre.
October 24, 2020
Ray McGinnis
References:
Johnathan Wright, "Ultravox Interview: 'We Were Only Two Narcissists Down but we Still Had Three Left'," Classic Pop Magazine, January 2020.
Caroline Sullivan, "How we made Ultravox's Vienna," Guardian, July 18, 2017.
Chi Ming Lai, "Warren Cann Interview," The Electricity Club, October 13, 2010.
Jus Forrest, "An Interview with Billy Currie," The Electricity Club, May 22, 2012.
Nick McGrath, "Midge Ure: My Family Values," Guardian, September 22, 2012.
"Midge Ure: Music's Quiet Man," BBC, June 10, 2005.
"Midge Ure Shows," Midgeure.com.
Kevin Wuench, "Dear God, How Could Midge Ure Only Hit the Charts Once in the U.S.?", Tampa Bay Times, March 31, 2016.
Dr. Helen Caldicott, Nuclear Madness: What You Can Do, (Norton, 1978), pp.30-31.
Paul Bedard, "Feds Fear EMP 'Meltdown' of Nuclear Power Plants," Washington Examiner, Washington D.C., August 23, 2019.
"Vancouver's Top 30 Singles," CKLG 730 AM, Vancouver, BC, September 6, 1984.
For more song reviews visit the Countdown.