#591: Daydreams/So Goes The Story by Johnny Crawford
Peak Month: July 1961 ~ "Daydreams"
9 weeks on CFUN's Vancouver Chart
Peak Position ~ #2
Peak Position on Billboard Hot 100 ~ #70
YouTube.com: "Daydreams"
Lyrics: "Daydreams"
Peak Month: July 1961 ~ "So Goes The Story"
5 weeks on CFUN's Vancouver Chart
Peak Position ~ #8
Peak Position on Billboard Hot 100 ~ did not chart
YouTube.com: "So Goes The Story"
John Ernest Crawford was born in 1946 in Los Angeles. He got into acting as a child star and by the age of nine was one of the Mouseketeers in the first season caste of the The Mickey Mouse Club in 1955. Though he was cut from the show in 1956 after Disney cut the caste from 24 to 12, Crawford continued to get acting roles. Between 1956 and 1958 he appeared in episodes of The Lone Ranger, The Loretta Young Show, Sheriff of Cochise, Wagon Train, Crossroads, Whirlybirds, Mr. Adams and Eve and Dick Powell's Zane Grey Theater. The latter featured an episode that became a syndicated TV show called The Rifleman. Johnny Crawford played Mark McCain, son of Lucas McCain (Chuck Connors). In 1959 Crawford was nominated for an Emmy Award for his role in The Rifleman. The show ran from 1958 to 1963.

While he was starring on The Rifleman, he also appeared in an episode in 1961 of The Donna Reed Show alongside child stars Paul Petersen and Shelley Fabares. That same year Johnny Crawford released his first single, hoping to become a teen pop star. The song was titled "Daydreams".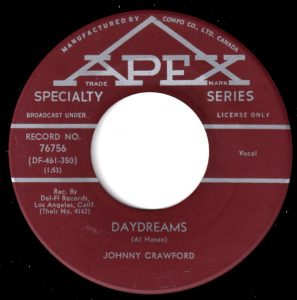 "Daydreams" is a song about a guy who is daydreaming about a girl and scheming to make her his. It seems they hardly know each other, but he's already envisioned her wearing a "white wedding gown."
Mary, Queen of Scots, wore a white wedding gown in 1559 when she married her first husband, Francis Dauphin of France. However, the tradition of a white wedding dress is commonly credited to Queen Victoria when she chose to wear a white court dress at her wedding to Prince Albert in 1840. Debutantes had long been required to wear white court dresses for their first presentation at court, at a "Drawing Room" where they were introduced to the queen for the first time. Royal brides before Victoria did not typically wear white, instead choosing "heavy brocaded gowns embroidered with white and silver thread," with red being a particularly popular colour in Western Europe more generally. European and American brides had been wearing a range of colours, including blue, yellow, black, brown, or gray. As accounts of Victoria's wedding spread across the Atlantic and throughout Europe, elites followed her lead. After Queen Victoria's and Prince Albert's wedding, the color white became associated with wealth and social status.
Daydreaming is something everyone does. Although, as we get older we daydream less according to an article in National Geographic. When we daydream we tend to forget what we were doing after we stop daydreaming. The daydreaming mind often associates different bits of information that the person had never considered framing in that particular way. Psychiatrist Eugenio Rothe from the Florida International University notes, "This accounts for creativity, insights of wisdom and oftentime the solutions to problems that the person had not considered." In the case of the daydreaming Johnny Crawford, the daydreamer in his song may have never at first thought about the person he gets fascinated with as a potential date, never mind marriage material. But his daydreaming puts him on a trajectory of making new connections. We don't know from the song what else he's doing besides daydreaming to let the girl of his dreams know how much she means to him.
"Daydreams" peaked at #2 on CFUN in Vancouver and #8 in Cleveland (OH). Limited success in different radio markets across the USA meant his debut single stalled at #70 on the Billboard Hot 100. The B-side, "So Goes The Story", uniquely charted in Vancouver. The song concerns people attracted to others who don't notice them at all. The "story" in this case, is one of not paying attention to the cues another person sends that they aren't the least bit interested.
In Vancouver Johnny Crawford consistently outperformed on the local charts compared t0 the Billboard chart. His next release, "You Love Is Growing Cold", climbed to #16 in Vancouver, while the song didn't crack the Hot 100. Others that did better in Vancouver include "Patti Ann" (#5 Vancouver/#43 Billboard), "Cindy's Birthday" (#3 Vancouver/#8 Billboard), "What Happened To Janie" (#7 Vancouver/did not chart ~ Billboard), "Cindy's Gonna Cry" (#3 Vancouver/#72 Billboard), "Judy Loves Me" (#12 Vancouver/#95 Billboard) and "Sandy" (#15 Vancouver/#108 Billboard). Between 1961 and 1964 Johnny Crawford charted nine songs into the Top 20 in Vancouver and just 3 songs into the Top 20 on the Billboard Hot 100.
In subsequent years Johnny Crawford appeared as a guest star in Mr. Ed, The Big Valley, Little House On The Prairie, Hawaii Five-O and Murder, She Wrote. Starting in 1992 he formed the Johnny Crawford Dance Orchestra, playing vintage tunes from the 1920's and 1930's. For fifteen consecutive years his band played at the Beverly Hills Hilton for the Director's Guild Awards. In 2011 his band released an album titled Sweepin' The Clouds Away. In 2019 it was disclosed that at the age of 72 Johnny Crawford was suffering from Alzheimer's.
June 21, 2019
Ray McGinnis
References:
David Weigand, "Johnny Crawford: Western Star to Vintage Singer," SF Gate, June 7, 2009.
Lindsay Baker, "The Changing Face of Bridal Wear," BBC, May 4, 2018.
Cele Otnes & Elizabeth Pleck. Cinderella Dreams: the Allure of the Lavish Wedding. (University of California Press, 2003), 31.
Christine Dell 'Amore, "Five Surprising Facts About Daydreaming," National Geographic, July 16, 2013.
"Johnny Crawford has Alzheimer's. Played Chuck Connors' son Mark McCain on The Rifleman," Life & Times of Hollywood.com, March 2, 2019.
"C-FUNTASTIC FIFTY," CFUN 1410 AM, Vancouver, BC, July 8, 1961
For more song reviews visit the Countdown.