#1155: Daylight Katy by Gordon Lightfoot
Peak Month: July 1978
7 weeks on CFUN chart
Peak Position #11
Peak Position on Billboard Hot 100 ~ did not chart
YouTube.com: "Daylight Katy"
"Daylight Katy" lyrics
Gordon Lightfoot was born in Orillia, Ontario, on November 17, 1938. His parents, Jessica and Gordon Lightfoot Sr., ran a dry cleaning business. His mother noticed young Gordon had some musical talent and the boy soprano first performed in grade four at his elementary school. He sang the Irish lullaby "Too Ra Loo Rah Loo Rah" at a parents' day. As a member of the St. Paul's United Church choir in Orillia, Lightfoot gained skill and needed confidence in his vocal abilities under the choir director, Ray Williams. Lightfoot went on to perform at Toronto's Massey Hall at the age of twelve when he won a competition for boys who were still boy sopranos. During his teen years Gordon Lightfoot learned to play piano, drums and guitar.

In the years that followed Lightfoot performed in coffee houses in Toronto. He got work as a performer on the CBC's Country Hoedown and went to England to host the BBC TV Country and Western Show in 1963-64. At that time, Lightfoot's songs were recorded by numerous recording acts. These included "Early Morning Rain" by both the Kingston Trio and Judy Collins, and "Ribbon of Darkness" by Marty Robbins. The attention Lightfoot got as a songwriter landed him a record contract with United Artists in 1965. In 1966 he was commissioned by the Canadian Broadcasting Corporation (CBC) to compose the "Canadian Railroad Trilogy" for a broadcast on New Year's Day in 1967, the nations centennial.
Over the following years Gordon Lightfoot has recorded many albums. Numbers of these have produced Top 30 singles across Canada, including in Vancouver. These included "Talking In Your Sleep" and "Beautiful". But south of the border, Lightfoot's success with singles was hit and miss.
Lightfoot had a #5 hit on the Billboard Hot 100 in 1971 with "If You Could Read My Mind." Yet, it would be a three year wait before he returned to the Top 40 in the USA with his #1 hit "Sundown". This became the first of five out of six single releases to make it onto the American Top 40 on Billboard Magazine.
In 1978 he released Endless Wire, his thirteenth studio album. Lightfoot's luck ran out with the release of his second single from the album, "Daylight Katy". It would be the first of twelve of thirteen singles to not chart on the Billboard Hot 100, as well as missing the Top 40 on the Canadian RPM singles chart in Canada. Vancouverites were kinder to Gordon Lightfoot with his song about a woman named Katy who didn't seem to have a nine to five job. On the West Coast the tune peaked at #11.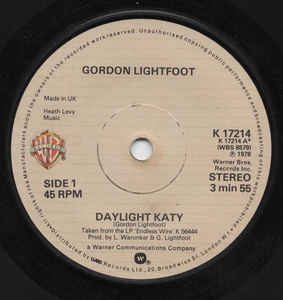 Daylight Katy has a constant relationship with the sea, walking by it, walking to it, living by it and talking to the sea. Her "old man" is fast asleep, while Katy "lives nine lives in her midnight world." The lyrics tell us that Katy "lives in town with her high-heeled friends…" The ethereal portrait of Daylight Katy may have struck a chord for many radio listeners in Vancouver who spent many of their own days by the sea.
"Daylight Katy" was Gordon Lightfoot's final Top 40 commercial success in Vancouver. On numbers of YouTube posts, people leave comments like this one: "I remember hearing him speaking about this song and he revealed it was about his golden cat. She was friendly and wandered about all night but came home at daylight. I love cats too so this song comes to mind whenever I see a golden kitty ( Katy)." I've received a number of comments about the song on this website, so, unless anyone knows why this isn't correct – the inspiration for "Daylight Katy" is Gordon Lightfoot's cat.
In 1997, Gordon Lightfoot received the Governor General's Performing Arts Award, the top honor a recording artist can receive in the performing arts in Canada. In 2018, Gordon Lightfoot is performing in 72 concert venues between March 3rd and November 24th.
March 10, 2017
Ray McGinnis
References:
Gordon Lightfoot, Canadian Bands.com
Gordon Lightfoot – The Man And His Music, Gordon Lightfoot.com
"Endless Love: Couple, Both 99, Celebrates 80th Wedding Anniversary," Inside Edition, New York, June 30, 2017.
Gordon Lightfoot Tour Schedule 2018, Gordon Lightfoot.com.
"Weekly Survey," CFUN 1410 AM, Vancouver, BC, July 8, 1978.
For other reviews on this website visit the Countdown.