#1109: Dear Delilah by Grapefruit
Peak Month: March 1968
7 weeks on Vancouver's CKLG chart
Peak Position #10
Peak Position on Billboard Hot 100 ~ #98
YouTube.com: "Dear Delilah"
Lyrics: "Dear Delilah"
In 1938, Alexander Young was born in Glasgow, Scotland. When he was 25 years old, his family moved to Sydney, Australia. But Alexander, who had developed talents as a singer, songwriter, saxophonist, bassist and guitarist, chose to stay in the UK. He sought out ways to advance his musical career, including becoming a session musician. He adopted the stage name George Alexander, and was a member of the Bobby Patrick Big Six. Young's family were very musical. One of his younger brothers, George Young, formed a band called The Easybeats who had an international hit in 1966 called "Friday On My Mind". His much younger brothers, Malcolm (born 1953) and Angus (born 1955) founded the hard rock group AC/DC.
In the summer of 1967 George Young, now billed as George Alexander, was given a song writing contract with Apple Publishing. The catalyst for the song writing contract was a song he wrote called "Lullaby For A Lazy Day". On the link in the previous sentence you can hear the unreleased version of the song by The Beatles, which John Lennon found appealing. In the fall of 1967, Alexander formed a band called Grapefruit. Based in London, Grapefruit was first called The Grapefruit. Three former members of the mod-pop group, Tony Rivers and the Castaways, guitarists John Perry and Pete Swettenham, drummer Geoff Swettenham, joined George Alexander on bass to make Grapefruit a foursome.
Grapefruit were named by John Lennon after a book of the same title written by Yoko Ono. The group began as cheerful harmony pop/rockers. They had resemblances to the Easybeats, the Bee Gees, and some of the sound from the Beatles' Sgt. Pepper-era. Grapefruit was not as as sunny and perky as the Easybeats, not as melodramatic as the Bee Gees, and certainly not as inventive as the Beatles, they were nonetheless similarly skilled at blending melodic pop with sophisticated arrangements that employed baroque/psychedelic touches of strings, orchestration, and several varieties of keyboards. Chief among Grapefruit's effects were the vocoder and the phaser.
The development of a vocoder was started in 1928 by Bell Labs engineer Homer Dudley. The vocoder examined speech by measuring how a voices characteristics within a vocal spectrum change over time. Though originally made for examining spoken word, the vocoder began to be made use of in creating special voice effects in popular music and audio entertainment. Especially in the niche of electronic music. A phaser is an electronic sound processor used to filter a signal by creating a series of peaks and troughs in the frequency spectrum. Phasing became a popular effect with the introduction of the electric guitar in pop music. Songs like the Small Faces "Itchycoo Park" made good use of phasing in their climb up the charts in the fall of 1967.
Grapefruit's debut single was "Dear Delilah", the first of three singles from their debut album, Around Grapefruit.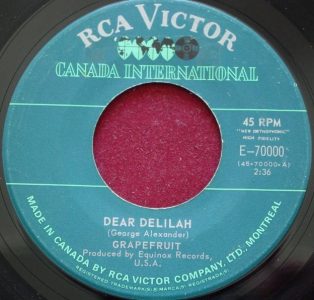 The choice of the name Delilah was full of cultural freight. Delilah is a woman in the Book of Judges. Her name means "she who weakened." In the Hebrew Bible Delilah is the "woman in the valley of Sorek" whom Samson loved, and who was his downfall. The story in chapters Judges 13 to 16 portrays Samson as a man who was given great strength by God but who ultimately lost his strength when Delilah allowed the Philistines to shave his hair off during his slumber. Delilah was approached by the lords of the Philistines, to discover the secret of Samson's strength, "and we will give thee, every one of us, eleven hundred pieces of silver." Three times she asked Samson for the secret of his strength, and all three times he gave her a false answer. The first time, he told her, "If they bind me with seven green withes that were never dried, then shall I be weak, and be as another man." Then he told her, "If they bind me fast with new ropes that never were occupied, then shall I be weak, and be as another man." The third time, he told her, "If thou weavest the seven locks of my head with the web…." On the fourth occasion, he gave her the true reason: that he did not cut his hair in fulfillment of a vow to God. Later, when Samson was asleep on Delilah's knees, she called up her servant to shave off the seven locks from Samson's head, then betrayed him to his enemies.
In 1968 the name Delilah was suddenly appeared on the pop charts. Tom Jones had an international hit called "Delilah." In Jones' case the song is about a deceiving woman who drives her jealous lover to murder her, after spying her with another man. In the case of "Dear Delilah" by Grapefruit, Delilah has left a man lost and alone after he finds out she didn't think he had the right stuff. Although both of these pop songs in 1968 diverge from the Biblical story, they drew on the iconic reference to Delilah as a woman who was untrustworthy and the undoing of her mate.
"Dear Delilah" went Top Ten in Dayton, Ohio; Geneva, New York; and #10 in Vancouver. In the UK the song peaked at #21.
A second single by Grapefruit, "Elevator", was promoted by Paul McCartney. A psychedelic-sunshine pop tune, it made the Top 20 in Calgary, Sault Ste. Marie (Ontario), Bowling Green and Cleveland (Ohio) and Louisville (Kentucky). A third single was a cover of the Four Seasons "C'Mon Marianne". Despite the release of several follow-up singles and the support of John Lennon and Paul McCartney, Grapefruit failed to catch on. At the end of 1968 Grapefruit's contract with Apple ended. John Lennon did suggest in early 1969 that the band should record the then-unreleased Lennon-McCartney song "Two Of Us", a suggestion the band didn't pick up on.
Grapefruit did have a Top Ten hit in the Netherlands in 1969 with a song called "Deep Water" that went Top 20 in Germany. Several changes in the band's line-up unfolded and then Grapefruit broke up in 1969. However, George Alexander and his brother George Young revived Grapefruit in 1971 for one last single release called "Universal Party". That single also failed to chart anywhere.
John Perry would later join the new wave band, The Only Ones, in the late 70s.
George Young went on to be part of the new wave group Flash and the Pan who had a hit in 1979 called "Hey St. Peter". Young went on to produce records for AC/DC, Rose Tatoo and John Paul Young, the latter who had an international hit called "Love Is In The Air". From 1995 until August 1997, he worked as a music manager with "Proud and Loud Management," based in Hamburg, Germany, until his death that summer of lung cancer.
April 24, 2017
Ray McGinnis
References:
Tompkins, Dave. How To Wreck a Nice Beach: The Vocoder from World War II to Hip-Hop. Stop Smiling Books, 2011.
Cowboy Col, Rockbrat Wonders: About the 'Other' Young Brother, Grapefruit & Accept, Australian Rock Review, November 5, 2013.
Nick Warburton, George Young, Harry Vanda and George Alexander, The Strange Brew.
Grapefruit: Forgotten Beatles Proteges Produced by Lennon & McCartney (and their AC/DC Connection), Dangerous Minds.net, August 29, 2016.
"Boss 30," CKLG 730 AM, Vancouver, BC, March 16, 1968.
For more song reviews visit the Countdown.