#15: Dear One by Darrell McCall
City: Calgary, Alberta
Radio Station: CFAC
Peak Month: May 1962
Peak Position in Calgary ~ #1
Peak position in Vancouver ~ did not chart
Peak Position on Billboard Hot 100 ~ did not chart
YouTube.com: "Dear One"
Lyrics: "Dear One"
Darrell McCall was born in 1940 in New Jasper Township, Greene County, Ohio. He was a childhood friend of future country music star Johnny Paycheck. At the age of 15, he landed a job as a disc jockey at a local Ohio radio show on Saturday mornings. During this time, he also performed as a musician at dances and other events. After graduating from high school, McCall joined the military and was stationed in Kentucky. In 1957 he appeared on an episode of Country Style U.S.A. In 1958, after finishing his duty in the army, McCall moved to Nashville with Paycheck to record as a duo. The duo failed, but McCall soon found work as a background singer during recording sessions for various artists including Faron Young, George Jones, and Ray Price. Next, he began to tour with the bands of Young, Price and Hank Williams Jr.
In 1959, McCall was contacted by Nashville producer Buddy Killen, and asked to join a pop band he was forming called The Little Dippers. The band released #9 Billboard Hot 100 hit "Forever" in 1960. It peaked at #9 in Calgary, #13 in Toronto, and #19 in Vancouver.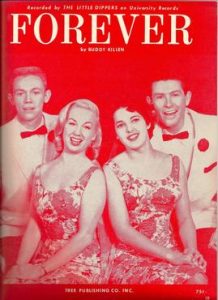 McCall was joined by three members of the Anita Kerr Singers and in 1961, McCall was signed by Capitol Records as a solo singer. He released two singles for the label – "My Kind of Lovin'" and "Call the Zoo". McCall appeared on The Porter Wagoner Show in 1961. But neither single charted, and Darrell McCall was subsequently released by Capitol.
He signed a record contract with Philips label in early 1962, and his first single release was a cover of the Larry Finnegan hit, "Dear One".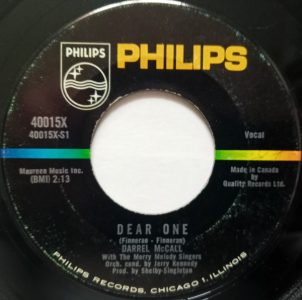 Larry Finnegan wrote "Dear One". Born John Lawrence Finneran in New York City in 1938, he wrote and recorded "Dear One" at the age of 23. The song climbed to #11 on the Billboard Hot 100, and #1 in both Australia and Sweden. In Sweden, Finnegan got a following and he had more hits on the Swedish Pop chart Sverigetopplistan. This included his cover of the Don Gibson song "Oh, Lonesome Me", which peaked in Sweden at #9, "Pretty Suzie Sunshine which peaked at #7 in Sweden, and his cover of the Chris Kenner song "I like it like that", which peaked at #5 in Sweden. In 1966, Larry Finnegan moved to Sweden and became more involved in the Swedish pop music industry. He continued to chart more of his single recordings into the Top Ten in Sweden with "Good Morning Tears" at #7, "Seven Days" at #4, and "Bound for Houston at #12. In 1967, Finnegan recorded a Swedish-language song titled "Maria, Min Vän", which topped the pop charts in Sweden for two weeks in July. He also recorded songs in German. Larry Finnegan moved to Switzerland, and in 1970 back to the USA. He died of a brain tumor at the age of 34 in 1973.
"Dear One" is a song about a guy who receives a letter in the mail from his girlfriend. In it he quickly learns that she has met another guy who is "tall, dark, (and) stole my heart away." She tells him "please don't cry, try not to be sad." Apparently, she's "tried so hard not to give in. But I lost my head and I lost my heart…" The lyrics don't tell us anything more about the guy's reaction to the 'Dear John' letter except that he knew he wouldn't be waiting for any more letters to be delivered from her by the mailman. He just took the bad news on the chin and carried on.
Darrell McCall's cover of "Dear One" failed to crack the Billboard Hot 100. However his cover of "Dear One" peaked at #1 in Calgary, #10 in Lafayette (LA) and #17 in Pensacola (FL).
German ballad singer, Rex Gildo, released a version of "Dear One" in West Germany in 1965 entitled "Leider, Leider". And in 1982, Finnish rock singer Rauli Somerjoki released a version of "Dear One" as a single in Finland entitled "Rakas Lurjus".
In 1963, Darrell McCall had a Top 20 hit on the Billboard Hot Country Songs chart with "A Stranger Was Here". It peaked at #17. Later in 1963, Darrell McCall performed the theme song for the Academy Award winning Western film Hud, starring Paul Newman.
In 1965, McCall decided to begin an acting career. He appeared in Nashville Rebel in 1966, a movie starring Waylon Jennings.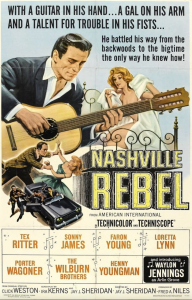 The synopsis of the movie from Ibdm.com: "Down a dusty road in the deep South, wanders a young man, Arlin Grove, with a guitar and his earthly belongings on his back, just released from the U.S. Army, with no place to go. When a Hootenanny comes to town, it just discovered that Arlin not only has an exciting voice, he also is a gifted guitar player. He is soon appearing on the Grand Ole Opry stage in Nashville." The movie poster exclaimed, "With a guitar in his hand…A gal on his arm, and a talent for trouble in his fists… He battled his way from the backwoods to the big time the only way he knew how!" Other country stars who appear in the film include Loretta Lynn, Faron Young, Porter Wagoner, The Wilburn Brothers, Tex Ritter, Sonny James, Chet Atkins, and Ralph Emery.
In 1967, McCall starred in Road to Nashville. Darrell McCall is one of a number of country music artists who hope he'll get a break by being discovered in Hollywood. The movie starred Marty Robbins, Faron Young, Webb Pierce, Johnny Cash, June Cater Cash, Waylon Jennings, Ralph Emery, Kitty Wells, Lefty Frizzell, Dottie West, Porter Wagoner, Hank Snow, and others.
In 1967, McCall appeared in the cast of the movie What Am I Bid? starring country music stars Leroy "Walk On By" Van Dyke and Faron Young.


The movie poster boasted "There's a new sound 'round!… Modern country music with the big-time beat of uptown, downtown, all around the town!"
The plot concerns Pat Hubbard (Leroy Van Dyke), following his San Diego discharge from the Navy, is on a bus returning to the family ranch in Phoenix, and has a stop-over in Hollywood. He goes to the Hollywood Bowl, where Faron Young and His Deputies are performing. Young persuades Pat to perform a song. Watching the show, but unacquainted, are Mike Evans on the prowl to boost his sagging music firm, and Maggie Hendricks, a reporter for People Magazine assigned to do a story on modern country music. They both sense in Pat the answer to their problems. They both head for the Hubbard ranch and are met by Pat's sister Beth, who tells them that Pat is only interested in becoming a cattle-barn auctioneer. This evolves into two romances, six songs sung by would-be-auctioneer Pat, some misunderstandings, and a whole lot of traveling music.
During his acting career, McCall also traveled to the American Southwest to perform in rodeos as a cowboy. In 1968, he decided to return to recording.
In 1968, he signed with Wayside Records and released four singles. In 1970, he released his first album, Meet Darrell McCall for Mercury Records. Hank Williams Jr. recorded a song penned by McCall in 1971 entitled "Eleven Roses". It became a No. 1 hit for Williams and resulted in a songwriting contract offer for Darrell McCall from Tree International Publishing. In 1974, he signed with Atlantic Records, releasing the single "There's Still a Lot of Love in San Antone." The following year he left Atlantic and signed with Columbia Records. With Columbia he recorded the hit duet "Lily Dale" with Willie Nelson, which became a top 40 hit and was awarded the "Best Duet of 1977" by Cashbox Magazine. After a few more singles with the label, McCall signed with Hillside Records in 1980 and released a single, but then decided to sign with RCA. In 1980, he released his final top 40 hit "Long Line of Empties." His final charting single "Memphis in May" was released for Indigo Records in 1984.
At the age of 83, Darrell McCall continues to perform in concert.
September 20, 2023
Ray McGinnis
References:
Bio, "Darrell McCall," darrellmccallcountry.com.
Little Dippers, "Forever", 1960.
"John Lawrence 'Larry' Finnegan," Findagrave.com.
"What Am I Bid?" Imdb.com.
"The Road To Nashville," Imdb.com.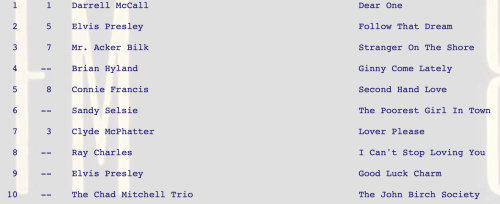 CFAX 960 AM, Calgary, Alberta, June 2, 1962 (Top Ten)