#631: Der Kommissar by Falco
Peak Month: January 1983
9 weeks on CFUN's Vancouver Chart
Peak Position ~ #8
Peak Position on Billboard Hot 100 ~ did not chart
Peak Position on Cashbox Top Singles ~ #74
YouTube.com: "Der Kommissar"
Lyrics: "Der Kommissar"
Johann "Hans" Hölzel was born in 1957 in Vienna, Austria. He was raised by his mother. Showing musical genius at a young age, his mother bought him a baby grand piano at the age of four. He was conscripted for military service in the mid-70's. In the late '70's he experimented with performance art, striptease, music and political satire. He performed under a number of pseudonyms, one which was John DiFalco. His military service influenced his choice to keep his hair short, making him stand out from the shabbier underground musicians in the Vienna music scene. In the late '70s', he was a member of Dradhiwaberl, a shock rock band. He signed as a solo artists with a recording company in 1981 after his independent release of "Ganz Wein" in 1981.
In 1981 he released a single titled "Der Kommisar". The single was an instant hit across Europe and climbed the charts in different nations in 1981, 1982 and 1983.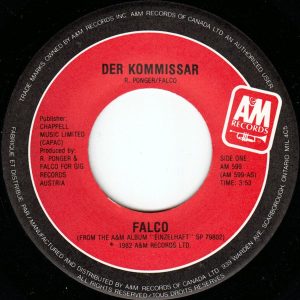 "Der Kommisar" is a song that includes what the lyrics refer to as a nursery rhyme: ""Don't turn around, look, look,/the Kommissar is out and about!/He'll keep his eye on you and you know why./Your zest for life will kill you." The lyrics concern the Commissioner of Police. Der Kommisar is interested in keeping his eye on the characters named in the song because of their drug consumption. Falco originally suggested the song as a B-side with his recording company in Austria due to the subject matter of the song and it being a German-language song with rap verses. In the official music video for Falco's German-language version of "Der Kommissar", Falco appears in front of a blue screen while stock footage of police cars patroling the streets at night are in the background. Falco runs in place, suggesting he is running away from the police, while lip-synching the song.
"Der Kommisar" reached #1 in Austria, France, Germany, Italy, Japan and Spain. The single also climbed to #2 in Switzerland, #3 in Norway, and #4 in Sweden and New Zealand. It topped the year-end singles chart for 1982 in Italy. In North America, "Der Kommisar" climbed to #8 in Vancouver, #1 in Regina, #2 in Halifax, #3 in Oshawa and #4 in Hamilton and Detroit. Otherwise, in 44 states in the USA "Der Kommisar" by Falco got almost no airplay.
"Der Kommisar" was covered by the British band, After The Fire, who released an English-language version of the song. It climbed to #5 on the Billboard Hot 100 in 1983 and #2 in South Africa.
In the winter of 1985-86, Falco scored a #1 hit on the Billboard Hot 100 with "Rock Me Amadeus". The tune went to #1 in Toronto, Hamilton, Ottawa, Montreal, Edmonton, Saskatoon, Regina, Boston, New York City, Chicago, Philadelphia and Minneapolis/St. Paul. In June 1986, Falco had another hit titled "Vienna Calling". The single climbed into the Top Ten in Los Angeles, San Diego, Minneapolis/St. Paul and Vancouver. At the end of 1985, Falco released a song titled "Jeanny". It was controversial as the subject was the musings of a stalker and his relationship with a woman named Jeanny. The song climbed to #1 in Austria, Germany, Norway, Sweden and Switzerland. It also climbed to #5 in Japan.
In 1986, Falco scored two more Top Ten hits in Europe: "The Sound Of Musik" (Austria and Germany) and "Coming Home (Jeanny Part 2)" (Austria, Germany, Switzerland and Norway). In 1987 he had Top Ten hits in Austria with "Body To Body" and "Weiner Blut". That year Falco embarked on a world tour that concluded in Japan. In his personal life, Falco was addicted to both alcohol and cocaine. This created difficulties in his creative work and in his relationships. In 1992, Falco scored a #3 hit in Austria with "Titanic". He returned to the Top Ten in the Austrian singles chart in 1996 with "Mutter der Mann mid dem Koks ist da" and "Naked".
Falco was inspired by David Bowie and trusted that acting in rock videos was an important aspect of artistic expression of the song.
In total, Falco released seven studio albums before his death in 1998 when his Mitsubishi Pajero SUV collided with a bus in the Dominican Republic. He was 40 years old. After his death three posthumous studio albums were released. The first included the single, "Out Of The Dark", which climbed to #2 in Austria and Germany, and #3 in Switzerland.
In Vienna, the restaurant Marchfelderhof keeps a permanent reserved table for Falco.
February 22, 2019
Ray McGinnis
References:
Falco interview, American Bandstand, ABC, 1986.
Maria Shriver interviews Falco, CBS Morning News, 1986.
Falco (Musician) bio, Wikipedia.org.
"C-FUN Top Thirty," CFUN 1410, Vancouver, BC, January 15, 1983.
For more song reviews visit the Countdown.