#850: Detroit Rock City by KISS
Peak Month: April 1977
7 weeks on Vancouver's CKLG chart
Peak Position #6
Peak Position on Billboard Hot 100 ~ did not chart
YouTube.com: "Detroit Rock City"
Lyrics: "Detroit Rock City"
Kiss formed in 1973 in New York City. Their distinctive presence on stage with face paint and often ghoulish outfits made them darlings of the glam rock scene. On stage they breathed fire, spat blood, had drum sets that levitated, guitars that smoked, rockets shooting and fireworks of all kinds. The bands original lineup consisted of rhythm guitar and vocalist, Paul Stanley, Gene Simmons on bass guitar and vocals, lead guitarist and vocalist, Ace Frehley, and Peter Criss on drums and vocals. They remained the bands' lineup until 1980 when Criss left for a solo career.
Gene Simmons was born in Haifa, Israel, in 1949. His birth name was Chaim Witz. In 1957 he and his mother immigrated to New York City. According to KISS biographers, David Leaf and Ken Sharp, when she was 14 years old Flora Klein was a passenger on a train bound for a Nazi concentration camp. She survived the Holocaust. This shaped young Chaim and his awareness of the human capacity for both goodness and barbarism. When Chaim Witz arrived in America he had his name changed to Eugene Klein, and later shortened Eugene to Gene. In 1964, 14-year-old Gene Simmons in New York saw The Beatles on the Ed Sullivan Show. He was inspired to form a band called The Missing Links. Over the following years he was part of a number of bands. In 1970 he formed a band called Rainbow with Stanley Eisen, who later changed his stage name to Paul Stanley. Over the next few years the band morphed into Wicked Lester and then became KISS.
Stanley Bert Eisen was born in New York in 1952. His Jewish parents fled Nazi Germany to Amsterdam and then to New York City. From early childhood he watched American Bandstand with Dick Clark. His influences were Jerry Lee Lewis, Dion and the Belmonts, Little Richard and Eddie Cochran. When he was seven he was given a guitar to play.
George Peter John Criscuola was born in Brooklyn in 1945. He fell in love with the drum and studied with his idol, American jazz great, Gene Krupa. After playing with a number of bands he found himself in search of the next thing. He placed an ad in Rolling Stone Magazine in August, 1972, that read: "EXPD. ROCK & roll drummer looking for orig. grp. doing soft & hard music. Peter, Brooklyn." Gene Simmons and Paul Stanley answered the ad. The band added Ace Frehley to their lineup in December 1972. Criss had been in a band called Lipps. Stanley suggested they name their new band KISS.
Paul Daniel "Ace" Frehley was born in The Bronx in 1951. His grandparents were Dutch immigrants to Pennsylvania. Frehley was given an electric guitar for Christmas in 1964, when he was 13. He never attended music school, but everyone in his family was musical and he was raised on music. He was kicked out of two high schools and dropped out of a third. For awhile he was involved in street gangs and credits the guitar for saving his life. Before he joined KISS in December 1972, he was variously a mail carrier, a furniture deliverer and a liquor store delivery boy. Once he became a member of KISS, Frehley designed the band's double-lightning-bolt logo. KISS released their debut self-titled album in 1974. But it was their fourth album release, Alive!, featuring the single, "Rock And Roll All Nite", that got them wide exposure on AM Top 40 radio. The song became a Top 20 single.
However, it was KISS's fourth studio album, Destroyer, that put the band on a unending trajectory toward international stardom. More successful an an album band, Destroyer climbed to #11 on the Billboard 200 Album chart. Their first single release, "Shout It Out Loud", stalled at #31 on the national charts in the USA. But in Vancouver, the song peaked at #7. A followup single, "Flaming Youth", failed to get much radio play. "Detroit City Rock" missed the Billboard Hot 100. But in Vancouver the song became a hit.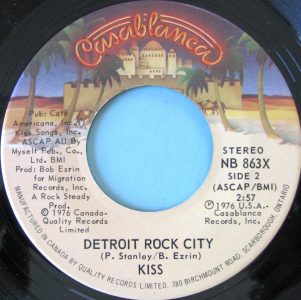 "Detroit Rock City" was the opening track on KISS's 1976 album, Destroyer. Paul Stanley and Bob Ezrin co-wrote the song. It's about a real KISS fan who died in a car accident on route to a KISS concert. In David Leaf and Ken Sharp's KISS: Behind The Mask – The Official Authorized Biography, Paul Stanley remembers: "I had the basic riff of the song, the 'Get up, get down' part, but I didn't know what the song was about except it was about Detroit. And then I remembered on the previous tour, I think it was in Charlotte, somebody had gotten hit by a car and killed outside the arena. I remember thinking how weird it is that people's lives end so quickly. People can be on their way to something that's really a party and a celebration of being alive and die in the process of doing it. So that became the basis for the lyric." So the song is set in Detroit, but inspired from a fatal car accident in Charlotte, North Carolina. When KISS played the song live, in concert, they played sounds of crashing cars at the end of the song as they transitioned to another track off the Destroyer album called "King Of The Night Time World". Paul Stanley was also the lead singer on "Detroit Rock City".
The song, recorded and released as a single in 1976, was the third single from Kiss's album Destroyer and was planned to be their last in support of the album. As a single, it did poorly in sales and radio play (other than in the city of Detroit), and failed to chart in the U.S., even though it would prove to be a fan favorite. It came as a surprise that the B-side "Beth", a ballad got stronger airplay. So the single was reissued with "Beth" as the A-side and "Detroit Rock City" as the B-side. Still, "Detroit Rock City" peaked at #6 in Vancouver. And "Beth" made it to #1 in Vancouver on a separate chart run. The only other radio market where "Detroit City Rock" did well as a charted single was in Lansing, Michigan, where it climbed to #11.
"Detroit Rock City" was included in the soundtrack for the 1999 comedy movie, Detroit Rock City, starring Adam Rifkin, about a Kiss concert in Detroit in 1978. The plot concerns four rebellious teenage boys in a KISS cover band who try to see their idols in concert in Detroit.The Detroit Tigers often use the song when the team takes the field at the beginning of the game. And the Detroit Red Wings play the tune before the first face-off of a home game and also during television and radio broadcasts.
In the fall of 1976 KISS had their biggest hit single, a ballad called "Beth". In 1983 the band did away with their make-up and toured "unmasked." Counting the 1978 solo albums, Kiss has been awarded 28 gold albums to date, the most of any American rock band. The band has sold more than 40 million albums in the United States. Their worldwide sales exceeds 100 million records. Individual members of the band pursued their own solo careers as well as recording and touring as KISS. In 1995 they had a reunion tour. However, they released Psycho Circus in 1998 and Sonic Boom in 2009 and Monster in 2012. Though each charted into the Billboard 200 Album Top Ten, none achieved the Double Platinum certification of Destroyer.
March 26, 2018
Ray McGinnis
References:
Leaf, David and Ken Sharp. KISS: Behind the Mask – The Official Authorized Biography. Grand Central Publishing, New York, NY, 2003.
KISS biography, Rolling Stone, New York, NY.
Adam Rifkin, Detroit City Rock – Trailer, New Line Cinema, 1999.
Paul Stanley – bio, Paul Stanley.com
Simmons, Gene. "KISS" and Make-Up. Century, 2002.
"Vancouver's Official Music Survey," CKLG 730 AM, Vancouver, BC, April 19, 1977.
For more song reviews visit the Countdown.