#1291: Diamond Mine by Blue Rodeo
Peak Month: May 1989
8 weeks on Vancouver's CKLG chart
Peak Position #18
Peak Position on Billboard Hot 100 ~ did not chart
YouTube.com: "Diamond Mine"
Lyrics: "Diamond Mine"
Blue Rodeo formed as a band in 1984 and had their first gig at The Rivoli in Toronto, February 1985. Blue Rodeo has sold over 4 million albums and won seven Juno awards. In 2012 they were inducted into the Canadian Music Hall of Fame. In 1989 the band consisted of co-founders Jim Cuddy, Greg Keelor, and Bazil Donovan, Cleave Anderson and Bob Wiseman.
Jim Cuddy was born in Toronto in 1955. He got a guitar at the age of ten and began writing songs in his teens. With classmate Greg Keelor they had several adventures with the music scene. Moving to New York City at one point they formed a band called Fly to France, a ska, reggae, punk-rock band. They had a poor manager and learned the hard way that getting into the record business and even getting a gig was a tough sell. Eventually, they moved back to Toronto and a cassette with their music got the attention of people at A&M Records with their new band, Blue Rodeo, in the fall of 1984.
Greg Keelor was born in Inverness County, Nova Scotia, in 1954. He went to North Toronto Collegiate Institute High School with Jim Cuddy. After university they formed a punk rock band called the Hi Fi's. They went to New YorkCity in 1981 to learn more about the music scene. When they returned they formed Blue Rodeo in the summer of 1984. Keelor's influences include the California psychedelic rock bands Country Joe & The Fish and Quicksilver Messenger Service. He recalls they "picked the name Blue Rodeo just to underline the country a little bit." Keelor has been a member of Blue Rodeo since it formed and in 2013 he was made an Officer of the Order of Canada along with Jim Cuddy, "for their contributions to Canadian music and for their support of various charitable causes".
Bazil Donovan was born in 1955 in Halifax, Nova Scotia, and grew up in Toronto. He started playing guitar when he was nine and added bass at age 13. He joined a high school band called Demons who played at school dances. In the late 70s he played and toured with a country-rock group called the All Star Bar Band. In 1980 he became a member of the new wave R&B infused group, Sherry Kean and The Sharks. He also began playing with a reggae ska band called Strike One in 1983, and briefly with a punk rock band called Scab. In 1984 Jim Cuddy and Greg Keelor placed an ad in Toronto's NOW Magazine. It read: "If you've dropped acid at least 20 times, lost three or four years to booze and looking good and can still manage to keep time, call Jim or Greg." Donovan answered the ad, as did his former Sharks bandmate, drummer Cleave Anderson. Bazil recalls "while eating lunch at The Bamboo, Jim, Greg and Cleave were talking about who they should get on bass. Since we all knew each other from the circuit, Greg asked Cleave what I was up to. At that moment Jim remembered seeing my name as one of the people who had answered their ad. They called me from the restaurant and asked if I could rehearse the next day. I remember walking into the rehearsal space, which also doubled as Greg's apartment, and we just started right in working on "Rose Coloured Glasses". There was no audition, no meeting or anything."
Cleave Anderson always wanted to be a rock musician. After high school he joined the Battered Wives, a Toronto punk band that opened for Elvis Costello on his first North American tour. Then he joined a Hamilton punk band called the Forgotten Rebels. After playing with The Sharks, he encountered Jim Cuddy and Greg Keelor while he was celebrating the birth of his son, Tristan. It was then he was asked to be the drummer for Blue Rodeo. He stayed with the group until after Diamond Mine was released, returning to work for Canada Post while he raised his family. But Anderson has returned to play in a number of bands including since 1997 the country-folk group the John Borra Band, and old school punk electronica group, Screwed.
Bob Wiseman was born in Winnipeg, Manitoba, in 1961. He joined Blue Rodeo in 1984 and by 1991 had released four solo albums. In 1991 he was nominated for a Juno Award as Most Promising Male Vocalist. In 1992 he quit the band and has since released another nine solo albums. He has had numbers of other recording artists appear on his albums including Daniel Lanois, Edie Brickell, Jane Siberry and Serena Ryder. Wiseman has also helped produce 29 studio albums for other recording artists and numerous films, videos and TV productions.
Though Blue Rodeo charted "Try" to #3 in Hamilton in 1987 and #6 on the Canadian RPM singles chart, and "Till I Am Myself Again" to #1 in Hamilton and #3 on the Canadian RPM singles chart in 1990, neither song reached the Top 20 in Vancouver. However, it was "Diamond Mine" that garnered the strongest sales response in Vancouver among Blue Rodeo's earlier single releases. "Diamond Mine" is the debut single release from Blue Rodeo's second studio album, Diamond Mine.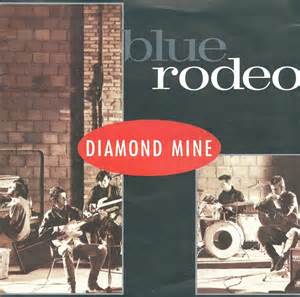 "Diamond Mine" is a song about differing perceptions of the strength of a relationship between two lovers. One person says of the relationship that the party's over and they're not in love anymore. On top of that, they talk about other boys. For the singer there are rumors and people saying things that are cruel. Nonetheless, there is a deeper, nonverbal connection seen through there eye contact: our love shines like a diamond mine. The song connected with anyone who ever found themselves in a relationship with someone whose words don't align with the nonverbal and physical side of the relationship: holding eye contact, the strength of a hug etc. And other listeners could imagine the scenario, or had seen it firsthand as partners in a couple put their relationship dynamics on display in front of friends at a party.
"Diamond Mine" peaked at #11 in Hamilton (ON), and #18 in Vancouver.
In 1990 Blue Rodeo won Juno Award for the Group of the Year, although neither the single, "Diamond Mine", or the album Diamond Mine, were nominated for any Juno Award.
In 2015, during the Canadian Federal election, members of Blue Rodeo spoke about their newly released song, "Stealin' All My Dreams". The song was a list of objections to the policy decisions of the Conservative government led by Prime Minister Stephen Harper. It's lyrics included: "Our pipeline will spill its disease/You shut down all the research libraries/And you muzzled all the white coats in your laboratories/Then you set your sites on the CBC…/War planes, computer games, robo-calls & Senate shame/It's a crime if I descent/Supreme Court held in your contempt…" Blue Rodeo's sentiment was in the ascending and the Liberal Party under Justin Trudeau won the October 19 election that year.
In 2016, Blue Rodeo consists of Jim Cuddy (vocals/guitar), Greg Keelor (vocals/guitar), Bazil Donovan (bass), Glenn Milchem (drums/vocals), Bob Egan (guitar/pedal steel, mandolin), Mike Boguski (keyboards), Colin Cripps (guitar/vocals). They released 1000 Arms, their 15th studio album, in 2016. Greg Keelor has developed some hearing loss and their recording sessions are having to adjust to this development.
November 3, 2016
Ray McGinnis
References:
Blue Rodeo Inductees, Canadian Music Hall of Fame, 2012
Stuart Henderson, Blue Rodeo Discuss Death, Darkness And 'In Our Nature', Huffington Post, November 10, 2013
David Dye, Blue Rodeo On World Cafe, NPR, December 12, 2016
Nick Patch, Blue Rodeo's Jim Cuddy Explains Band's Decision to Blast Stephen Harper's Government, Toronto Star, September 29, 2015
Andre Gagne, It's Been Over 30 Years but, for Blue Rodeo, It Hasn't Hit Them Yet, Ottawa Life, Ottawa, Ontario, February 20, 2017
Brad Wheeler, Blue Rodeo Enters the Autumn of its Career, Globe And Mail, Toronto, Ontario, November 6, 2013.
"Vancouver's Top 40 Hot Hits," CKLG 730 AM, Vancouver, BC, May 17, 1989.
For more song reviews visit the Countdown.