#663: Dis-Moi, Dis-Moi by Mitsou
Peak Month: July 1991
13 weeks on Vancouver's CKLG chart
Peak Position #10
Peak Position on Billboard Hot 100 ~ did not chart
YouTube: "Dis-Moi, Dis-Moi"
Lyrics: "Dis-Moi, "Dis-Moi"
In 1970 Mitsou Annie Marie Gélinas was born in Loretteville, Quebec. (The city amalgamated into Quebec City in 2002). She became a child star on French-Canadian television. Canadianbands.com states that she first began acting at age five. She began appearing in the soap opera Terre humaine, which first aired in 1978. The soap opera concerned the lives of the Jacquemins, a large farming family in rural Quebec. In addition to acting, Mitsou also started to explore singing as a vocation in the early 80s. In 1988 she signed a record deal with Isba Records. Her debut single, "Bye Bye Mon Cowboy" was an unusual French-language crossover into the English Top 40 radio market across Canada. The song spent five weeks on the CKLG Top 40 in the summer of 1989, after peaking at #2 in Montreal in 1988.
A subsequent single release titled "Mademoiselle Anne" was a commercial failure. However, her next single release, "Dis-Moi, Dis-Moi" was another cross-Canada Top 40 hit.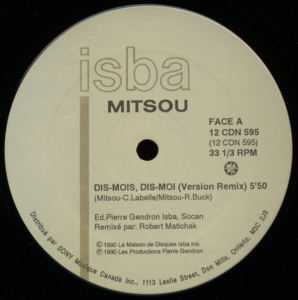 Mitsou wrote "Dis-Moi, Dis-Moi" in French. Along with radio airplay, "Dis-Moi, Dis-Moi" featured a risqué video that featured Mitsou with a number several male and female models nude in a shower room. She sat behind the back of a chair in the nude, while the seat back hid her breasts from view. In other scenes she goes under the showered partially clothed and alternately unclothed. Writing about the furor, the Montreal Gazette published an article with a headline that read "English Canada: Show Them A Breast and they Freak." MuchMusic in English Canada banned the video, but its French-Canadian counterpart featured the "Dis-Moi, Dis-Moi" video win heavy rotation.
In the song Mitsou wonders "But what do I do with you? She sings that she doesn't want him anymore. She complains that he follows her everywhere and "you're hanging from my neck." With consternation she summarizes "you don't get it." One of the singers problems with the guy who is still hanging on is that he wants her to fall in love with his ideas. She also complains that he relied too much on her, and lacked independence. Finally she sings "Too bad. It's over. You're cooked."
"Dis-Moi, Dis-Moi" peaked at #10 on CKLG in Vancouver (BC) and spent 13 weeks on the Top 40. Elsewhere in 1991 she had a number-one hit on the French-language radio Top 40 charts in Quebec with "Lettre à un Cowboy".
Her next single release from her 1992 EP Heading West was "Deep Kiss". The single climbed into the Top 20 in Vancouver (BC) and even made the Top 30 in Milwaukee (WI). A subsequent album, Tempted, was an English-language album with the lead track written by Ru Paul. In 1994 she released her album titled Ya Ya. Aside from her cover of the 1961 Lee Dorsey Top Ten hit from that year, the other tracks were in French. A 1995 Christmas album titled Noel was another French-language effort with Quebecois holiday favourites. Also in 1995, Mitsou covered a 1970 hit by Marc Hamilton titled "Comme j'ai toujours envie d'aimer". Subsequently, she won the 1995 MuchMusic Video Award for Best French Video.
Mitsou had released eight albums/EPs and twenty singles between 1988 and 2011. In 2009 Mitsou became the face of Montreal-based Lise Watier Cosmétiques in their new advertising campaign. That year she also was the featured host of the Radio-Canada cooking show Kampaï! À votre santé. In 2010 at the age of forty, her longtime partner, Iohann Martin, threw a surprise wedding for her.
August 22, 2020
Ray McGinnis
References:
"Mitsou bio," Canadianbands.com.
Tralee Pearce, "Mitsou," Globe and Mail, November 15, 2003.
Michelle Coude-Lord, "Mariage Suprise Pour Ses Quarante Ans: Mitsou a Dit Oui," August 27, 2010.
"Mitsou Gélinas is New Face of Lise Watier Cosmétiques," Lise Watier Cosmétiques, Montreal, February 25, 2009.
"CKLG Top 40," CKLG 730 AM, Vancouver, BC, July 22, 1991.
For more song reviews visit the Countdown.