#357: Do They Know It's Christmas? by Band Aid
Peak Month: January 1985
8 weeks on Vancouver's CKLG chart
Peak Position #1
Peak Position on Billboard Hot 100 ~ #11
YouTube: "Do They Know It's Christmas"
Lyrics: "Do They Know It's Christmas"
Band Aid was the name of a mostly British supergroup formed to record a song in response to news reports of the famine in Ethiopia. The famine had been ongoing since 1983, and recording artists were motivated by what they were seeing on TV broadcasts in the fall of 1984 as the situation worsened. Band Aid was comprised of members of British bands Bananarama, the Boomtown Rats, Culture Club, Duran Duran, Heaven 17, Status Quo, Spandau Ballet, Style Council, and Ultravox. American R&B band Kool & The Gang – who happened to be in London during a visit to their record label in the UK – also agreed to take part in the project. As well, Phil Collins from Genesis, Sting from the Police, and George Michael from Wham! were featured vocalists.
Bananarama is a girl group trio formed in London in 1979 by Bristol girlfriends Sara Dallin and Keren Woodward, and Dublin-born Siobhan Fahey. Between 1982 and 1989 they had ten Top Ten songs on the UK Singles chart including "Shy Boy", "Cruel Summer", "Venus" and "I Heard A Rumour". The Boomtown Rats were formed in Dublin in 1975 by Pete Briquette, Gerry Cott, Simon Crowe, Johnnie Fingers and Bob Geldof. Between 1977 and 1981, the Boomtown Rats had nine Top Ten hits on the Irish pop charts, five of which made the Top Ten on the UK Singles charts. Of these, their most successful international hits were "I Don't Like Mondays" and "Banana Republic". Culture Club was formed in London in 1981 by Boy George, Roy Hay, Mikey Craig and John Moss. Between 1982 and 1986 they had a string of hits, eleven of which made the Top Ten in Canada. These include "Do You Really Want To Hurt Me", "Church Of The Poison Mind", "Karma Chameleon", "Miss Me Blind" and "The War Song".
Duran Duran is an English new wave band formed in Birmingham in 1978. The bandmates were Simon LeBon, Nick Rhodes, Andy Taylor, John Taylor and Roger Taylor (who were not related). Their first Top Ten hit in the UK (and New Zealand) was "Girls On Film" in 1981. They've had 14 Top Ten hits in the UK between 1981 and 2004, including "Hungry Like The Wolf", "Union Of The Snake", "The Reflex", "The Wild Boys", "A View To A Kill", "Notorious" and "Ordinary World". Heaven 17 is an English new wave synth-pop band formed in Sheffield in 1980. Its members are lead vocalist Glenn Gregory, Craig Marsh and Martyn Ware. Their debut single in 1981, "(We Don't Need This) Fascist Groove Thang", was banned by the BBC for its lyric "Reagan's president-elect, fascist god in motion, generals tell him what to do, stop your good time dancing." Though they had several Top Ten hits in the UK and Ireland in 1983, Heaven 17 were a peripheral band in North America on the dance charts. Status Quo was an English band formed in 1962. Founder Francis Rossi and Rick Parfitt – who both appeared on their 1968 hit single "Pictures of Matchstick Men" – were part of Band Aid. Status Quo had 22 Top Ten hit singles on the UK Singles chart between 1968 and 1990. Spandau Ballet was a new wave, synth-pop, blue-eyed soul band formed in London in 1979. Their members were John Keeble, Gary Kemp, Martin Kemp, Steve Norman and Tony Hadley. From 1980 to 1984 Spandau Ballet had eight Top Ten hits on the UK Singles chart. But they had to wait until 1984 for "True" to break into the North American record market.
Paul Weller from the Style Council was also a vocalist on "Do They Know It's Christmas". They were a sophisti-pop/new wave/jazz band. Between 1983 and 1987 the Style Council had seven Top Ten hits on the UK Singles chart. Their most successful in the USA and Canada was "My Ever Changing Moods" in 1984. Weller was with the Jam before he left to form Style Council in 1983. Ultravox were a new wave band from the mid-70s that finally settled on their name by 1978. Classic lineup members Midge Ure and Chris Cross took part in Band Aid. Ultravox had a #2 hit in the UK in 1981 titled "Vienna", and their third Top Ten hit in Britain – "Dancing With Tears In My Eyes" – was a #12 hit in Vancouver.
George Michael was one half of the pop duo Wham! Their first Top Ten hit in the UK in 1982, "Young Guns (Go For It!)", was a #3 hit in Montreal. But it was in 1984 when their fifth Top Ten hit in the UK, "Wake Me Up Before You Go-Go", became an international hit. This was followed by "Careless Whisper", "Freedom", "Everything She Wants", "Last Christmas", and "I'm Your Man". George Michael went on to have a very successful solo career with 25 Top Ten hits internationally between 1984 and 2004.
Phil Collins was a member of Genesis, and became a solo artist in 1981. Over the following decades he has had over twenty Top Ten hits internationally. These include "You Can't Hurry Love", "Against All Odds", "Easy Lover", "Sussudio", "One More Night", "A Groovy Kind Of Love", "Two Hearts" and "Another Day In Paradise". Sting was lead singer for The Police from 1977 to 1984. Their hits included "Message In A Bottle", "Da Do Do Do, De Da Da Da", "Don't Stand So Close To Me", "Every Little Thing She Does Is Magic", and "Every Breath She Takes". Sting left the Police in March 1984 to pursue a solo career. His hit singles included "If You Love Someone Set Them Free", "Fortress Around Your Heart", "Be Still My Beating Heart" and "Fields Of Gold".
Kool & The Gang were formed in 1964 in Jersey City, New Jersey. Its members included Robert "Kool" Bell, Dennis Thomas, and James "T.J." Taylor. Over the years the R&B band has had almost thirty lineup changes and has consisted over the years of between seven and thirteen members. Their most notable pop-R&B hits include "Jungle Boogie", "Hollywood Swinging", "Celebration", "Fresh" and "Cherish". They were the one non-British recording act to take part in Band Aid.
Band Aid released "Do They Know It's Christmas?" ahead of the holiday season in early December 1984.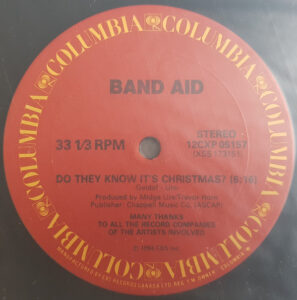 On October 23, 1984, Bob Geldof watched a BBC report on the famine in Ethiopia and was stirred to respond in some way. He made contact with Ultravox's Midge Ure in early November and the two agreed to meet. On November 5, 1984, Geldof and Ure met to discuss writing and recording a single to raise funds for charity relief to address the famine in Ethiopia.
After they met Geldof recalls, "I then rang Sting and he said, yeah, count me in, and then [Simon] Le Bon, he just immediately said tell me the date and we'll clear the diary. The same day I was passing by this antique shop and who is standing in there but Gary Kemp, just about to go off on tour to Japan. He said he was mad for it as well and to wait 10 days till they [Spandau Ballet] got back in the country… suddenly it hit me. I thought, 'Christ, we have got the real top boys here', all the big names in pop are suddenly ready and willing to do this… I knew then that we were off, and I just decided to go for all the rest of the faces and started to ring everyone up, asking them to do it."
Geldof came to Ure's home on November 6, 1984, and the pair revised a melody Ure has written. Geldof added lyrics based on a song he had written for the Boomtown Rats. Geldof reflected later, "It was lucky in a way, because I had already written this song, which I had provisionally called 'It's My World', and I knew it would be suitable if I just changed the words a bit and called it 'Do They Know It's Christmas?' Midge, reliable as ever, sent down this tune which is the sort of Christmassy bit at the end and we married the two together."
The song offered those following news of the famine to buy a record where all the proceeds were going to famine relief. During the Ethiopian Famine of 1983-85 up to 1.2 million people died. There were 400,000 refugees and another 2.5 million people were displaced within the nation. The death, hunger and displacement was due to a combination of drought, famine and rule of the military junta.
Midge Ure revised Geldof's lyric "And there won't be snow in Ethiopia this Christmas time," to "And there won't be snow in Africa this Christmas time." Ure decided that having "Ethiopia" in the line didn't scan well vocally.
On the B-side of the single there were spoken word messages from members of Big Country, David Bowie, Holly Johnson from Frankie Goes To Hollywood, and Paul McCartney. Annie Lennox also sent a spoken word message, but it arrived too late to be included in the single release given the very tight schedule for pressing the record before Christmas. As well the Thompson Twins had been asked to sing on "Do They Know It's Christmas?", but were unable while touring away from the UK.
The song was recorded on November 25, 1984, with Boy George the last vocalist to be recorded after getting on a transatlantic flight from New York to London. The single was aired on BBC's Radio 1 the next day and released on December 3rd. Its refrain made a direct appeal to radio listeners, letting them know they could make a difference: "Feed the world. Let them know it's Christmas time."
In response to the song's release, Melody Maker wrote "Inevitably, after such massive publicity, the record itself is something of an anti-climax, even though Geldof's sense of universal melodrama is perfectly suited to this kind of epic musical manifesto. Midge Ure's large-screen production and the emotional vocal deliveries of the various celebrities matches the demonstrative sweep of Geldof's lyric, which veers occasionally toward an uncomfortably generalised sentimentality which threatens to turn righteous pleading into pompous indignation. On the other hand, I'm sure it's impossible to write flippantly about something as fundamentally dreadful as the Ethiopia famine." While others criticized the sentiment in the phrase sung by Bono: "Well tonight thank God it's them instead of you."
After over a century of missionaries coming to Africa from Europe, for many music critics the question "Do they know it's Christmas time at all?" seemed ignorant. After all, the World Council of Churches listed over 94 member churches in Africa with 165 million members. And there were many more conservative, independent, churches thriving in Africa that were not part of that world body. The many hundreds of millions of Africans, famine or not, knew it was Christmas.
As well, the lyrics in "Do They Know It's Christmas?" explained in Africa "no rain or rivers flow." It was true that the rainfall in Ethiopia during the 1983-85 famine had been significantly reduced. But there was still some rainfall. Many rivers in Ethiopia, including the Blue Nile, Awash, Shebelle, Gestro, Erer, Fafen, were well below their normal levels. But the hundreds of rivers across Ethiopia were not dry river beds. Though "Ethiopia" didn't scan as well as "Africa", Midge Ure's small change to the lyrics made it sound like pop stars were telling the world that across the whole continent of Africa "no rain or rivers flow." This left people along the banks of the still flowing Nile – the longest river in the world that flowed through eleven countries – scratching their heads. As were the puzzled people who lived near the Congo (220 meters at its deepest point), the Niger River, White Nile, Zambezi, Ubangi, Orange, Limpopo, Senegal and other major rivers in Africa.
The song's lyrics inform "there won't be snow in Africa this Christmas time." Africa does have about a third of its countries in the Southern Hemisphere. And so, for example, snow typically falls on Table Mountain in South Africa in July and August.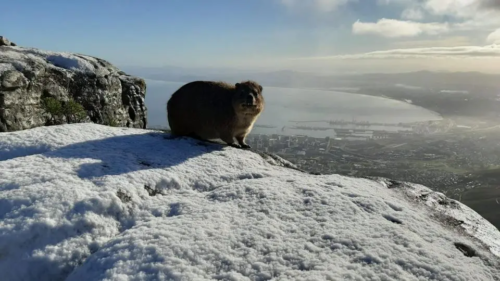 Snowfall on Table Mountain, South Africa, August 30, 2020.
But Africa has 32 countries that are partially or completely in the Northern Hemisphere. Snow regularly falls in the Tibesti Mountains across Chad and Libya, Uganda's Rwenzori Mountains, Ethiopia's Simien Mountains (14930 feet), or Kenya's Mount Kenya (17,057 feet), Tanzania's Mount Kilimanjaro (19341 feet), among others. In Morocco, the Oukaïmeden ski resort has skiing on six ski lifts between 8,500 feet and 10,500 feet in the High Atlas Mountains. As the High Atlas Mountains were 31 degrees north of the equator, and the highest mountain was Toubkal at 13,671 feet, it was typical for snow to fall at Christmas time.
And another lyrical oops in "Do They Know It's Christmas?" stated that in Africa "nothing ever grows." Some of the main crops grown in Africa include corn, wheat, rice, beans, groundnut and cowpea. Agriculture employs 65 percent of Africa's labor force and is responsible for 32 percent of its gross domestic product. So, in Africa a great deal grows – about 8.3 million tonnes of rice per year. Although in 1983-85, for four states in Ethiopia there was drought and hardly anything was growing.
Despite some problematic lyrics, "Do They Know It's Christmas?" raised over £8 million for famine relief in Ethiopia within twelve months by November 1985. Eventually, the single raised over $24 million in USD (58 million in 2021). The success of Band Aid was a catalyst for the formation of USA For Africa and their hit "We Are the World" and raised over $63 million (equivalent to $152 million today) for humanitarian aid in Africa. While in Canada a supergroup called Northern Lights recorded "Tears Are Not Enough" which raised $3.2 million Canadian. And Band Aid also led to the creation of the Live Aid benefit concert on July 13, 1985. That concert and its spinoffs raised over £150 million for hunger relief (about $500 million USD in 2021).
Midge Ure wrote in his autobiography was that "Do They Know It's Christmas?" "is a song that has nothing to do with music. It was all about generating money… The song didn't matter: the song was secondary, almost irrelevant." Looking at a photo of a nineteen-year-old woman who survived the famine, Ure states: "…this is a girl who received an education via Band Aid. She has just passed her degree….That girl…is alive….if I have helped to keep someone alive, if they were going to die and I kept them alive until tomorrow, if I gave them some hope, that is good enough for me." While in 2010, Bob Geldof told the Daily Telegraph regarding "Do They Know It's Christmas Time?", "I am responsible for two of the worst songs in history. The other one is We Are The World. Any day soon, I will go to the supermarket, head to the meat counter and it will be playing."
"Do They Know It's Christmas" climbed to number-one in Australia, Austria, Belgium, Canada, Denmark, Ireland, Italy, Netherlands, New Zealand, Norway, Sweden, Switzerland, UK and West Germany. It peaked at #5 in Latvia and Slovenia. In Canada "Do They Know It's Christmas" peaked at #1 in Vancouver, Hamilton (ON) and Toronto, and #5 in Ottawa (ON) and Calgary (AB). In the USA the single peaked #1 in Meza (AZ) and Chicago, #2 in New York City, #3 in Miami, #5 in Boston, #8 in Houston, #10 in New Orleans and Honolulu.
After they recorded "Do They Know It's Christmas" the supergroup disbanded. But in 1989 Bob Geldof released a new version of "Do You Know It's Christmas" in order to raise more money for ongoing famine relief in Ethiopia. The only recurring recording act from the original version was Bananarama. Others taking part were Jason Donovan, Kylie Minogue, D Mob, Kevin Godley (from Godley & Creme), Cliff Richard, Jimmy Somerville, Lisa Stansfield, Technotronic, and Wet Wet Wet. This supergroup was billed as Band Aid II, and the single topped the UK and Irish charts in December 1989.
Then in 2004 Bob Geldof and Midge Ure assembled Band Aid 20 which featured Bono, Chris Martin from Coldplay, several members of the alternative rock band Keane, and others including Paul McCartney on guitar. And once again "Do They Know It's Christmas" climbed to #1 in Canada, Denmark, Ireland, Italy, New Zealand, Norway, Scotland, Spain, and the UK. It also peaked at #2 in Sweden, #3 in Belgium and the Netherlands, #6 in Finland, and #7 in Germany and Switzerland.
Finally, in November 2014 Bob Geldof and Midge Ure announced to the press that they were going to re-record "Do They Know It's Christmas" in aid of relief to address the Ebola crisis in West Africa. Vocalists in this recording included Ellie Goulding, Sinéad O'Connor, Angélique Kidjo, Chris Martin from Coldplay, Emeli Sandé, Bono, Sam Smith, Ed Sheeran, Seal, Bastille, Paloma Faith, One Direction, Rita Ora, and Olly Murs.
A number of lyrical changes were made to the 2014 version of "Do They Know It's Christmas". These include:
"Well, there won't be snow in Africa this Christmas time" is replaced with "Bring peace and joy this Christmas to West Africa".
"Where the only water flowing is the bitter sting of tears" is replaced with "Where a kiss of love can kill you and there's death in every tear"
"Well tonight thank God it's them instead of you" is replaced with "Well tonight we're reaching out and touching you"
"The greatest gift they'll get this year is life" is replaced with "A song of hope where there's no hope tonight".
"Where nothing ever grows, no rain or rivers flow" is replaced with "Why is comfort to be feared? Why is to touch to be scared?".
"Underneath that burning sun" is replaced with "And all there is to come".
"Do they know…" is rephrased as "How can they know…".
During the coda, "Feed the world" alternates with "Heal the world".
Once again "Do They Know It's Christmas" climbed to number-one in 2014 in Belgium, Hungary, Ireland, Scotland, Spain and the UK. It peaked at #2 in Germany and New Zealand, #3 in Australia, #4 in the Netherlands, #5 in Austria and Switzerland, #8 in Canada, and #11 in Italy.
February 8, 2021
Ray McGinnis
References:
"Africa: World Council of Churches," World Council of Churches.
"10 Major Rivers In Africa: Largest, Longest African Rivers With Pictures," Tina Magazine, June 10, 2018.
"1980s Ethiopia Famine: Facts, FAQs, and How to Help," World Vision.org.
"Rivers in Ethiopia," Allaboutethio.com.
"What Are the Main Crops Grown in Africa?," Reference.com, March 29, 2020.
Midge Ure, Midge Ure: If I Was – An Enhanced Updated Autobiography, (Acorn Digital Press, 2013).
Kathy McCabe, "Sir Bob Geldof's tacky curse of Christmas," Daily Telegraph, London, UK, November 27, 2010.
"CKLG Top Thirty," CKLG 730 AM, Vancouver, BC, January 17, 1985.
For more song reviews visit the Countdown.