#891: I Don't Believe In Miracles by C.B. Victoria
Peak Month: October 1976
10 weeks on Vancouver's CKLG chart
Peak Position #13
Peak Position on Billboard Hot 100 ~ did not chart
YouTube.com: "I Don't Believe In Miracles"
Music critic, Richard Skelly, recalls that C.B. Victoria now goes by the name of Edwin Coppard. On YouTube.com conversation threads someone named Brian Everett Robinson states, "I knew this guy a bit…a vocal teacher and a kinda harmless eccentric dude." In another post on the YouTube.com thread, C Wade recalls he "took vocal lessons from him. Great guy…. Lived in North Vancouver (and now) in near Victoria, BC." So the stage name,"C.B. Victoria," was a sort of word play, turning Victoria, British Columbia, or Victoria B.C., backwards.
C.B. Victoria was indeed Edwin Coppard. Coppard came to Canada from Kingston-upon-Thames, England. He began to attend Gladstone Secondary High School in east Vancouver in Grade 12 and joined a band called the Deacons in 1965, made up of schoolmates. The band quickly changed their name to the Hollywood Shockers, and then shortened it to the Shockers. They came in 4th in the Battle of the Bands at the P.N.E. that summer. And in 1966 the Shockers won first place. Their prize for winning was a record contract and a chance to record at a studio with RCA. They recorded a cover of "Somebody Help Me", a #1 hit in the UK for the Spencer Davis Group. Their cover was listed on C-FUN's All CANADIAN TOP TEN for eleven weeks in the summer of 1967. The band also appeared on the CBC variety pop music show Let's Go.
When the Shockers broke up in 1968, Coppard and bandmate, David Jonsson, formed the nucleus of Penny Whistle, along with ex-Shocker Roy Kessler. After Penny Whiltle fizzled out later that year, Jonsson and Coppard formed Trilogy which lasted until 1970.
In the following years Edwin Coppard got a contract with 20th Century Records in Los Angeles. He changed his billing to C.B. Victoria. In the winter of 1975, he released a single titled "Come And See My Man" on 20th Century Records. The disc climbed up to #19 on the CHUM-AM chart in Toronto. He released a second single by the summer of 1976 titled "I Don't Believe In Miracles" on the GRT label.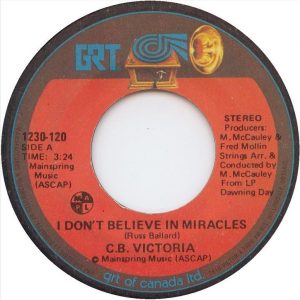 "I Don't Believe In Miracles" is a song written by Russ Ballard who was born in England in 1945. At first he taught himself to play guitar and ended up in a band at the age of 16 called Buster Meikle & The Day Breakers. In 1962 he joined The Roulettes, the backup group for Adam Faith. After failing to chart any singles on the UK pop chart, Ballard left The Roulettes in early 1964 and joined Unit 4 + 2 . That band had an international hit called "Concrete And Clay" in 1965. In 1969 Ballard was a co-founder of the UK rock band, Argent, with former Zombies keyboardist, Rod Argent. He left Argent in 1974 to pursue songwriting. In 1971 Three Dog Night made a hit out of a song Ballard wrote called "Liar", which peaked at #7 on the Billboard Hot 100. In 1975 the glam rock band in the UK, Hello, had a #9 hit with Ballard's "Let It Rock." In 1977 Hot Chocolate got a #1 single in the UK with Ballard's "So You Win Again". In 1982 the band, America, recorded Ballards' song, "You Can Do Magic" and took it to #8 on the Billboard Hot 100. The following year former ABBA singer, Anni-Frid Lyngstad, recorded a song by Ballard titled "I Know There's Something Going On" under the stage name of Frida. Her song went #1 in France, Belgium, Switzerland and Costa Rica. Among his many songs that have been recorded, Ballard also wrote "God Gave Rock And Roll To You" which was first recorded by Argent in 1973 and later became a #4 hit for KISS in the UK in 1992. Ballard's songs have been recorded by Santana, Uriah Heep, The Shadows, Roger Daltry, Night Ranger and others.
"I Don't Believe In Miracles" was first a Top 30 hit for former Zombies lead singer, Colin Blunstone, in the UK in 1972. The single release by C.B. Victoria only seems to have charted in Vancouver to #13. The song is about someone who's looking back at a relationship that is over. The other person has had a crucial impact on their emotional state leaving them either wounded, like a person who's been hit by a bullet, or elated, like a song that stirs ones heart and soul. Despite the potentially devastating impact this person can have as their wield their metaphorical gun at this guy, he's willing to reunite with his ex-lover and try to patch things up.
The theme of rekindling a former relationship was the stuff of numbers of hit songs in the mid to late 70's. One example of this is "Reunited" by Peaches And Herb. In that #1 hit for four weeks in 1979, a line in the song reveals "the breakup we had has made me lonesome and sad" and "I sat here starin' at the same old wall/Came back to life just when I got your call…" It seems that a lot of radio listeners may have been revisiting the circumstances of a previous breakup as they snapped up hit singles about these scenarios by C.B. Victoria, Peaches and Herb and others.
At the time of this writing in February, 2018, Edwin Coppard has a website showcasing his talents as an author, motivational speaker, business coach and more. On his site there is a snapshot of the kind of presentations he makes which include a cameo of him singing and playing keyboards. In February 2018 Coppard will be presenting in Tasmania and in March at an event in Japan. He's clearly moved on from his brief stint when he went by the stage name of C.B. Victoria. With all that has unfolded for him in the decades since he may now believe in miracles.
February 9, 2018
Ray McGinnis
References:
Russ Ballard – Life, Russ Ballard Music.com
radiofan, Can-Con 45 Of The Day, Radio West.ca, September 29, 2017.
Edwin Coppard – Author and Speaker, Edwin Coppard.ca.
"I Don't Believe In Miracles," YouTube.com.
"The Shockers," PNWBands.com.
"Penny Whistle," PNWBands.com.
"Trilogy," PNWBands.com.
Richard Skelly, email to Ray McGinnis.
"Vancouver's Official Music Survey," CKLG 730 AM, Vancouver, BC, October 12, 1976.
For more song reviews visit the Countdown.