#1179: Don't Break My Heart by Kasim Sulton
Peak Month: April 1982
8 weeks on Vancouver's CKLG chart
Peak Position #16
Peak Position on Billboard Hot 100 ~ did not chart
YouTube: "Don't Break My Heart"
Lyrics: "Don't Break My Heart"
Kasim Anthony Sulton was born in Staten Island, New York, in 1955. He graduated from high school in Staten Island and in 1974 was in the band Cherry Vanilla. In 1976 he played bass guitar on the progressive rock album L for Steve Hillage. In 1977 Sulton contributed backing vocals and bass guitar on Meatloaf's Bat Out Of Hell. The album featured the hit singles "Paradise By The Dash Board Light" and "Two Out Of Three Ain't Bad". As well in 1977, Sulton joined the band Utopia and played bass guitar and sang vocals. In 1978 Kasim Sulton was a featured musician on the Todd Rundgren album Back To The Bars. And in 1979 Sulton was a studio musician for the Rick Derringer album Guitars And Women. While in 1980 Sulton was in the studio for Shaun Cassidy's Wasp album. He also was with Utopia for their 1980 album Adventures In Utopia, and their 1982 album Swing to the Right.
In 1982 Kasim Sulton went solo. He released the self-titled album Kasim. From the album a single was released titled "Don't Break My Heart".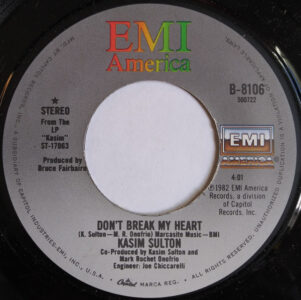 "Don't Break My Heart" was cowritten by Kasim Sulton and Mark "Rocket" Onofrio. The song is about a one-sided relationship. The narrator recognizes they aren't getting much out of the relationship. They are told by their partner 'you're no good for me.' He complains that he's always made to feel he's to blame for the problems in the relationship, and she treats him "like a child." He tells her it's wrong of her "to keep me hanging on." The couple are spending less and less time together, as the narrator laments "every night I sit alone, if this is love I quit, 'cause I can't deal with it." He complains that he's tired of her "games" and being a "fool."
"Don't Break My Heart" climbed to #13 in Toronto, and #16 in Vancouver (BC).
In 1986 Sulton released a second studio album titled Lights On. From the mid-80s to 1990 Sulton played in the Blackhearts band with Joan Jett, and bass guitar on the Joan Jett And The Blackheart albums Good Music (1986), Up Your Alley (1988) and The Hit List (1990). He also played bass guitar on the 1988 Patti Smith album Dream Of Life. While in 1989 Sulton contributed to the Indigo Girls debut self-titled album.
In 2002 Sulton released his album Quid Pro Quo. In June 2002 Kasim Sulton was part of the Broadway show Movin' Out, a jukebox musical about the songs of Billy Joel. The musical lasted into 2005. That year Kasim Sulton joined the New Cars after the death of Benjamin Orr. The New Cars released an album titled It's Alive! in 2006. From June to December 2008, Sulton was a musician in the backing band for Meatloaf on a 29 concert tour across the USA and 9 European countries. As well, between 2008 and 2011, Sulton was part of a series of concert tours with Todd Rundgren. And in 2011 Sulton was part of a Beatles tribute supergroup named Yellow Matter Custard.
In 2012, Kasim Sulton joined the classic hard rock band Blue Öyster Cult, and remained its bassist until 2017. Meanwhile, in 2014, Kasim Sulton also released another studio album which included some collaboration with Todd Rundgren. The album was titled Three. And in 2017 he released an acoustic album titled Live Bootleg.
In September 2020, Kasim Sulton was asked by Bass Magazine how he was coping with the pandemic. Sulton replied "It's been a challenge. Luckily I have a few projects that have kept me busy. I've been putting the finishing touches on a new solo record. Chances are I won't release it until early next year so we keep adding songs, which is a good thing because it means I'm always working on new music. I also have a terrestrial radio show that needs to be put together each week." Sulton is scheduled to go on tour with Todd Rundgren in 2021. But it all depends on what unfolds with the COVID-19 pandemic.
March 27, 2021
Ray McGinnis
References:
Chris Jisi, "Bass Magazine Check-In With Kasim Sulton," Bass Magazine, September 7, 2020.
John J. Moser, "Q&A INTERVIEW: Bassist Kasim Sulton Talks About the Journey Back to Utopia," The Morning Call, April 15, 2018.
Greg Prato, "Kasim Sulton Interview," Songfacts.com, November 27, 2013.
For more song reviews visit the Countdown.