#1434: Don't Cry For Me Babe by Marti Shannon
Peak Month: September 1966
6 weeks on Vancouver's CFUN chart
Peak Position #26
4 weeks on Vancouver's CFUN ALL CANADIAN TOP TEN chart
Peak Position #3
Peak Position on Billboard Hot 100 ~ did not chart
YouTube.com link: "Don't Cry For Me Babe"
Mary Rosalie Bryans was born in Washington D.C. in 1942. She grew up in Saskatoon, Saskatchewan. Her dad was on the Royal Canadian Air Force. After graduation she joined the Royal Canadian Navy and was stationed at HMSC Cornwallis, near Digby, Nova Scotia. A classmate of hers, named Sheila, wrote online in 2010, that Mary Bryans "was a Rebel with a capital R and was always going against the rules. Her father was at the base one day and had their photo taken together. Him in his Air Force blue's and she with her navy blue's. She said at that time that they were always butting heads." Bryans was later stationed in Halifax by 1962. While she was in Halifax she bought a Gibson guitar and went to the Candlelight Lounge where she would play and sing. In 1965, when she was 23, she appeared on the CBC TV show Let's Sing Out. She was billed as Marti Shannon.

She soon moved to Toronto and appeared regularly in Toronto's hip Yorkville clubs with trio billed as Marti Shannon's Big Sound. Her performances were noticed by Sid Dolgay, who soon offered to become her manager. Sid got Marti Shannon a record deal with RCA. They flew from Toronto to Nashville to record an album in 1966. along with her A&R Man, Wilf Gillmeister, and her arranger, Ben McPeak.
On April 19, 1966, she recorded an album titled You Were On My Mind. The album included a number of covers including the title track popularized by the We Five. Other songs Marti Shannon chose to record were Ian Tyson's "Someday Soon" – later recorded by Judy Collins who had a minor with the song in 1969, "Sounds Of Silence" by Simon and Garfunkel, the John Loudermilk composition – "This Little Bird" – made popular by Marianne Faithfull, Tom Paxton's "The Last Thing On My Mind" and Richard Fariña's "Hard Lovin' Loser". Billboard reviewed her album in April '66 with this endorsement: "Miss Shannon is a young folksinger out of Canada that bears watching. There's an individuality of style and songmanship that comes across excellently on her debut disk and earmark her future breakthrough."
On her debut album, Marti Shannon also recorded a number of songs she penned, "War Drums" and "Don't Cry For Me Babe." The latter song was released as a single.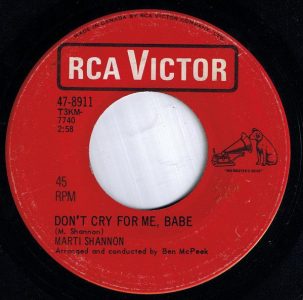 "Don't Cry For Me Babe" is a song that described two longtime friends, one who decides they are in love. A catalyst for the sudden change of heart from platonic friendship to amorous attraction is that the one friend has just broken up from a relationship. In the aftermath, the best friend tries to be the best friend they know how to be, listening to their longtime friend in their distress. While the two old friends cross the threshold into romance, the one who was there to "lean on," cautions "it is not me you wanted, it is not me you need." After time spent together the friend sees the person who lost a lover begin to recover: "I saw your pain begin to ease." Suddenly, as the friend recovers from their loss, they do a 180 degree about face: "And then you walked away. You turned your back on me. It seemed I could no longer please. No have no further use for me. Now that your heart is on the mend."
On Quora.com the question was asked "Why does my guy friend come to me for comfort after a breakup?" Several responses were offered. Anjali wrote in reply, "I think the answer is obvious. It is a time when a man feels most emotionally vulnerable and seeks a shoulder to cry on. If a Guy goes to his male pals with his sob story, how do you think they would react? Most probably they would think he was a sissy and in stead of soothing his heart, would probably pass some comment, telling him to behave like a man and scrape his wounds even more. On the other hand, the Guy knows that a woman will empathize with him and possibly ruffle his hair (figuratively) and soothe him. She will rarely mock him. A woman can be a Man's best friend, without love being in the equation."
Of course, in the case of "Don't Cry For Me Babe" love, or at least a muddling romance, got into the equation, even if it was a short lived rebound after a breakup. Another responder on Quora named Cole Bechtel wrote "He feels safe with you. Maybe he kinda knew from the start this girl wasn't going to last. But he tried anyway You might have even told him it wasn't going to work out, in a friendly way, like "hey watch out for this chick". While another responder felt that seeking out a "girlfriend" for comfort after a breakup was poor form. Nafi wrote "next time this guy friend comes, he should find a new perfect lady sitting over there, not a bean bag that he can bump on her whenever he feels like parking his so called miseries. … never ever let any one take advantage of you in any way. Be independent, be honest to yourself, do not let anyone use you as comforter. kick them out."
"Don't Cry For Me Babe" climbed to #26 on the C-FUNTASTIC FIFTY and simultaneously spent four weeks on the C-FUN ALL CANADIAN TOP TEN, peaking at #3. The single also charted to #23 in Lloydminster, Alberta, and made the Top 60 in Halifax, Nova Scotia.
Marti Shannon released another single among the songs she recorded for her album, titled "Whose Little Boy Are You? ". She performed the song on the CBC TV show Juliette, being introduced as "The Six-foot Sound of Marti Shannon." The song cracked the Top 40 on CKYL in Peace River, Alberta, in October '66.
A subsequent single release in the winter of 1966, "There's Lovin' To Do", failed to get much attention. In 1967 she was pictured with her husband Gordon Begg. She gave birth to two daughters (Shelagh and Shannon).
Marti Shannon's arranger, Ben McPeak, was a composer of modern classical music, musical theater scores and jingle writing. McPeak also co-founded Nimbus 9 Productions whose roster included The Guess Who? McPeak was a major player in Canadian music during the classic rock era.
Marti Shannon became a single mom early on and continued to raise her daughters while performing on the road. She appeared in various clubs including Isy's in Vancouver, Venus de Milo on St. Catherines Street in Montreal. On a blogpost, Marti Shannon's (Mary Rosalie Begg, nee Bryans) daughter, Shelagh, wrote in June 2008 that her mother "left singing at the age of 25 to have me – Shelagh. My father and her divorced in 1971 shortly after my sister Shannon was born, but my mom never went back to recording. She played gigs off and on throughout her life. She dabbled in many business ventures, but for the last 25yrs was a self taught accountant running her own company in Maple Ridge, British Columbia."
Marti Shannon died of cancer in February 2008.
July 3, 2019
Ray McGinnis
References:
"Marti Shannon," Toronto Public Library (photos from 1966-67).
"Marti Shannon" Wornhill.wordpress.com, March 24, 2008.
Mack McCoy, "MP3 & Playlist for Lost & Found, 05/29/06," Kiss Tomorrow Goodbye, with post comment by Shelagh Begg on June 19, 2008.
"Why Does my Guy Friend Come to me for Comfort After a Breakup?," Quora.com, March 28, 2018.
"ALL CANADIAN TOP TEN," CFUN 1410 AM,
For more song reviews visit the Countdown.