#233: Don't It Make Ya Feel by the Headpins
Peak Month: February 1982
10 weeks on Vancouver's CKLG chart
Peak Position #2 ~ CFUN
Peak Position on Billboard Hot 100 ~ did not chart
YouTube: "Don't It Make Ya Feel"
Lyrics: "Don't It Make Ya Feel"
The Headpins are a Vancouver hard rock band. They were formed by Chilliwack bandmates Ab Bryant and Brian MacLeod. Bryant and MacLeod had so much energy, they continued to play with Chilliwack as they got Headpins founded. Macleod was introduced to local Vancouver singer named Denise McCann. Born in Iowa in 1948, after being raised in the Castro Valley in California, during the Summer of Love, she moved to San Francisco's Haight-Ashbury neighborhood where she became a hippie. McCann got a job with the Magic Mountain Festival on Mount Tamalpais and also at the Monterey Pop Festival. At the festival she became friends with Jimi Hendrix. McCann appears in the D.A. Pennebaker documentary Monterey Pop! Brian MacLeod invited McCann to join the Headpins as they were forming in 1979.
Brian Oliver MacLeod was born in 1952 in Halifax, Nova Scotia. He was part of the Nova Scotia band Pepper Tree, who had a minor hit in Vancouver called "You're My People" in 1971. He moved on to Hulski and Garrison Hill, and then to Toronto with the rock band Surrender. In 1978 he was invited to join Chilliwack.
Born in 1954, at age 22 Ab Bryant was a bass guitar player with Prism in 1977. He next moved on to the Rocket Norton Band and then Chilliwack in 1978. His first album with Chilliwack was the band's 1979 release, Breakdown in Paradise. MacLeod and Bryant subsequently were in the recording studio for the Chilliwack albums Wanna Be a Star (1981) and Opus X.
The Headpins first drummer was Matt Frenette. A rival band in Vancouver was Loverboy, also founded in 1979. The drummer for Loverboy was Bernie Aubin. However, only months into the genesis of both the Headpins and Loverboy, Aubin and Frenette swapped bands. This established the original lineup for the Headpins with Brian MacLeod on guitar, Ab Bryant on bass guitar, Denise McCann as lead singer and Bernie Aubin on drums.
From late 1979 to 1981 the Headpins performed in a variety of venues in Greater Vancouver. They soon established a loyal fan base. During 1980 Denise McCann left the band. She was replaced by Darby Mills on lead vocals. Darby Phyllis Mills was born in 1959 in Vernon, British Columbia. She was enrolled in figure skating from age 5 to 17. She also got interested in singing and in grade ten was with a band. In 1978 she came to Vancouver and for two months fronted a blues/jazz band called Forecast. Subsequently, Mills won an audition to join a funk band from Harlem named Business Before Pleasure. When they were in a two-week stand in Lethbridge, Alberta, she got introduced to a rock band called Steelback, who were playing at a club across the street. She was invited to join Steelback.
One night Steelback was performing in concert in Victoria (BC). As Mills recalls, "The Zodiac Night Club was packed to the rafters and the members of that new "TOO LOUD" act, had stopped by to catch the show. Only a few words were exchanged, they left, and that was that. Till the following week, "STEELBACK" and I were back in Calgary and the room phone rang. It was Brian TOO loud Macleod. He mentioned he'd seen me the week before and wanted to know if I interested in sing for the HEADPINS. Dumbfounded, I asked if he knew exactly who he was talking to? He said YES and replied, take your time deciding. He'd call back tomorrow for my answer…."
From the summer of 1981 the Headpins recorded tracks for their debut album Turn It Loud. The debut single from the album was "Don't It Make You Feel".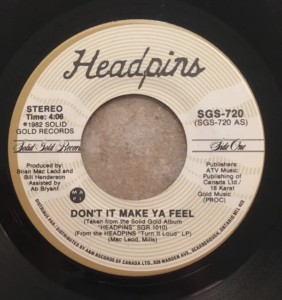 "Don't It Make You Feel" is a song about kicking back, having a drink and getting out on the dance floor and shaking your stuff. The MTV video for the song features Headpins bandmates with Darby Mills as a cocktail waitress, and MacLeod, Aubin and Bryant as cooks in a kitchen. While they pour champagne, and start to play music, there is an adjacent meeting of stuffy middle aged people sitting at tables. The band breaks into their meeting, and after being outraged by the interruption of the meetings' proceedings, those in the meeting get up and dance.
Darby Mills sings "I know what you're using tonight. I know how you like it. I know you can fight it. Keep you up 'til morning light." On the surface the song could just be about having energy to dance and stay up all night, given a high metabolism. But, it may also infer a high libido. What is being fought is "The fever." Is this sexual desire? Keep you up (or your penis specifically) 'til morning light? Is the person "using" a) their dance steps to impress others, b) some drugs or alcohol to unwind, or c) sexuality to get called out regarding what they're "doing?" Darby Mills screams "I know what you're doing."
Whatever "it" is makes people feel like dancing. And in this late night setting Mills shrieks "You know just how far you can go."
"Don't It Make Ya Feel" peaked at #1 in Winnipeg (MB), #2 in Vancouver (BC), #4 in Ottawa (ON), #6 in Regina (SK), #9 in Halifax (NS), and #14 in Toronto.
On March 16, 1981, on February 21, 1983, and two years later on December 15th and 16th, 1985, the Headpins appeared in back-to-back concerts – each of these at the Pacific Coliseum in Vancouver. At the height of their popularity the Headpins toured variously with Brian Adams, Loverboy, Helix, Harlequin, Toronto, Honeymoon Suite, Kiss, ZZ Top, the Romantics, Eddie Money, Pat Benetar, Vince Neil, Poison, Randy Backman, the Tubs, Nazareth, Def leopard, and Lynyrd Skynyrd, Joe Cocker, and the Pretenders.
In 1985, while on tour with ZZ Top, Darby Mills was informed she was being replaced by Chrissy Steele.
Brian MacLeod died in 1992 at the age of 39 of brain cancer and bone cancer. After MacLeod died the Headpins were reformed with Darby Mills and Bernie Aubin and Ab Bryant all with the new reformed lineup. Alfie Galpin, a friend of Kat, joined in 1996. As well there was Tony Dellacroce on guitar, who joined some years later. Dellacroce also was a guitarist with Doucette.
In 1996 Bernie Aubin founded and became the president of Canadian Classic Rock. The agency was formed to book gigs for classic Canadian rock 'n roll acts. On October 14, 2006, the Headpins gave a concert in Vancouver at the Plaza of Nations.
In 2014 the Headpins appeared in concert in Vancouver on June 28 and July 4, both times at the Commodore Ballroom, and later that year at the Croatian Cultural Center on November 15. The Headpins performed at the PNE Exhibition Bowl in Vancouver on August 23, 2015.
Darby Mills remained with the Headpins second iteration from 1993 to 2016, when she went solo. She was replaced by Kat Lawrence. As well, newer guitarist and keyboard player, Alfie Galpin, joins Bryant, Aubin and Dellacroce.
On August 20, 2017, and August 16, 2019, the Headpins performed at Ambleside Park in West Vancouver. The Headpins have also performed in the Vancouver (BC) suburbs of Pitt Meadows, Langley, Coquitlam, and further east in Hope and many towns and cities across British Columbia, and Canada.
November 22, 2021
Ray McGinnis
References:
"Denise McCann," Canadian Bands.com.
"Headpins – Canada – Concerts," setlist.fm.
Darby Mills, "After 36 Years it was time to find out who I was truly meant to be. What A Ride….. it has been!!!," darbymills.com.
"Brian MacLeod," Wikipedia.org.
"CFUN Top Thirty," CFUN 1410 AM, Vancouver, BC, September 11, 1982.
For more song reviews visit the Countdown.