#748: Don't It Make You Want To Go Home by Joe South
Peak Month: October 1969
7 weeks on Vancouver's CKLG chart
Peak Position #5
1 week Hit Bound
Peak Position on Billboard Hot 100 ~ #41
YouTube.com: "Don't It Make You Want To Go Home"
Lyrics:"Don't It Make You Want To Go Home"
Joseph Alfred Souter was born in 1940 in Atlanta, Georgia. At the age of eleven his father gave him a guitar. In his mid-teens he built a small radio station where he played his own songs to his listeners. In his teens he changed his surname from Souter to South. He began his career penning a novelty answer song in 1958. "The Purple People Eater Meets the Witch Doctor" was in response to two number one hits that year. The "Witch Doctor" had been a hit for David Seville and The Chipmunks, while "The Purple People Eater" was a hit for Sheb Wooley. South wrote the song for The Big Bopper, who had a hit earlier that year called "Chantilly Lace". In the case of "Purple People Eater Meets The Witch Doctor" the Witch Doctor and the Purple People Eater find themselves forming a two piece rock n'roll band. The Witch Doctor plays guitar and the Purple People Eater plays horn. The lyrics build on the longing of the Purple People Eater who in Sheb Wooley's song confides the reason he has come to earth is "I want to get a job in a rock n' roll band."
When South was just nineteen he wrote a song that Gene Vincent recorded in 1959. That year Joe South also played guitar on all the tracks for Tony Bellus' Robbin' The Cradle album, including the title track hit record. Then, in 1962, an R&B group named The Tams had a #12 hit on the Billboard R&B charts titled "Untie Me". That same year Joe South was a featured guitar player for Tommy Roe's number one hit, "Sheila". In 1965 Billy Joe Royal had a Top Ten hit with South's composition titled "Down In The Boondocks." That year South was a session musician playing guitar on all the tracks for Bob Dylan's Blonde on Blonde album. Released in 1966, the album included the singles "Rainy Day Women #12 & 35" and "Just Like A Woman". The former tune had a chorus with these lines: "Well I would not feel so all alone/everybody must get stoned." The song went to #1 in Vancouver on CKLG in May 1966. The same year Joe South also was a session guitar player, along with Glen Campbell, on Simon & Garfunkel's Sounds Of Silence album. The album included the hits "Sounds Of Silence" and "I Am A Rock." And Joe South was a session guitarist for Simon & Garfunkel on their follow up album in 1966 titled Parsley, Sage, Rosemary And Thyme. That album featured the singles "Scarborough Fair/Canticle", "Homeward Bound" and "The 59th Street Bridge Song (Feelin' Groovy)".
Joe South produced a Top Ten hit for Friend And Lover titled "Reach Out Of The Darkness" that was on the pop charts in the winter of 1967-68. In 1968, Joe South played guitar alongside Bobby Womack for Aretha Franklin's album, Lady Soul. The album featured the classic hits "Chain Of Fools", "Since You've Been Gone (Sweet Sweet Baby)" and "You Make Me Feel (Like A Natural Woman)". He also wrote the song, "Hush", that became a Top Ten hit for the British band Deep Purple in 1968. Souths' songs were recorded by many artists including Vince Everett, Sandy Nelson, Cilla Black, Ray Whitley, The Tremeloes, Wanda Jackson, King Curtis & The Kingpins, Floyd Cramer, Petula Clark, Santo & Johnny, Don Gibson, Tom Northcott, Sandie Shaw, Bill Haley & The Comets, Jody Miller and others.
In 1969 Joe South had a #1 hit in Vancouver in March called "Games People Play" that spent two weeks at the top of the charts, but only reaching #12 in the USA. He won a Grammy Award for the song on March 12, 1969. The song was still on the pop charts. South later told Robert Hilbrun of the Los Angeles Times, "The Grammy is a little like a crown. After you win it, you feel like you have to defend it. In a sense, I froze. I found it hard to go back into the recording studio because I was afraid the next song wouldn't be perfect." South continued to outperform his chart success in his native USA when he charted in Vancouver with "Don't It Make You Wanna Go Home".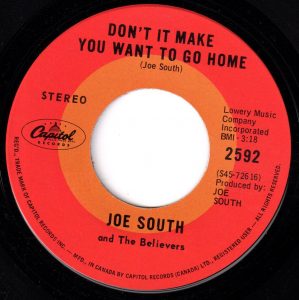 "Don't It Make You Want To Go Home" evokes a nostalgia for childhood and a more rural life. The singer remembers a place where his grandma's cow used to graze, a creek where he used to go skinny-dipping as a child, a meadow where strawberries grew wild. He is going back to his hometown after he gets a one-way ticket from a Greyhound Station. However, what he discovers is a drag strip by the riverside, a six-lane highway by the creek, the grass doesn't grow and the river doesn't flow. The encroachment of modern civilization has made some of the things he cherished from his childhood only memories. Playing drums, percussion and adding backing vocals was brother Tommy South, as the chorus sang "all God's children get weary when they roam and don't it make you wanna go home." Aside from its #5 peak in Vancouver, the song did best in Atlanta where it climbed to #1. Other cities of note include St. Thomas, Ontario, where "Don't It Make You Want To Go Home" climbed to #5, in Boston and Oshkosh (WI) where it peaked at #6, Milwaukee at #7 and Edmonton and Saginaw (MI) at #8.
In January 1970, Joe South had another big hit with "Walk A Mile In My Shoes" that climbed to #7 in Vancouver and #12 on the Billboard Hot 100. In 1971 Joe South wrote "Birds Of A Feather" which became a hit for Paul Revere and the Raiders. That year his song, "Rose Garden" became a number one hit for Lynn Anderson. Tragically, Tommy South died by suicide in 1971 when Joe South was 31 years old. The March/April 2007 issue of American Songwriter Magazine noted "the loss triggered (Joe) South's drop off the face of the earth ~ or more specifically, the music business ~ during the peak of his career. Try as he did, he never fully recovered from (the) tragedy." Joe South became clinically depressed. Even though his song, "Rose Garden" was at the top of the charts.
Joe South developed a drug habit and began to associate his drug dependency on inspiration to write songs. However, his next two albums were commercial failures. He was inducted into the Nashville Songwriters Hall of Fame in 1979. He died in 2012.
August 14, 2018
Ray McGinnis
References:
Andy Lee White and John M. Williams, "Joe South bio," Joe South.com, September 16, 2012.
Joe South (writer), "Untie Me," The Tams, 1962 (#12 R&B charts USA)
Joe South (guitar), "Tony Bellus, Robbin' The Cradle – Credits," Discogs.com
Simon & Garfunkel, "Sounds Of Silence personnel," Sounds Of Silence, Wikipedia.org
Simon & Garfunkel, "Parsley, Sage, Rosemary And Thyme personnel," Parsley, Sage, Rosemary And Thyme, Wikipedia.org
Bob Dylan, "Blonde On Blonde personnel," Blonde On Blonde, Wikipedia.org
Richard Williams, "Joe South Obituary: American Singer and Songwriter Best Known for Games People Play," Guardian, September 12, 2012.
"Boss 30," CKLG 730 AM, Vancouver, BC, October 1969.
For more song reviews visit the Countdown.